---
You are Here:
Issue Tracking
>> Issue Management Software – Features & Benefits
---
No product code is perfect from the onset. While building working products, developers have to write several lines of codes. Even while following the best development practices, bugs and defects are largely inevitable. This is why issue management remains a crucial part of modern software development. It helps developers to save time by helping product development and testing teams concentrate on resolving issues while automating the process flow.
What is Issue Management Software?
Bugs are product defects that interfere with the normal performance and functionality of your product. Issues like this are an inevitable part of building software products. But not all product issues are bugs. Suggested improvements and feature requests from users may also be categorized as issues.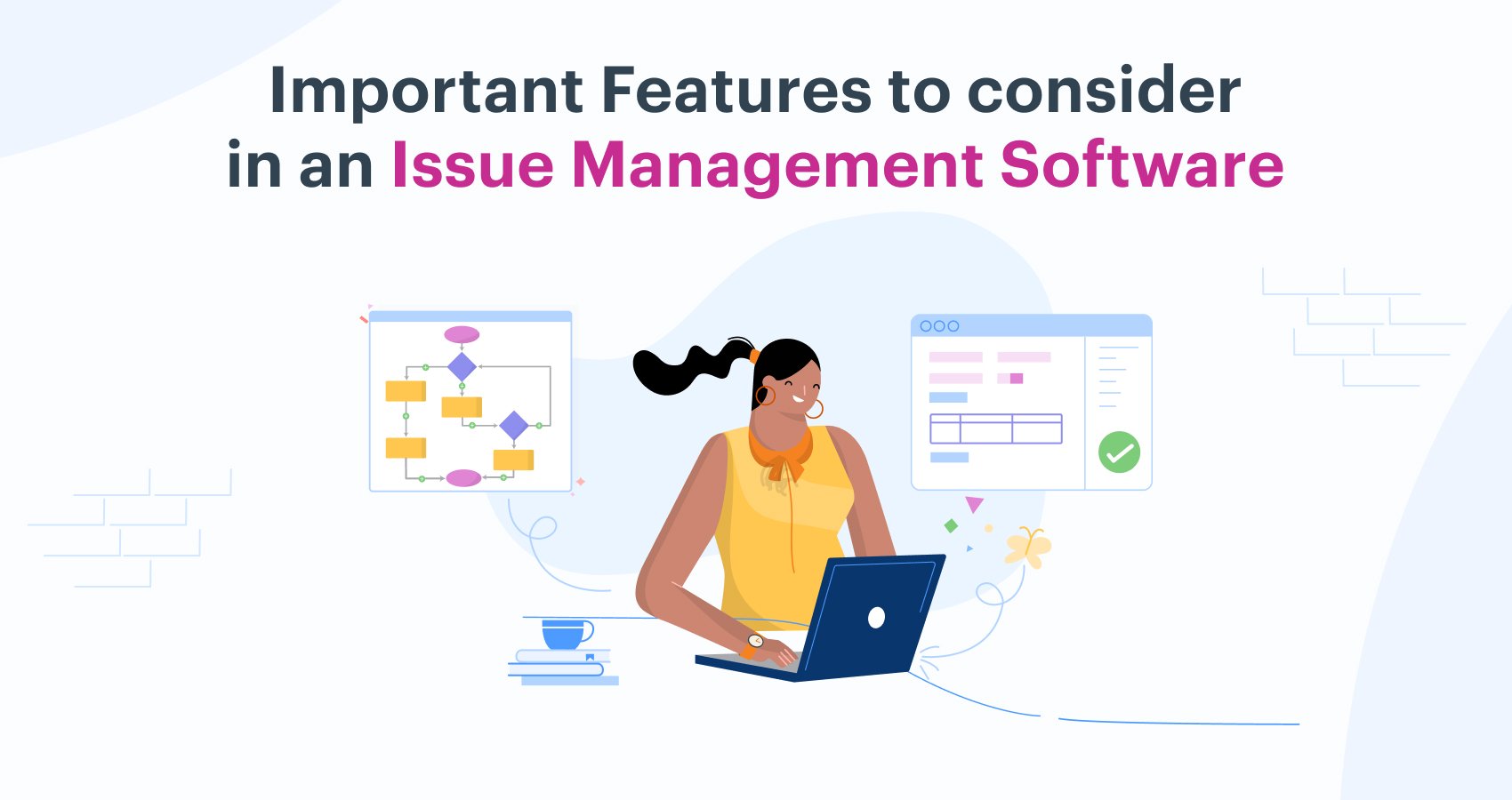 Issue management refers to the process of identifying and resolving these issues. This is typically a complex venture that involves identifying, analyzing, prioritizing, and tracking issues from the point they're identified till they are eventually resolved. Issue tracking may also involve steps taken to prevent the recurrence of such issues in the future.
An issue management software is a tool that facilitates this process. This software helps development teams stay on top of the issue resolution process. It fast-tracks the process of identifying and following up on reported issues to ensure they are duly resolved. In addition to ensuring that no issues are missed, an issue management software also has features for coordinating the issue management workflow and provides a system for coordinating your software development efforts.
Benefits of Issue Management Software
An issue management software helps product development teams to resolve issues efficiently and systematically. The following are some of the main benefits of using issue management software.
Better collaboration
Issue resolution often involves inter-team collaboration and cooperation. An issue management software provides a centralized and shared space for your team to communicate and work together on fixing bugs.
Increased transparency
With every member of your team having real-time access to the status of bugs at each point in time, transparency and accountability are improved quite significantly.
Smarter delegation
When working on complex projects with a large team, there'll be a need to delegate tasks towards testing and resolving issues. An issue management software automates and simplifies this issue delegation process.
Reduced development cost and time
By eliminating delays in product development, issue management software helps to conserve valuable time and resources. This ensures that your product is released in time and at a reduced cost.
Increased product ROI
An issue management software improves the efficiency of your product development process by aiding bug prioritization and resolution. As a result, development and testing teams can focus on more important issues that drastically improves productivity and ROI.
Salient Features of an Issue Management Software
Although there are different types of issue management platforms and they all vary in their complexity and capability, there are certain key features that are common to most.
The following are some of the most essential features an issue management software should have.
Form builder
To build a comprehensive list of issues to resolve, your issue management should have a powerful form builder. This form builder should help development teams collect all the relevant issue information. In order to do this, a form builder should allow developers to add custom fields that perform advanced functions like look-up and arithmetic calculations.
Customizable workflows
Knowing "who" is responsible for "what" is a vital part of coordinating your bug management efforts. Your issue tracker should aid the process of creating transparent workflows. Also, since the issue tracking process varies depending on the organization, the workflow should be customizable depending on the way teams work.
Task routing
An issue management software should aid the process of passing tasks along to members of your product development team. Issues are automatically routed to testers or a member of the development team that will validate and resolve the bugs that surface.
Collaboration
Your issue tracker should serve as a collaborative tool that fosters communication and cooperation where necessary. The exact status of each issue should be visible in real-time with easy access for those that need to collaborate on resolving reported bugs.
Reporting and analytics
Your issue management software should make it possible to generate insightful reports and analyze defect trends. The information derived from these reports and analyses will be vital for resource planning, budgeting, and risk mitigation for future development efforts.
An issue management software like Kissflow Workflow is a vital tool that aids the process of finding, tracking, and fixing bugs in software products. Using an intuitive platform like Kissflow promises to improve the efficiency of your product, cut development costs, and ensure that you're building high-quality defect-free products.
Smart companies all over the world are leveraging the benefits of Kissflow's issue management software to build products that are as defect-free as possible while managing their resources. You should join them too. Try Kissflow Workflow today!