---
---
For small businesses, resources are meager, and there's little room for do-overs. The implication of this is that all processes have to be as pinpoint accurate as possible. Relying on the best available software to coordinate various processes is one of the best ways to keep small businesses afloat.
One of such all-important systems that can make a world of difference is a bug tracking system. Investing in bug tracking is vital for small businesses because it ensures that their IT teams can effectively backtrace, identify and effectively prioritize defects discovered in their software products. This process is crucial to delivering products that are as error-free as possible.
What SMBs Look For in Their Solutions
Most products in the market are pretty well-thought-out in terms of design and functionality. Each solution has ups and downs but overall, there are solutions for every segment and company size. However, small and medium businesses have a unique challenge—they look for solutions that offer a balance of features and pricing that are suitable for their specific needs.
The following are some of the things SMBs look for in their software solutions.
Solutions that fit their budgets
It's no news that small and medium businesses operate on a meager budget. They try to maximize costs in every way possible. Investing in solutions that help improve the way they operate is an essential part of growth. And so, SMBs will have to look for solutions that achieve their business needs without blowing their budgets.
Solutions that don't take too long to implement
Time is a valuable resource for businesses of all sizes, but even more for small businesses. The longer it takes to implement a product into the ecosystem, the longer it will take to get up to speed. SMBs, as a result, keep an eye out for solutions that are easy to deploy and retrofit into their ecosystems in as short a time as possible.
Solutions that are scalable
Small businesses are expected to show growth. And therefore, SMBs often look for solutions that can grow with them and handle larger volumes, support better functionality. A consequence of not thinking long term is that they may outgrow their solution and will have to look for new ones that support their requirements every few years. Needless to say, this will cause a waste of valuable time and resources onboarding to new platforms, transferring valuable data, and training staff over again.
Solutions that have all of the essential features
Investing in fragmented products that do only specific things only makes it more difficult to coordinate activities. This is why small businesses often prefer to use tools that put everything on a centralized platform. Even when the solution you're using does not have all the features, seamless integration with other tools and data management platforms you use will simplify things.
Solutions that fit the way they operate
Flexibility is essential for running a product team for the small and medium business teams. Most businesses try to customize their operations to suit their dynamic situation based on budget, resources, and nature of the market they operate. Thus, bug tracking software solutions that serve them must be customizable to fit the way they operate to ensure optimal results.
Top 5 Advantages of a Bug Tracking System
Better product experience
The ultimate goal of bug tracking is to deliver a product that works with as few glitches as possible. With bugs identified and rectified promptly and efficiently, customers enjoy a seamless product experience without bugs or issues.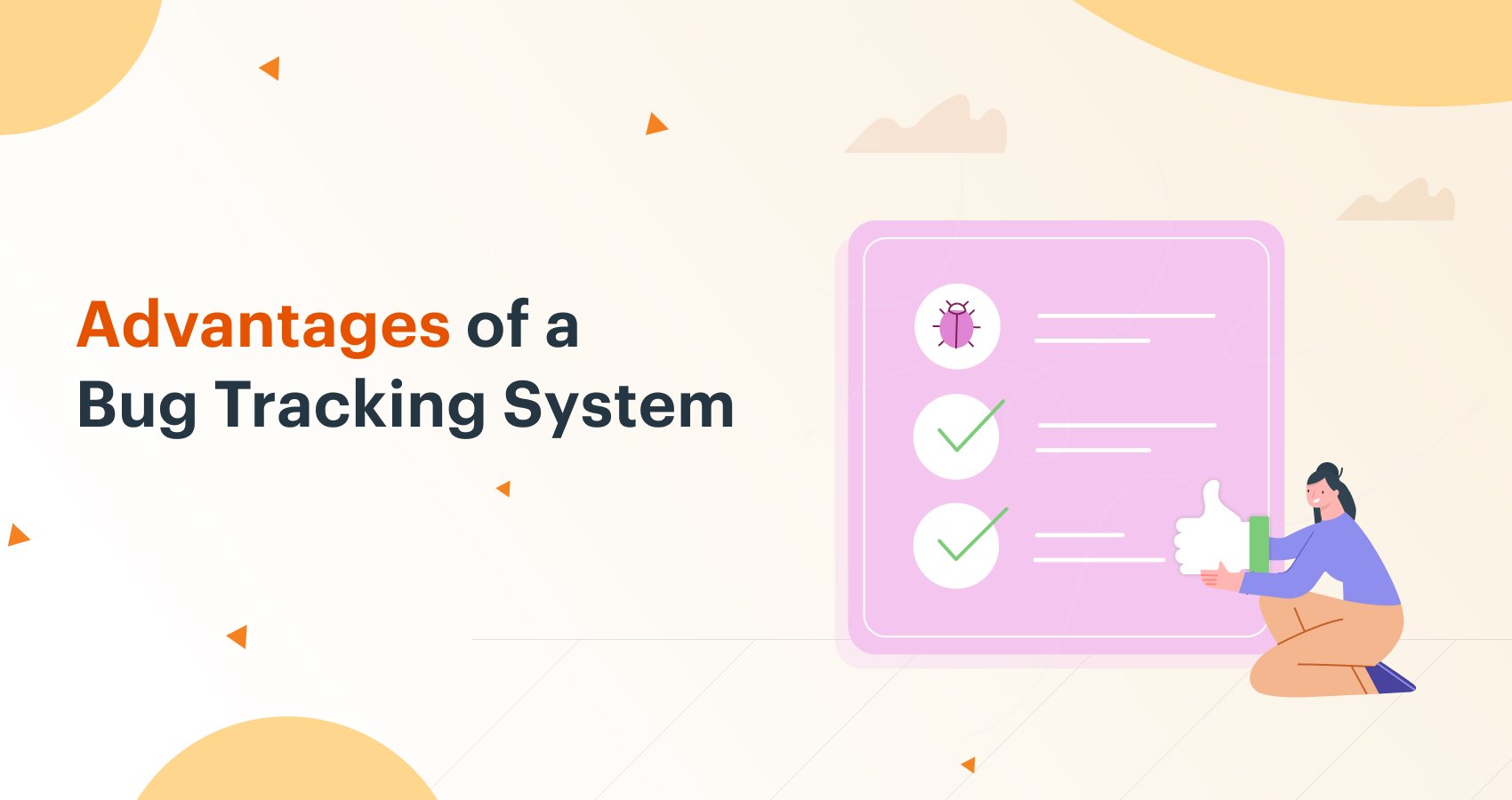 Smoother feature rollout
By using a good bug tracking system, each new version of your product is better than the previous one. In developing products, adding new features adds a layer of complexity to your product code. An efficient bug tracking system makes it easier to follow bug trends and analyze them. This makes it possible to predict likely issues as new product features are added and mitigate them promptly. Consequently, adding new features to your app does not create new issues, and old defects are effectively handled and resolved.
Early bug capture
When you start bug tracking early and do it properly, you can eliminate bugs as quickly as they are identified. Proactive bug tracking ensures that there is no bottleneck in defect management in the later stages of your project.
Better bandwidth management
An effective bug tracking system is necessary for effective bandwidth management. This helps to prevent poor performance within the complex systems in a product ecosystem and ensure optimal results for various processes.
Improved customer retention
Good quality bug-free products help to keep your customers from looking elsewhere. If your product performs as promised and continuously improves, your customers are happy and will continue to use your services. On the flip side, if your product is bug-riddled and product defects are not promptly addressed, you will end up losing more customers than you are gaining new ones.
To enjoy the full benefits of product management for your small and medium businesses, you need to choose the right bug tracking tool. Such a system should make it possible to track all bugs, categorize and prioritize them effectively. More importantly, an efficient bug tracking system should simplify the process of managing all your defect tracking efforts. This often involves delegating tasks, investigating root causes, and implementing quick resolution. All of these might seem straightforward, but finding a bug tracking software that does all of these and is still affordable for small businesses can be challenging.
Fortunately, Kissflow Workflow has the set of features needed to help you derive these benefits of an efficient bug tracking system effectively. Not only is Kissflow feature-packed, but this robust bug tracking system is also designed for small and medium businesses that are looking for a solution that will grow with the business.
What are you waiting for? Experience stress-free bug tracking. Try Kissflow Workflow today!