You are Here:
Issue Tracking
>> Free Hosted Bug Tracking Software vs Paid Cloud Solution
---
From the advent of cloud technology, enterprises have not only recognized the potential of the cloud but are actively shifting from a traditional on-premise or self-hosted framework to a cloud-based setup. Technology hosted on the cloud presents a stable, secure, and generally stress-free way to manage your tasks and activities.
In the context of bug tracking, a cloud-based solution not only brings the general advantages cloud but also comes with features that eliminate the need to rely on IT teams and optimize the process as a whole.
But before we discuss why you need a cloud-based bug tracking solution over a free-hosted setup, let's discuss the disadvantages of a free hosted solution.
The Disadvantages of Free Hosted Bug Tracking Software
Manual maintenance
Stability is one of the hallmarks of a standard bug tracking tool. Downtime is terrible for bug tracking which means your choice of bug tracking software must offer solid uptime and remain accessible at all times. This is hardly an issue for paid bug tracking software, but self-hosted software tends to experience more downtime due to maintenance issues. So even if you get to save cost by not paying for the hosting, you may lose more in the long run due to unexpected downtime.
Limited bandwidth
Free hosted bug trackers typically have a limit to their bandwidth. This affects loading speed and consequently limits the number of users that you can take on. While this might not be a problem for a small company, the limited bandwidth will be an issue as your company grows and new users have to be added onboard.
Heavy dependence on IT
Free hosted bug trackers are limited in their customization. They have a one-cap-fits-all design since they are not tailored to the specific use of a particular business. If you must customize them to meet the specific needs of your business, you'll have to hire a specialized IT team to set up the system and customize it. This is difficult compared to a cloud-based solution that is essentially plug-and-play.
Paid upgrades
Typically, companies that offer free hosting services often do so as the lowest tier of their services. To get users to upgrade to a paid plan, several potentially beneficial features will be unavailable in the free plan. Over time, you will need to pay to be upgraded to a higher subscription plan or pay for some specific advanced features. Since you'll end up paying for the features you need in the long run, it is always better to take your time to find a paid hosting provider that has everything you need from the onset instead of paying to upgrade later.
Inconsistent updates and support
Free hosted bug tracking software is especially prone to bugs due to inconsistent upgrades and poor support. And as a result, this can cause delays, bugs, and downtime that often have to be rectified in-house. Paid platforms enjoy full support and are updated regularly by the service provider.
5 Reasons to Move to a Paid Solution
Despite the upfront cost of using a paid solution, you will find it more convenient and even cheaper in the long run.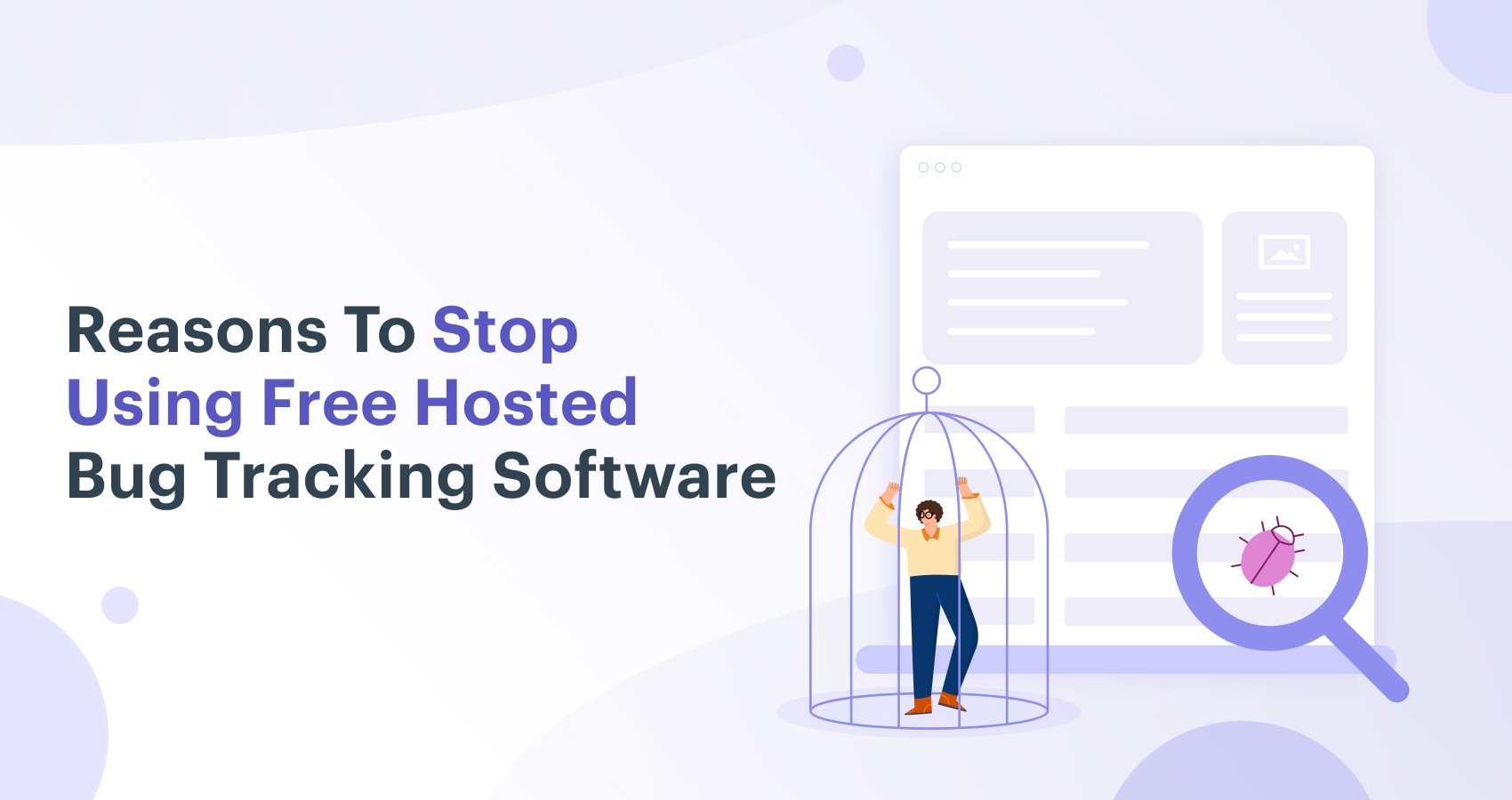 The following are some of the reasons why paid bug tracking software is better.
Increased customizability
Paid platforms are generally more customizable. They are designed with different use cases in mind which mean users have access to a wide range of features depending on their needs. This makes them easier to customize and adapt for the specific use case of your business.
Scalability
If you want an issue tracking platform that will grow with you, then a paid solution is more recommended. Paid hosting service providers often offer unlimited bandwidth to users which means you can take on more users as your business grows without worrying about exceeding your bandwidth limit.
Enhanced productivity
The abundance of useful features that are not locked behind an upgrade will boost your overall productivity. Paid tools are generally more functional with a variety of features that make it possible to achieve better results than you would with free software.
Single interface for all requests
With a paid platform, you get a single easy-to-use interface to manage all your bug tracking requests. This simplifies work for your team and helps them to do more without stress. A good paid-hosting bug tracker may also have integration options that allow you to leverage other common business and productivity tools. This way, all your tasks can be managed from the same unified platform.
Better analytics
One of the common limitations of free tools and even many paid platforms is that data analytics is limited. Since the bug tracking process generates a lot of data and you stand to benefit immensely from robust data analytics, it makes sense to go for a platform that allows you to analyze data and gain valuable insights from it.
A free or self-hosted bug tracking software will help you save costs, but it comes with numerous limitations. This is why you need a cloud-based issue tracker like Kissflow Workflow.
As an alternative to a free-self hosted platform, you will find Kissflow Workflow packed with better features, customizable, scalable, and efficient for managing all your bug tracking needs. No matter the size of your team, Kissflow has you covered. Try it today and enjoy the benefits of using a cloud-based issue tracking solution at an affordable price.