---
You are Here:
Issue Tracking
>> Free Bug Tracking Software vs Paid – Comparison
---
Every product organization knows that a bug tracking tool is one of the most valuable tools in their software development arsenal. It ensures that bugs caught during testing or reported by users are actually fixed. A system that helps to document detected flaws properly, categorize them and prioritize them correctly based on their impact on your product is a must-have.
Bug tracking software also tracks the work of members of your team that are in charge of resolving product flaws. Such a system has features that allow you to track issues and analyze efforts being taken to fix them. The ultimate result is an efficient product that is delivered on time and on budget.
The Ups & Downs of Free Bug Tracking Software
The primary reason organizations opt for free bug tracking software is due to their reduced cost. Growing organizations often need a tool to help them manage their product development process and tend to go for a budget-friendly solution. While these open source tools tend to be beneficial in various ways, they are also limited in other areas. Most of them lack critical features, don't offer much in terms of integration, and maybe challenging to work with. Not to mention, the increased dependency on IT teams should there be a need to customize the product to suit their operations.
Top 7 Signs – It's Time for an Upgrade
While free bug tracking software may work effectively in some instances, there are instances when they simply don't cut it.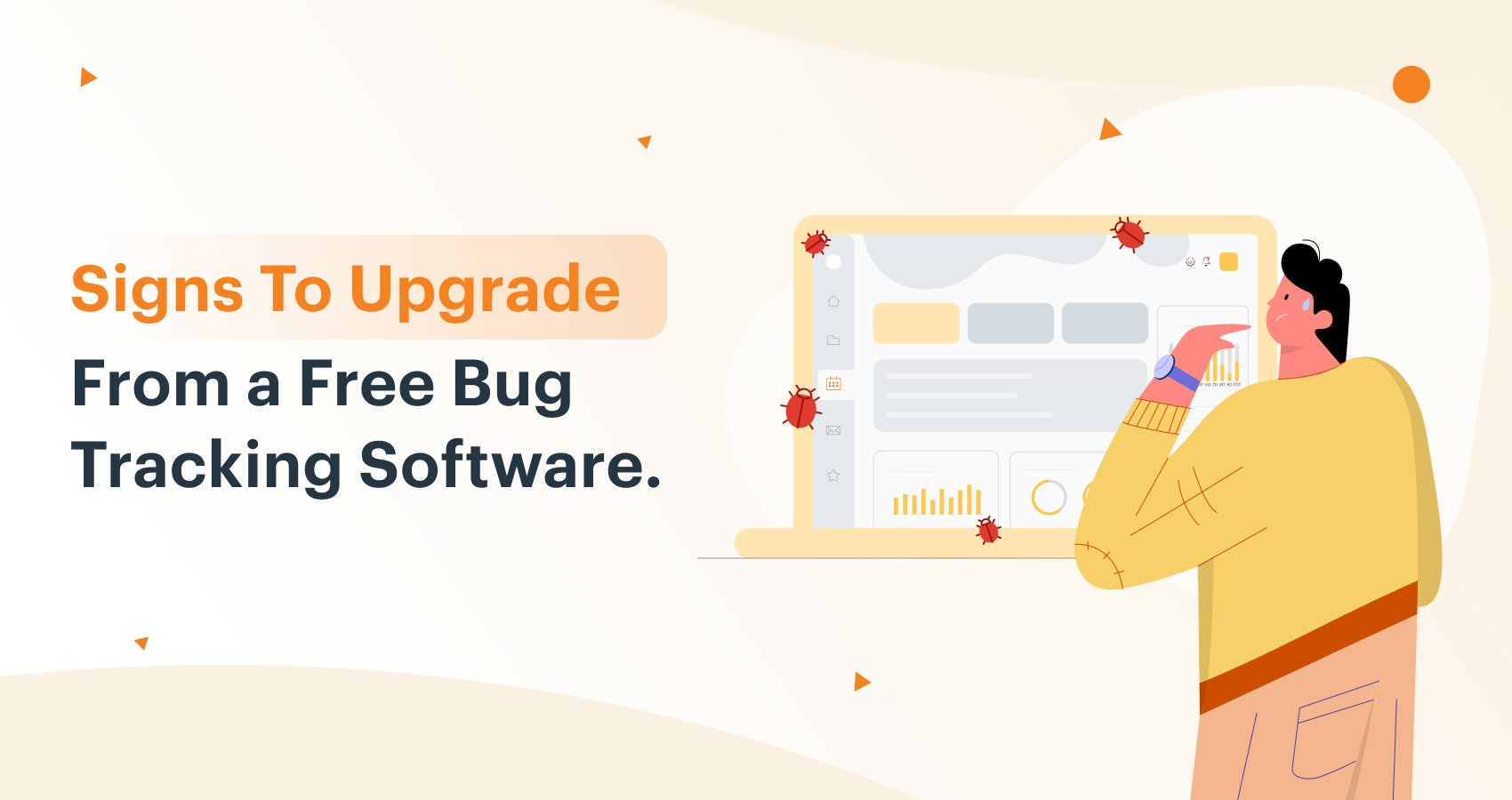 The following are some signs that you should consider upgrading your bug tracking software to a more robust one.
Inability to scale
As companies grow, the various software tools they use are expected to grow with them. Bug tracking is likely to become more complicated as the product grows in complexity. As new features are added to the existing product, issues are also expected to rise as more users make use of your product. A free tool may not be able to support the sheer number of bug tickets. Moreover, they may not be able to support the number of users and contributors beyond a certain threshold. And this is why it is important to shift to a tool that is able to help you adapt to the needs of your expanding team and scale to the next level.
Unsupported features
As the organization grows, so does the need to expand functionality and keep up with the sophistication of the operation. While free tools offer a broad list of features, there are critical ones that only come with a dedicated, fully-loaded solution. Being equipped with vital features such as customizable workflows, robust dashboards, dynamic issue routine, automation, and collaboration often is the difference between an average bug tracking process and an efficient one.
Inefficient analytics
Bug tracking isn't merely about resolving issues in the present—companies should be able to collect data about ongoing and fixed bugs as well. Data analytics helps to identify valuable trends in the occurrence of bugs and point to the quickest and most efficient course to resolution. This may also help in documentation and improving the efficiency of development and testing teams. Many free bug tracking tools do a good job at recording data but don't lack robust analytics features.
Integrations
Enterprise software tools rely on each other for effectiveness. A good bug tracking software, for instance, may need to integrate with the CRM systems and collaboration workflows to improve current capabilities. Although being unable to integrate may not limit the core functionality of your free software in terms of bug management, it introduces some challenges. For one, data from all these systems will not talk to each other and will remain in silos. And this can severely limit capabilities and data efficiency. A paid tool with the right integrations will serve several operational needs of the development team.
User Interface (UI)
Sometimes, a poor user interface may be a good enough reason to ditch your software. The development team stands to benefit immensely from using an issue tracking system with an intuitive interface that makes intelligent issue visualization possible. This ensures that they always get a clear picture of critical issues across the product life cycle and manage them more conveniently without having to rely too heavily on IT teams or external experts to find the features they're looking for.
Manual Effort
The very idea of using bug tracking software is to simplify things for your development team. For bug tracking software should make it easier to categorize and prioritize bugs, assign bug resolution tasks to teams seamlessly, and ultimately track defects from detection till they're resolved. This often involves a lot of tasks and processes. A free bug tracking tool may not help you create complex workflows with advanced routing conditions. And this may force the organization to retrofit their operations to the workings of the solution.
IT dependency
Deploying and managing your issue tracking software does not have to be overly complex. Many software tools require the intervention of IT teams or product experts to customize the tool. Moreover, free tools often have a steep learning curve and may be too complex for non-IT members of your team to manage. Having a dedicated tool not only ensures the IT team's bandwidth is better managed but also ensures non-IT members are able to more or less operate the tool without too much of a hassle.
Time to Try Kissflow Workflow for Issue Tracking
Kissflow Workflow is an all-in-one issue tracking tool that helps organizations build high-quality products through a flexible and agile bug tracking process. Apart from being one of the most cost-effective solutions in the market today, Kissflow Workflow is the easiest solution that helps non-technical teams build complex workflows, simplify bug tracking, and deliver exceptional product experiences. It's time to supercharge your product development efforts with powerful bug tracking software.
Try Kissflow Workflow today.