HR tools are the wide range of technological solutions that help organizations manage their day-to-day HR activities effectively. HR processes are compliance-driven and performing them manually is cumbersome, time-consuming, and arduous. HR tools leverage the power of automation allowing HR staff to save time, cut costs, and manage their employees easily.
HR tools handle all core HR processes from new hire requests to employee exit interviews. Based on the requirement, organizations can either opt for a simple HR software that addresses everyday administrative tasks like vacation management, timesheet management, etc. Or, they can opt for a software that handles strategic HR areas like recruitment and performance management.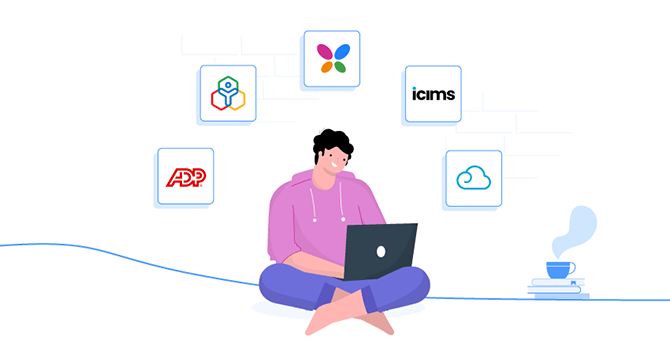 Picking the right HR tool is a complex process, since there is a lot of planning and assessment involved. You need to come up with a detailed plan, evaluate organizational needs, and assess the available solutions before coming to a conclusion. We have put together a list of HR features you need to look for in your software and the top 5 tools that stand out from the crowd.
Table of the Content
The top 8 features to look for in an ideal HR tool
Identifying and compiling a list of features that matter can help organizations weed out HR tools that don't suit their unique process needs.
Here are 8 essential aspects that should never be overlooked when you're on the hunt for an ideal HR tool:
Ease of use
Quick implementation
Multi-channel access
Collection of ready-to-use reports
Seamless integration with third-party tools
Employee self-service portal
Customizability to fit unique needs
Scalability to accommodate business growth
Here are 5 Best HR tools that stand out from the crowd
1. Kissflow HR Cloud
Kissflow is an all-in-one HR Cloud that enables businesses to create, modify, and manage their HR processes in an efficient way. Kissflow comes pre-equipped with an array of HR management modules from applicant tracking and employee onboarding to performance reviews to offboarding and succession management.
Its precise, data-driven insights enable managers to make decisions based on data points rather than gut instincts.
Powerful features:
What sets Kissflow HR Cloud apart is its automated performance triggers that initiates a performance improvement for employees who slack off beyond a specific saturation point.
The built-in talent pool, automated announcements, and social collaboration are other trend-setting features.
In addition, Kissflow's HR Cloud also integrates seamlessly with other third-party software solutions like ERP systems and payroll software, so you can use any tool that you're already using right alongside Kissflow, so there's no data loss or compatibility issues.
---
2. Zoho People
Zoho People is a cloud-based HR management software used to help organizations manage and organize employee data. Designed with small and medium businesses in mind, it can also cater to enterprise businesses as well. There's a number of tools on the platform, letting you track leaves, manage timesheets, create custom forms, manage performance appraisals, and more.
It's a lot more transparent than some of its competitors, albeit not as feature-rich as some of them. By automating all of your business-specific recruitment processes, it helps your HR team free up their time and actually spend time focusing on work that matters.
3. iCIMS Talent Acquisition
This is an employee onboarding software that offers a number of dynamic features including a customizable career portal that lets candidates search for career opportunities. For businesses interested in useful HR tool, this can go a long way in accelerating and simplifying the talent acquisition process.
Businesses have access to a platform that enables them to hire quality employees, improve the hiring process, and identify and interact with the right candidates. In addition, iCIMS Talent Acquisition also includes social media distribution, career site search engine optimization and job board posting.
Overall, when it comes to useful HR apps, iCIMS Talent Acquisition is easily among one of the most competitive in the market. It's one of the largest Software-as-a-Service (SaaS) providers of talent acquisition and management solutions. The software is used by almost 3,200 organizations around the world.
4. Breezy HR
Breezy HR is another HR management tool aimed at small, medium, and large businesses. One of the biggest selling points of Breezy is the fact that it integrates with your existing hr tools seamlessly. There's no need to worry about data loss during migration and integration. Breezy takes care of it all automatically.
It isn't limited to recruitment. You can also keep track of current employees and streamline communication. In addition, it also connects seamlessly to LinkedIn and AngelList to find quality candidates.
5. ADP
ADP is a cloud-based HR tool. When compared to other HR tools that provide specific solutions, ADP is an all-in-one solution that unites HR, payroll, talent, time, and tax and benefits administration.
ADP is used by over 650,000 clients in more than 110 countries. It's an online HR tool that can be implemented by businesses of all types and sizes.
ADP was awarded the HR Management Solutions Company of the Year Award by Frost & Sullivan in 2016. It also received an AA credit rating from Standard & Poor and Moody's.
Automate your processes today using online HR tools
HR has started using online HR management tools to ensure that they're not spending valuable time doing something that can be done a lot more efficiently, and a lot more accurately. And to meet this need, tools like what we've covered above have become more and more feature-rich, giving you plenty of options to choose from.
Kissflow's HR Cloud is a user-friendly HR tool that sets the standard for all other HR software offerings in the market. It is user-friendly, with streamlined processes, configurable interface, insightful reports, and an interactive dashboard. Its built-in approval flows enforce compliance without impacting the usability. Best of all, Kissflow channels help employees collaborate faster and better improving employee engagement and productivity.
If you need something that not only streamlines your HR processes but also makes your office more productive, then sign up for a Kissflow demo and see if it can improve your HR team's productivity and efficiency.