03 May 2021
Kissflow Appoints Rahul Bhageeradhan as Global Director – Digital Architecture to support Low-code No-code customers
Spokesperson : Suresh Sambandam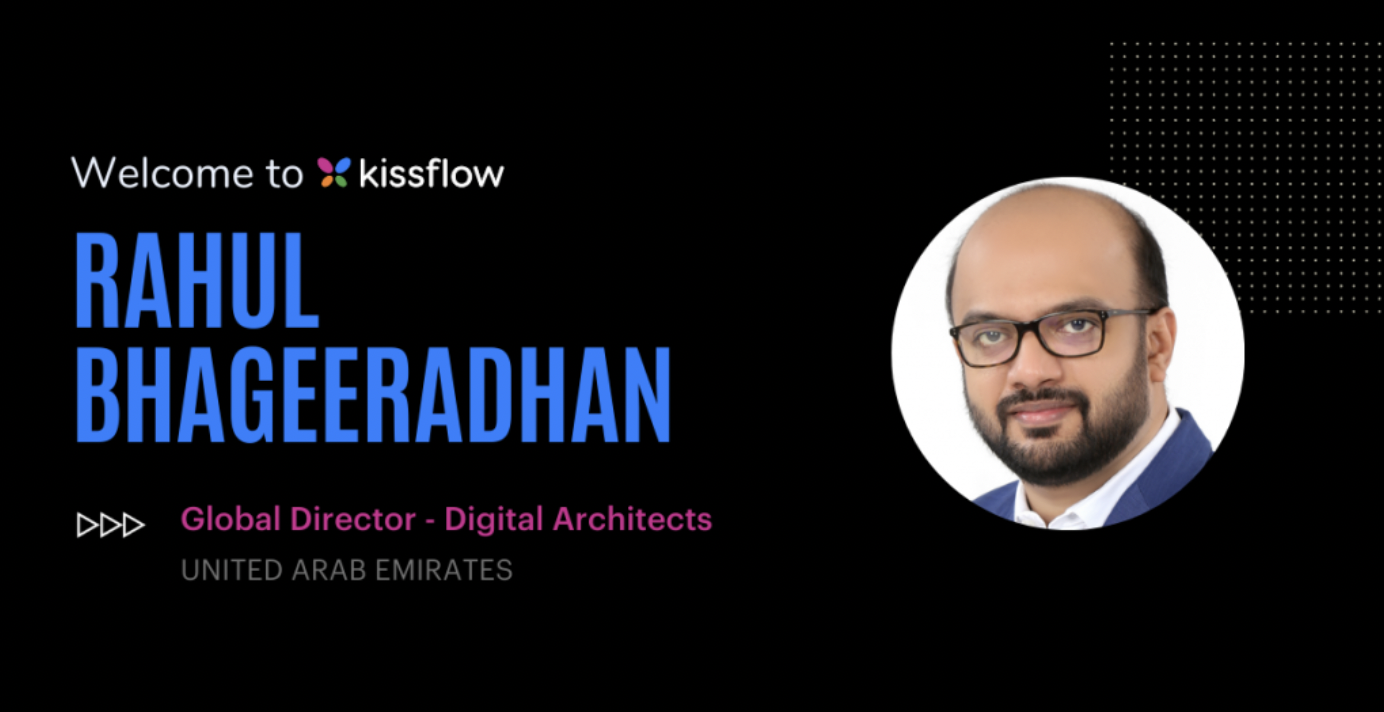 Kissflow, one of India's Top 5 SaaS Software companies whose products are used by organizations in over 160 countries, appoints Rahul Bhageeradhan as its Global Director – Digital Architecture to support Low-code / No-code customers. It comes at a time when Kissflow is setting up a global presence, with offices in the Middle East & Central America and significantly ramps up its pre-sales and enterprise sales teams.
In his new position at Kissflow, Rahul will establish and grow Kissflow's team of digital architects who will engage with customers to identify business process gaps, and address these by creating seamless workflows for employees and customers using the Low-code and No-code offerings. Based on these in-depth customer engagements, Rahul will also work closely with the company's product development team to ensure relevant and impactful features and functionalities are incorporated into Kissflow's solutions portfolio.
Rahul brings with him close to 16 years of experience in technical sales for digital transformation, focused predominantly on Low-code and No-code platforms. Prior to joining Kissflow, he has held senior leadership positions at Outsystems and Kony Inc.
Commenting on the opportunities that his new position offers, Rahul said, "Kissflow has made its mark with truly differentiated product offerings in the low-code and no-code space, with simplicity and speed being the key differentiators.
"I'll be working closely with customers to help identify the gaps and opportunities to add value in their customer and employee engagement life cycles. In their quest to utilize market leading technologies, we find that many organisations have invested in a bunch of best-of-breed technologies and internally developed applications. Kissflow's solutions help bridge the gaps between these discrete systems, thereby augmenting their capabilities and driving business outcomes," Rahul added.
Enabling and empowering Kissflow's partners will also be among Rahul's key responsibilities. "We are especially keen to help our channel partners develop vertical specific skill sets. This will allow them to leverage our Low-code and No-code platforms to create highly customized applications that effectively address the unique business requirements of banking, retail, HR and other segments," he said. In line with this, Rahul and his team are set to soon introduce different enablement tracks to train & empower the partner ecosystem.
"The Kissflow value-proposition is the simplicity and intuitiveness of our platform, and how seamlessly it integrates into existing IT infrastructures. With his expertise and experience, Rahul will be able to map our solutions into customers' long-term strategies to ensure simplicity is maintained while continually addressing new and complex business requirements," said Suresh Sambandam, CEO at Kissflow.
Our news directly to your email
Share this article