Anjali hated her company, and decided to leave.
This happens in every company from time to time, and while addressing the why is critical to the health of your team, securing the how is just as important.
The HR staff who handled Anjali's offboarding or exit interview process has no clue why Anjali hates the company. They also have no idea what can be changed, policy-wise, to make sure other people don't feel the same way Anjali did.
A number of exit interviews don't fulfill the purpose they are conducted for. Many employee exits get botched up, just because one HR exec slipped up during the offboarding process.
But this can be sorted with a good employee exit checklist and an efficient.
What is an exit interview checklist?
An employee exit interview checklist is the handout document used by HR professionals to ensure that all repetitive employee offboarding steps are accomplished in the right order. These checklists display the list of items that need to be verified and approved before sending off an employee, so to speak. Exit interview checklists allow HR teams to control and systematize offboarding activities.
The need for an employee termination checklist
A good exit checklist or termination checklist is an absolute necessity for one good reason: complacency.
When you repeat what seems like an easy, straightforward procedure regularly, it is a human tendency to slip up every now and then. Maybe you forget to collect some company property or remove access to confidential information. This sort of mistake is all too common–which is exactly why you need an employee offboarding (or employee departure) checklist.
Other benefits of employee exit checklist include:
Ensuring that the exit of one employee does not interrupt the flow of business
Making the offboarding process comply with company policies, certifications, and recommended safety measures
Collecting

feedback from employees

to provide insight into the success of the company's policies for employees
Safeguarding company's assets: both physical assets as well as proprietary knowledge
Okay, so what goes into a good employee exit checklist?
Here's how to create a great exit interview checklist template
Your organization's exit interview checklist gives you a chance to analyze the reasons behind employees' exodus. But oftentimes, exit interviews can turn into heated arguments because HR folks use this session to grill deserting employees with all kind of interrogative questions, while the latter groups see it as an opportunity to vent out their pent up emotions.
When such situations become a concern, you can conduct exit interviews en masse and give people the mask of anonymity.
Here are a few more tips for you to create an effective exit interview checklist template:
Include only relevant

exit interview questions

that double down on finding out why people are leaving the company
Include industry-specific questions, but tailor them to fit your organization's goals and requirements
Assure participants that their identities will be kept confidential and responses will be taken objectively, and not against them
Use quality

HR workflow automation software, preferably built on the cloud, to schedule interviews
Create a customizable form in the automated app to make sure you can change the interview checklist if and when needed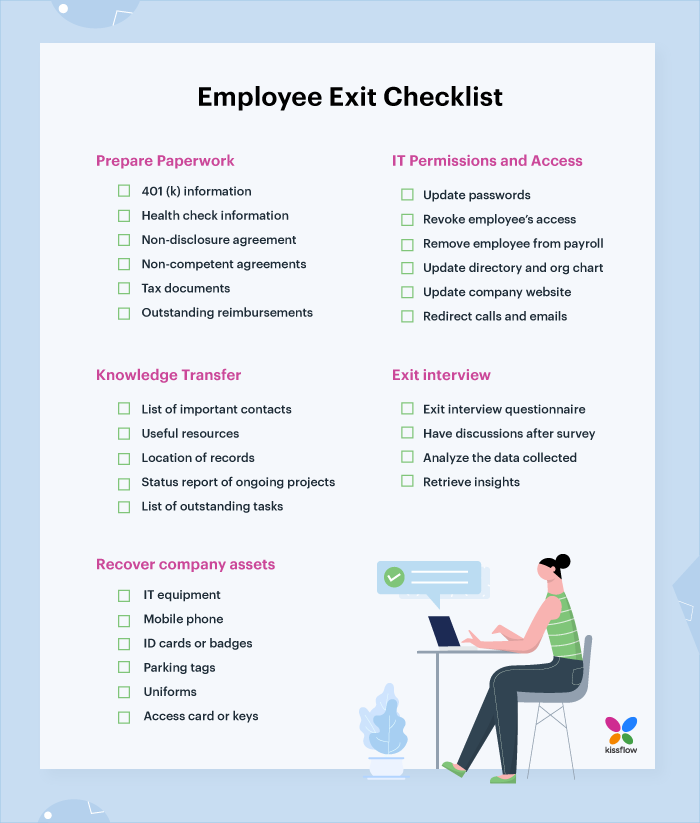 Key elements of a good employee exit checklist
Before initiating the employee exit process
Notification sent to HR as soon as employee sends in a resignation letter
If the employee hasn't sent in a resignation letter, the termination checklist should ensure that they hand one in, with the date of resignation mentioned clearly
If it's a termination, termination details need to be collected (reason, timing, an official responsible for termination order)
Checkpoints for handover, or completion of assigned tasks
During the employee exit process
Notification to the IT department, so they can restrict limited access to proprietary or sensitive information once termination is effective
Notification to office security staff, to collect employee ID, entry pass, entry codes and swipe cards
Alert the IT team about when to terminate employee's access to the office email ID, and other workplace-related software
Recollect all company property, including keys, books materials, company-supplied computers, and other hardware
Settle up all salaries, according to company wage policies
Compensate employee for all eligible vacation days left
Account for all unpaid payroll advances
Check all expense reports, and ensure there are no outstanding issues
Review confidentiality and/or non-competition agreements
After the exit interview process
Record exit interview date as soon as it is set, and notify those involved
Check if the employee will need references
Discover reason for resignation, unless it's termination
Receive and record feedback in exit checklist form from the employee on relevant company policies
Benefits of automating exit interview checklists
In addition to identifying the reason why employees leave, automated exit interview checklists offer an array of value-added benefits.
Automated exit interview checklists are:
1. Comprehensive
Using automated exit interview checklists, templates and forms, you can create a comprehensive exit interview process with real-time analytics.
2. Cost-Effective
Automating exit interviews is more cost effective and scalable than paper-based exit-interview process.
3. Consistent
Using automation, you can standardize the exit interviews that are executed through an exit interview app with perfect accuracy.
4. Time Saving
Without searching for paper checklists or following up on missed tasks, exit interviews can be quick and complete.
5. Insightful
You can create reports that are insightful and helpful in scaling up your exit interview process.
Automate your exit interview checklists with Kissflow HR Cloud
When looking for a solution that can automate your exit interview process, choose something that offers effortless integration. The tool shouldn't be something that will require your business departments to rely heavily on IT. Choose an all-in-one HR suite like Kissflow HR Cloud which comes with a built-in employee offboarding module.
With Kissflow HR Cloud, businesses can gain actionable insights that enable them to continually improve employee morale, happiness, and work culture holistically. Its exit interview questionnaires are designed to highlight potential risks and offer specific recommendations to determine what actions you need to take to course correct.
Planning to refine your exit interview checklists? Sign up for a free demo of Kissflow HR Cloud and see how easy it is to gain the insight you're looking for.

---
Related Articles:
---