Application Development
How Much Does it Cost to Develop an App in 2023? A Cost Breakdown.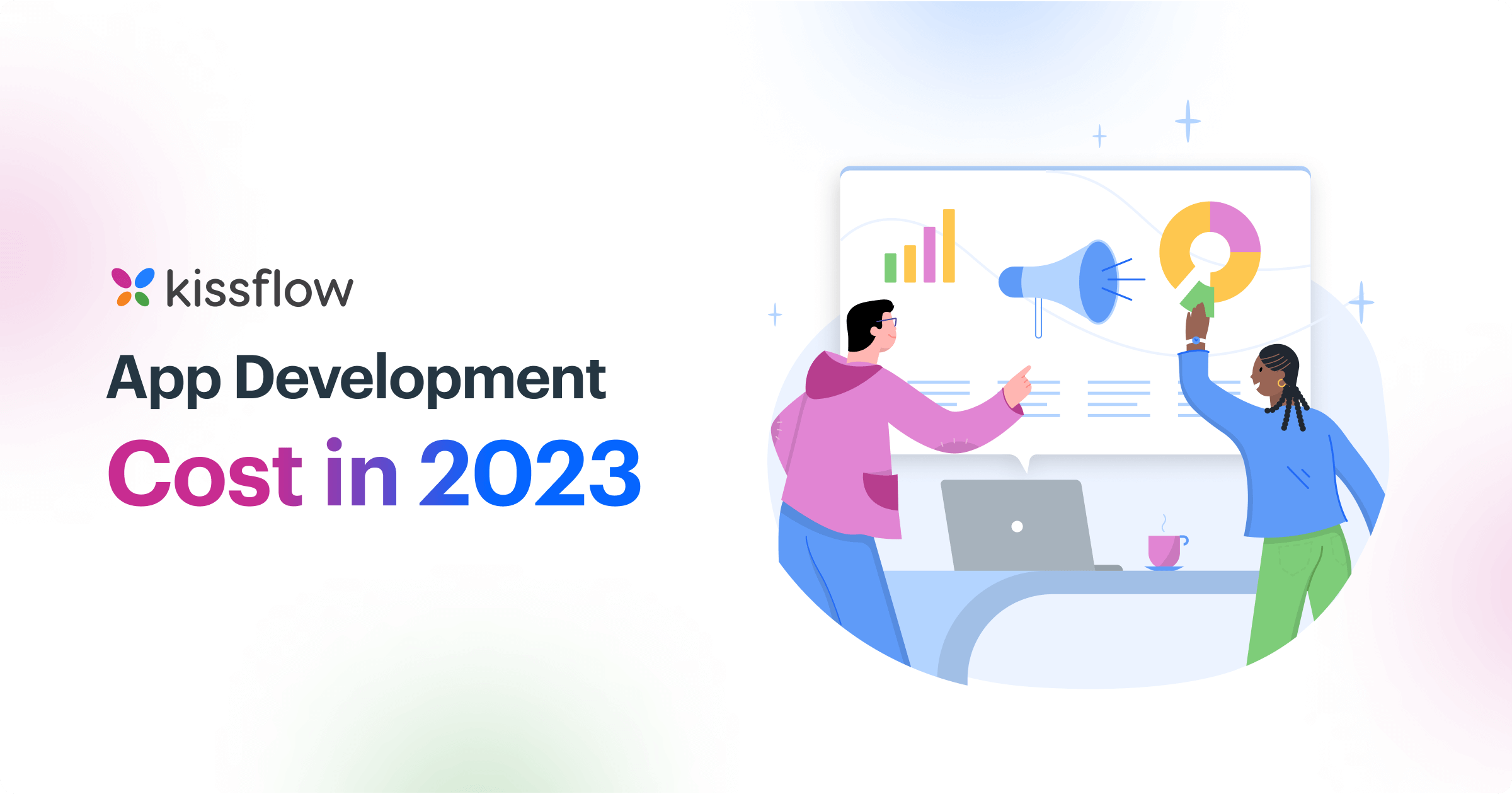 Looking to build enterprise apps and wondering how much it costs to develop an app? That's a question everyone interested in application development asks. In general, the cost of application development hinges on many aspects. This short guide will tell you everything you need to know about what it costs to build an app and how you can optimize these costs.
Table of Contents
What are application development costs?
Application development cost is defined as the amount that is required to create, design, and launch an application for organizations that needs to solve business challenges. Development costs can vary based on multiple factors such as
the complexity of the app
a platform for which it is being developed
location of the development team, and
features and functionalities required.
The cost to create an application can be broken down into different categories such as design, development, testing, and deployment.
Why is it important to understand the cost of developing an application?
When you understand the different costs related to app development and the factors that affect the final cost based on different application development companies, you'll make an informed decision. Besides app functionality and complexity, external factors also affect app development costs. For example, app developers and testers are paid differently in various countries, so your region will also determine the cost.
How to estimate app development costs?
It's difficult to estimate with accuracy how much an app will cost to develop as there are many variables involved in every project. While sophistication and functionality certainly come at a price, the telling factor is the approach to building an app. Gathering the following information can help you make an accurate estimate:
The design complexity
The development process
Features that need to be built
The complexity of the features
The complexity of the database
Third-party integrations needed
Quality assurance requirements
Security protocol and certifications
How much does it cost to develop an app?
As we mentioned, many factors influence app development costs. App development is complicated and understanding the costs involved can help you estimate how much it's going to cost you. The average cost of building an app varies depending on the complexity.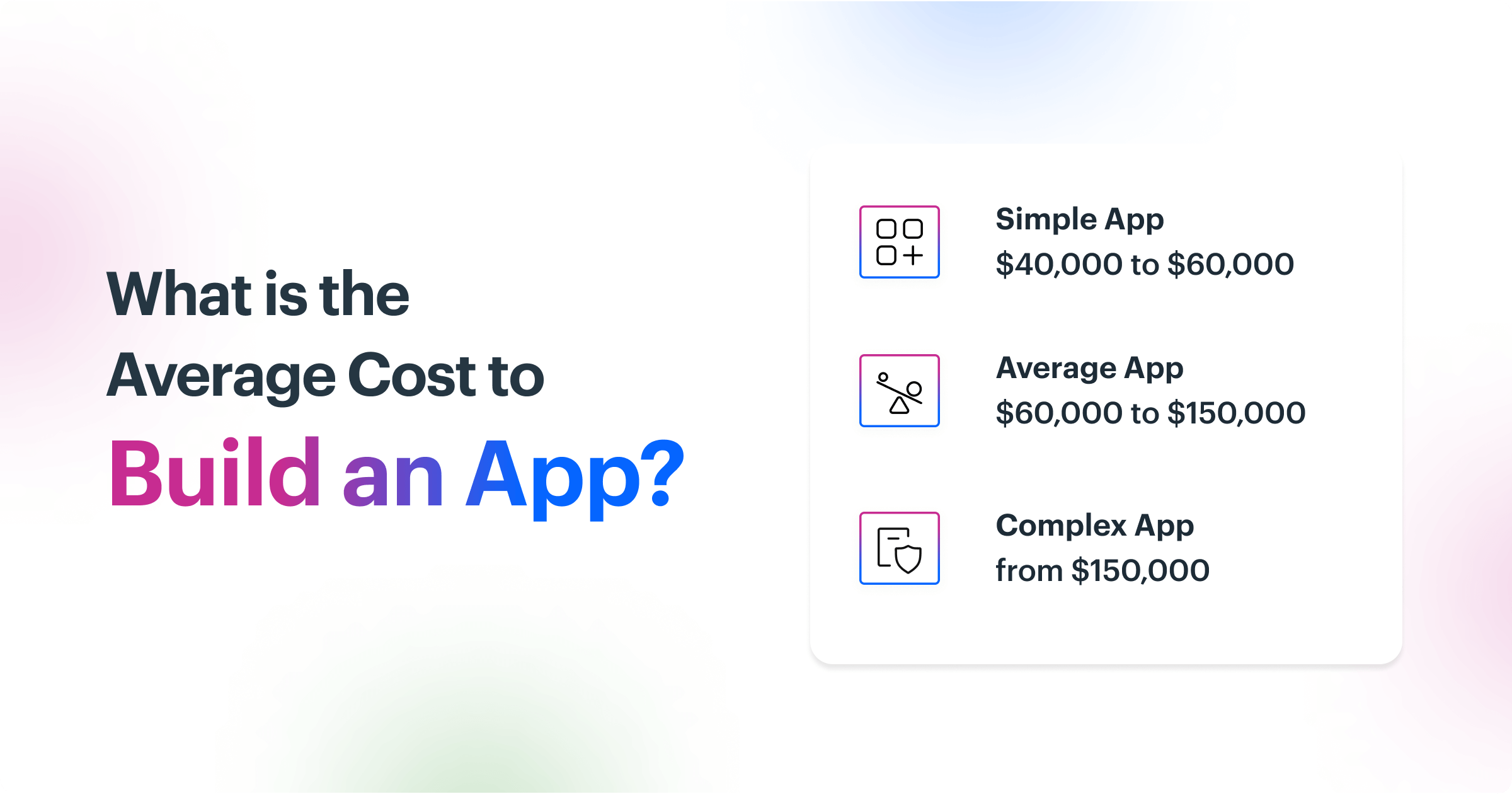 Simple applications can range from $40,000 to $60,000, the average app varies from $60,000 to $150,000, and the cost of building a complex app can start from $150,000.
It takes developers 2-4 months to build a simple app, 4-6 months to build a medium-complexity app, and over 9 months for a complex one. These are rough estimates, the actual app development cost and timeline will also depend on developers' productivity and the approach.
Cost breakdown of app development based on components
Design: $3,000-$30,000 (this depends on the complexity of the app, the developer team, and the team's location).

Development: $40,000 to $300,000 (based on the level of complexity and the size of the project).

Testing: $5,000 or less.

Maintenance: $250 to $500 a month (you can budget 20 percent of the development cost for maintenance).
Cost comparison for different types of apps in the market
Native app: $40,000 to $300,000. This usually depends on the platform used, the complexity of the app, and the UI/UX.

Hybrid app: $90,000 to $700,000. Several factors determine app development costs, such as the developers, the app building platform, UI/UX, design and functionality, updates and maintenance, and app security.

Web app: $5,000 (for a simple web app) and up to $500,000 (for a complex project).

Low-code/no-code app: It could range from $1500-$2000 per month. The factors to consider while evaluating the cost are
- Platform expenses
- The valuable time of subject matter experts
- The efforts required for quality assurance
Factors that influence the application development cost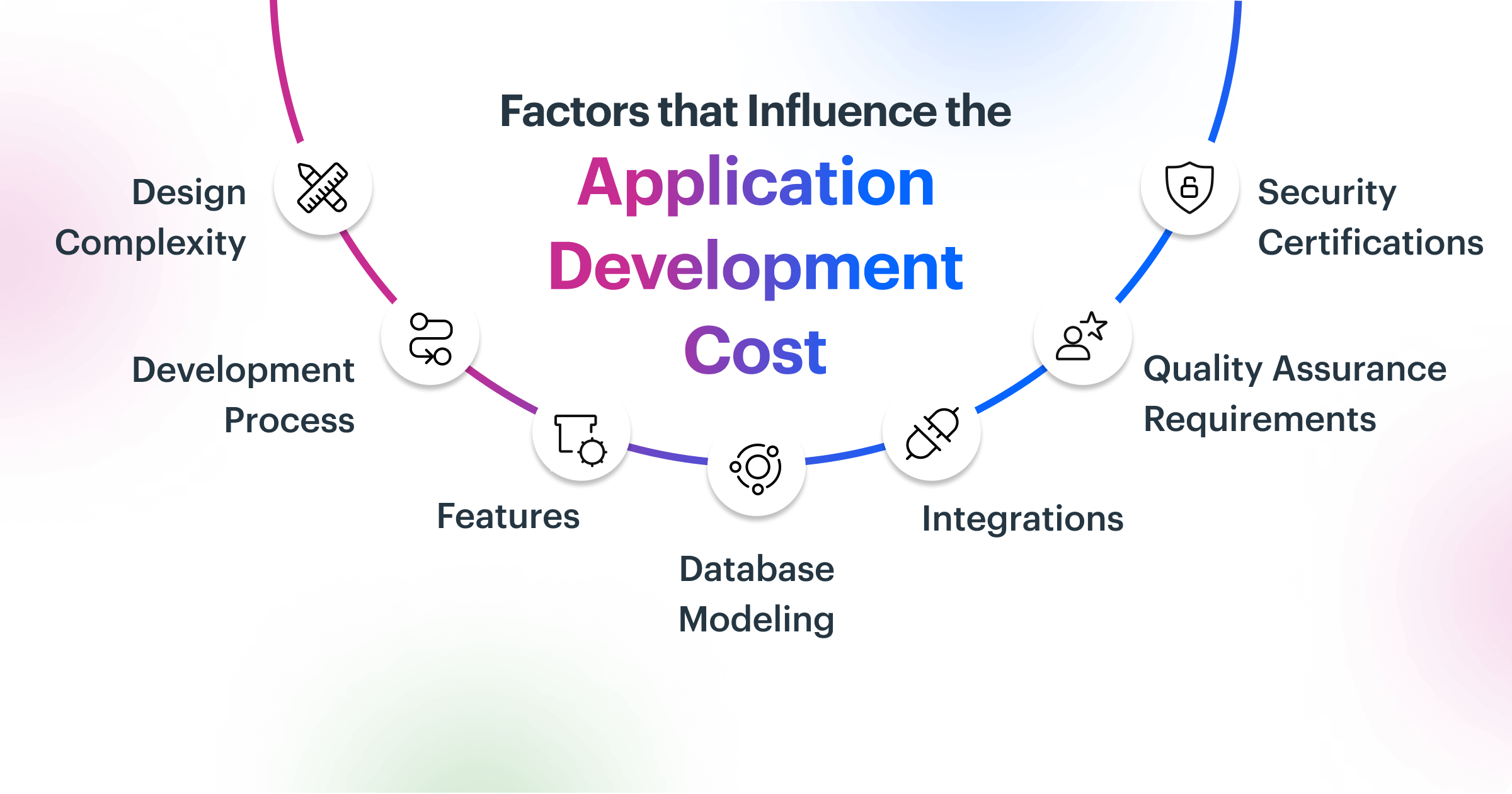 Design complexity
Design complexity is an important aspect for developers. It often defines how long and how much the app is going to cost.
Development process
The length of the development process heavily depends on the approach app developers take. Traditional app building has a long process and costs more than other methods.
Features
Functionality is everything. The more functions the app is required to fulfill, the more time and effort it takes. Feature rollout takes place in increments and this prolongs the typical development cycle.
Database modeling
Managing large-scale databases and migrating data from a legacy system can take quite some time. Developers have to ensure smooth data migration and that specific formats are followed.
Integrations
Integrations are only possible when certain aspects of the app are built. Developers must build connectors and work on specific API integrations. These significantly impact cost and time since they require intense collaboration.
Quality assurance requirements
Quality assurance typically accounts for 20%–30% of the development cost. Carrying out regular quality assurance ensures lesser bugs and enhances usability. This may not directly impact cost but the activities occupy bandwidth.
Security certifications
Security protocols and certifications ensure an app complies with all industry standards and regulations. Obtaining these certifications take quite a bit of time and effort.
How to reduce the cost of building an app?
If you're looking to digitally transform your business, you need to develop applications that streamline work. But app development is costly unless you adopt an approach that speeds up the process and cuts costs.
Low-code and no-code technologies can help you achieve this. Coupled with citizen development, these approaches ensure the onus of app development is partially shifted from the IT team to business users. Citizen development makes it incredibly easy to democratize development—ensuring business users use low-code and no-code tools to build better solutions for specific business problems.
These approaches come with several advantages. Low-code platforms, for example, can speed up app development by up to 10X. But this is just the tip of the proverbial iceberg.
Here are some of the ways you can reduce the cost to build an app:
Build a fully functional prototype first: A prototype helps you to avoid wasting money and time building a fully functional app.

Use readymade templates: Building things from scratch is great, but it isn't cost-effective. Most low-code/no-code platforms have multiple free templates, and you can easily find a great fit for your app.
Focus on the essential features: To reduce the app development cost, focus on the features that drive the business function and save both money and time. The more resources and time you spend on features, the more your costs increase.

Have a simple UI: Use a simple yet appealing UI for a better user experience. Intricate designs tend to confuse new users, so they may not use the app. Many businesses have apps with simple user interfaces to cut development costs.

Troubleshoot: Troubleshooting is important during the development phase and after the app launch. Proactive troubleshooting during and after the launch will keep your app users pleased with their experience.
Some of the hidden costs that you will find when you develop an application are,
Server and hosting costs

Data storage costs

Integrations costs

Multiple platforms costs

Costs for mid-development changes

Marketing costs
Choose the right platform: This is the most important tip for reducing hidden costs in app development. A low-code/no-code development platform can significantly reduce development costs because in-house employees build the apps, not external developers.

Build a cross-platform app: Make sure the enterprise app can run on the web and on mobile. A cross-platform app is easier to build and more cost-effective.

Only add the essential features: Don't add many unnecessary features to make the end-user experience more exciting. Complex features increase the app development cost. Moreover, the extra features might not add value to the users.

Be proactive about app maintenance: Proactive maintenance reduces unplanned downtime, app failure, and the risks associated with using faulty applications.
Choose between outsourcing, in-house, and citizen development
Outsourcing can ensure your app gets built faster, but it's not cheap. Developers in the US charge $60-$100 per hour on average, and putting a team together can quickly drive up app development costs. In-house app development is more cost-effective.
If you have an in-house team of developers, you'll save money on app development, but the process may take time if the team is swamped with other business-critical tasks. Getting non-developers to build custom apps is a lot cheaper than outsourcing. Citizen development is both effective and affordable.
When you choose the right low-code or no-code platform, you can empower developers and non-developers to build apps on demand. Low-code development platforms allow IT to quickly build applications without having to research, write and test new code.
Key takeaways
Building apps from scratch is a great idea, but it is also expensive. It can have a significant impact on the budget, especially for companies that are still in the early stages of growth and scaling. And this is why it is vital to pick the right solution.
A comprehensive app development platform like Kissflow provides an easy-to-use interface, allowing citizen developers to build functional enterprise low-code applications from scratch. The comprehensive platform helps businesses of all sizes bridge the gap between IT and business users.
FAQs
How much does it cost to build an app for a business?
The cost of building a business app ranges from $40,000 to $300,000. Factors that influence the price include the design, UI/UX, developer costs, features, maintenance, and more. But you can decrease costs with low-code/no-code development tools.
Can I create an app for free?
Yes, you can create an app for free with low-code/no-code app development tools. Most platforms have a free trial you can use before making a commitment.
Are there any tools available to calculate the app development cost?
Yes, there are many app cost calculators available online you can use to determine app development costs before getting started.
Is there a maintenance cost in app development?
Yes, an app maintenance cost is charged if you use a traditional app development process. The cost can be significantly higher in the first year, up to 50 percent of the total development cost. But if you use a low-code/no-code platform, you won't pay anything for app maintenance as you can do it directly on the platform.
How much does it cost to hire an app developer?
The cost of hiring an app developer depends on the app's complexity. A simple app may cost you $16,000 to $32,000, while a complex app may cost over $70,000. The cost of hiring a US app developer is around $105,000 / year.