Looking to build enterprise apps and wondering how much it costs? That's a question everyone interested in application development asks. In general, the cost of application development hinges on many aspects. This short guide will tell you everything you need to know about app development costs and how to minimize them.
How to estimate app development costs?
It's difficult to estimate with accuracy how much an app will cost to develop as there are many variables involved in every project. While sophistication and functionality certainly come at a price, the telling factor is the approach to building an app. Gathering the following information can help you make an accurate estimate:
The design complexity
The development process
Features that need to be built
The complexity of the features
The complexity of the database
Third-party integrations needed
Quality assurance requirements
Security protocol and certifications
How much does it cost to develop an app?
As we mentioned, many factors influence app development costs. App development is complicated and understanding the costs involved can help you estimate how much it's going to cost you. But on average, expect app development costs vary depending on the complexity of the app needed.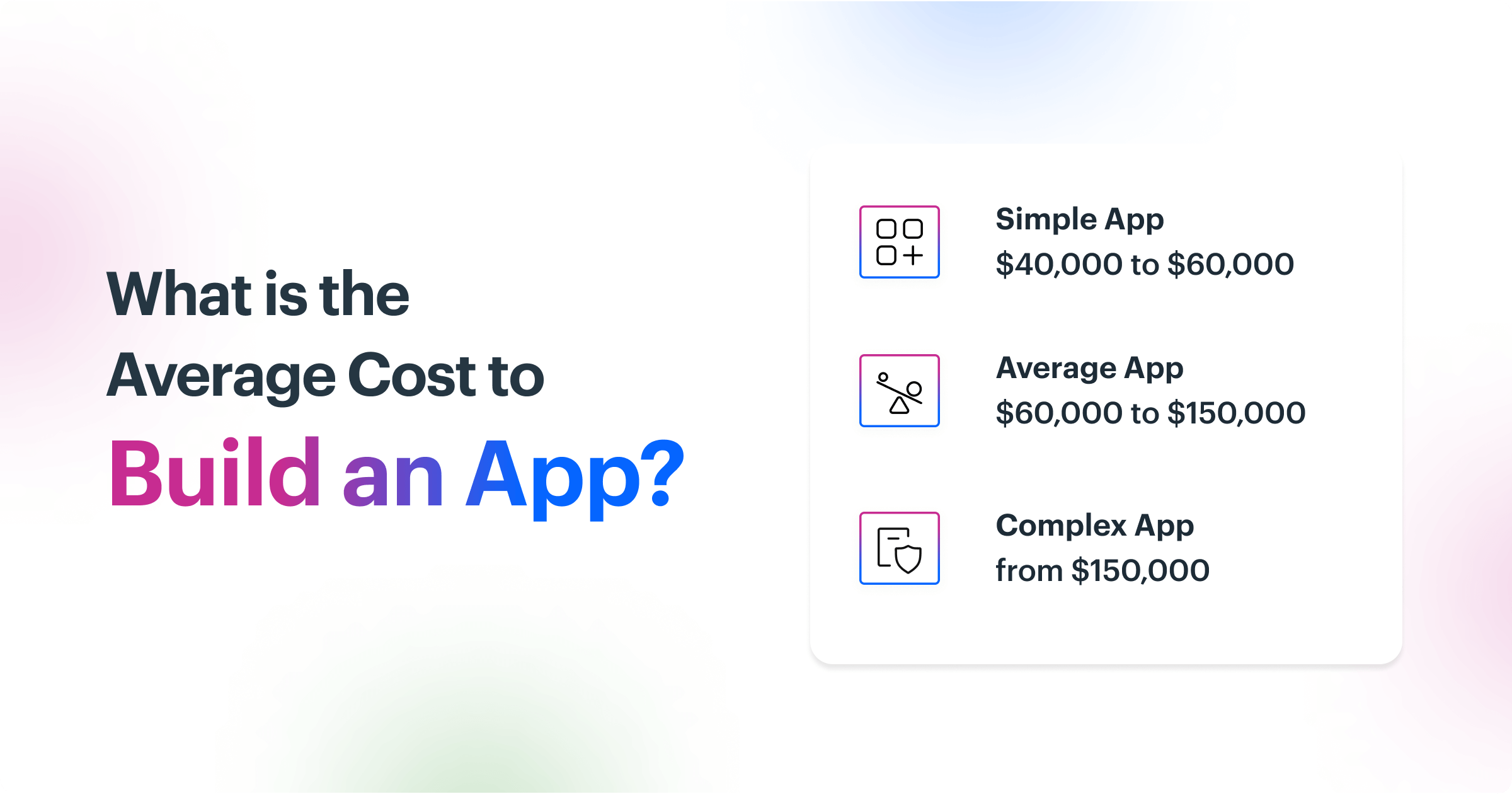 Here are some examples of how much it costs to develop an app in 2023:
Simple app – $40,000 to $60,000
Average app – $60,000 to $150,000
Complex app – from $150,000
It takes developers 2-4 months to build a simple app, 4-6 months to build a medium-complexity app and over 9 months for a complex one. These are rough estimates, the actual app development cost and timeline will also depend on developers' productivity and the approach.
Factors that influence the application development cost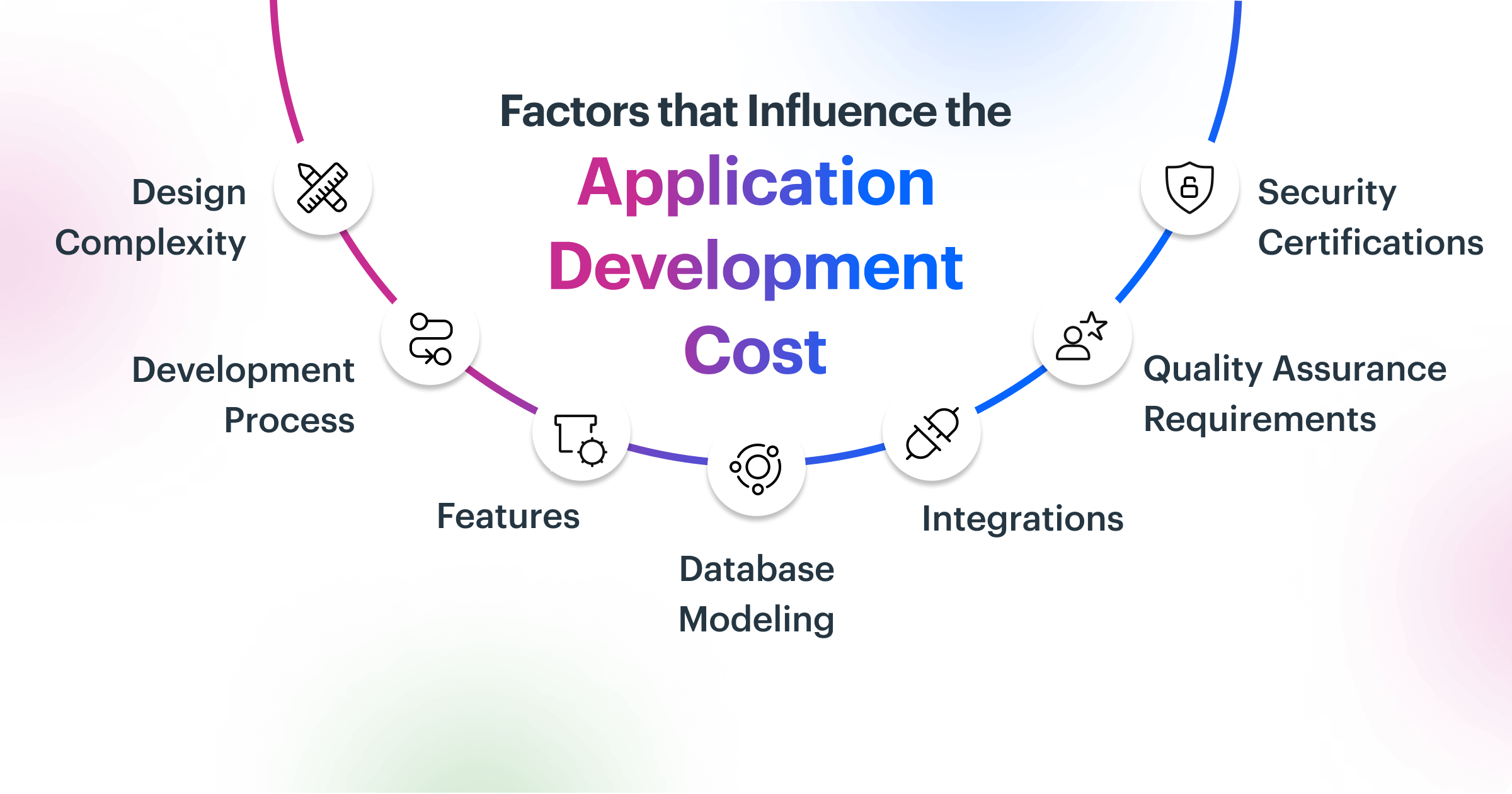 Design complexity
Design complexity is an important aspect for developers. It often defines how long and how much the app is going to cost.
Development process
The length of the development process heavily depends on the approach app developers take. Traditional app building has a long process and costs more than other methods.
Features
Functionality is everything. The more functions the app is required to fulfill, the more time and effort it takes. Feature rollout takes place in increments and this prolongs the typical development cycle.
Database modeling
Managing large-scale databases and migrating data from a legacy system can take quite some time. Developers have to ensure smooth data migration and that specific formats are followed.
Integrations
Integrations are only possible when certain aspects of the app are built. Developers must build connectors and work on specific API integrations. These significantly impact cost and time since they require intense collaboration.
Quality assurance requirements
Quality assurance typically accounts for 20%–30% of the development cost. Carrying out regular quality assurance ensures lesser bugs and enhances usability. This may not directly impact cost but the activities occupy bandwidth.
Security certifications
Security protocols and certifications ensure an app complies with all industry standards and regulations. Obtaining these certifications take quite a bit of time and effort.
How to reduce the cost of building an app
If you're looking to digitally transform your business, you need to develop applications that streamline work. But app development is costly unless you adopt an approach that speeds up the process and cuts costs.
Low-code and no-code technologies can help you achieve this. Coupled with citizen development, these approaches ensure the onus of app development is partially shifted from the IT team to business users. Citizen development makes it incredibly easy to democratize development—ensuring business users use low-code and no-code tools to build better solutions for specific business problems.
These approaches come with several advantages. Low-code platforms, for example, can speed up app development by up to 10X. But this is just the tip of the proverbial iceberg.
Choose between outsourcing, in-house, and citizen development
Outsourcing can ensure your app gets built faster, but it's not cheap. Developers in the US charge $60-$100 per hour on average, and putting a team together can quickly drive up app development costs. In-house app development is more cost-effective.
If you have an in-house team of developers, you'll save money on app development, but the process may take time if the team is swamped with other business-critical tasks. Getting non-developers to build custom apps is a lot cheaper than outsourcing. Citizen development is both effective and affordable.
When you choose the right low-code or no-code platform, you can empower developers and non-developers to build apps on demand. Low-code development platforms allow IT to quickly build applications without having to research, write and test new code.
Key takeaways
Building apps from scratch is a great idea, but it is also expensive. It can have a significant impact on the budget, especially for companies that are still in the early stages of growth and scaling. And this is why it is vital to pick the right solution.
A comprehensive app development platform like Kissflow provides an easy-to-use interface, allowing citizen developers to build functional enterprise low-code applications from scratch. The comprehensive platform helps businesses of all sizes bridge the gap between IT and business users.