17 Jul 2020
Kissflow Featured in IDC's report for Q1 2020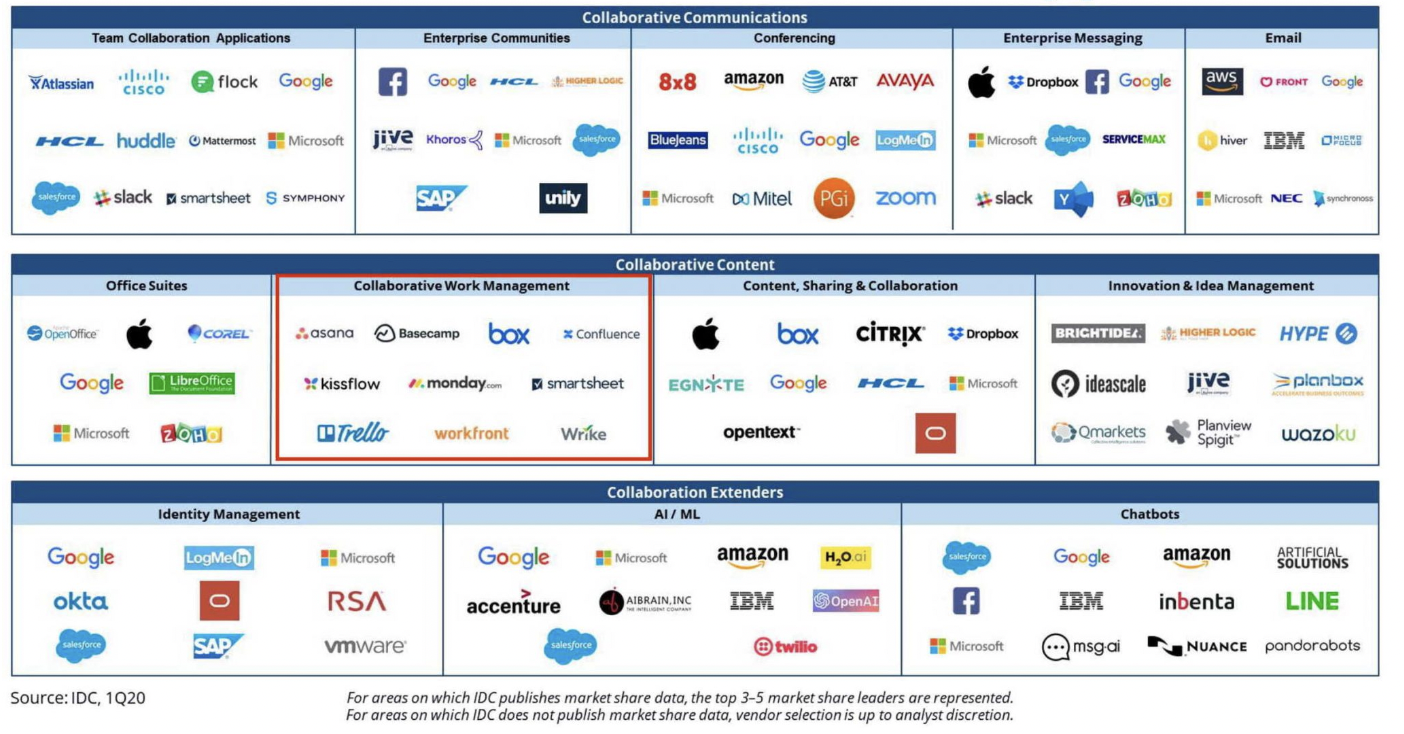 Kissflow is prominently featured alongside Wrike, Basecamp, Trello, Monday.com, and Asana in IDC's Collaborative Work Management Market report for Q1 2020.
This report covers all categories of collaboration applications, from team collaboration tools to enterprise messaging apps and chatbots – providing one of the most comprehensive analysis of the current collaboration market.
It reiterates the fact that agile collaborative applications are key to an enterprise's digital transformation. Connected employees now expect the experience of consumer communication and collaboration applications in their work environment — and the productivity it gives them. The increased need to consider remote working and new productivity enablers play into the strengths of collaborative applications listed in this report.
Workplace collaboration scenario at-a-glance
Organizations have to acknowledge the shifting behavior and workplace choices of employees. It is time one provides maximum support to their employees either by investing in up-skilling them or by providing beneficial technologies to be more productive.
Besides, organizations need to be mindful of factors that connect employees and customers, ideally leading to a better business outcome. For those who are new to this ideology, here is the hint—it is time to ditch the historical customer-centric approach and hop on the employee-centric wagon.
To implement it successfully, leaders must understand the importance of the employee-centric approach and methods/tools needed to scale the efforts. The best support one can get is from industry analysts who constantly analyze the market space to help leaders bid on the right tools and methodologies.
Several opinions and research works about employee productivity started emerging right after the boom of computer-mediated culture. Implying the combination of co-evolving humans and computer tools as a single system that will revolutionize the way we work. Soon came the understanding of the relationship between productivity, teamwork, and business success.
In the knowledge economy, each of us act as information carriers, the reason why peer support, one-to-one, and one-to-many collaboration mediums have become the heart of employee engagement as well as productivity.
With the unbelievable spike in knowledge sharing mindset, the imitation of the same is expected within the workplace, and the better way to accomplish it is by implementing a comprehensive collaboration platform across teams in an organization. The ultimate purpose of implementing such a collaboration tool should be amplifying employee productivity and encouraging collaborative work culture.
Wayne Kurtzman, Research Director at IDC leading Enterprise Social Media, Communities and Collaboration practice has analyzed the Collaboration Applications market space and shared insights into its current states by evaluating active contributors of this category, where Kissflow leads the Collaborative Work Management realm.
The report is called IDC Market Glance: Collaboration Applications, 1Q20
Our news directly to your email
Share this article