28 Sep 2020
Dinesh Varadharajan featured in the List of Top 100 Great People Managers 2020
Spokesperson : Dinesh Varadharajan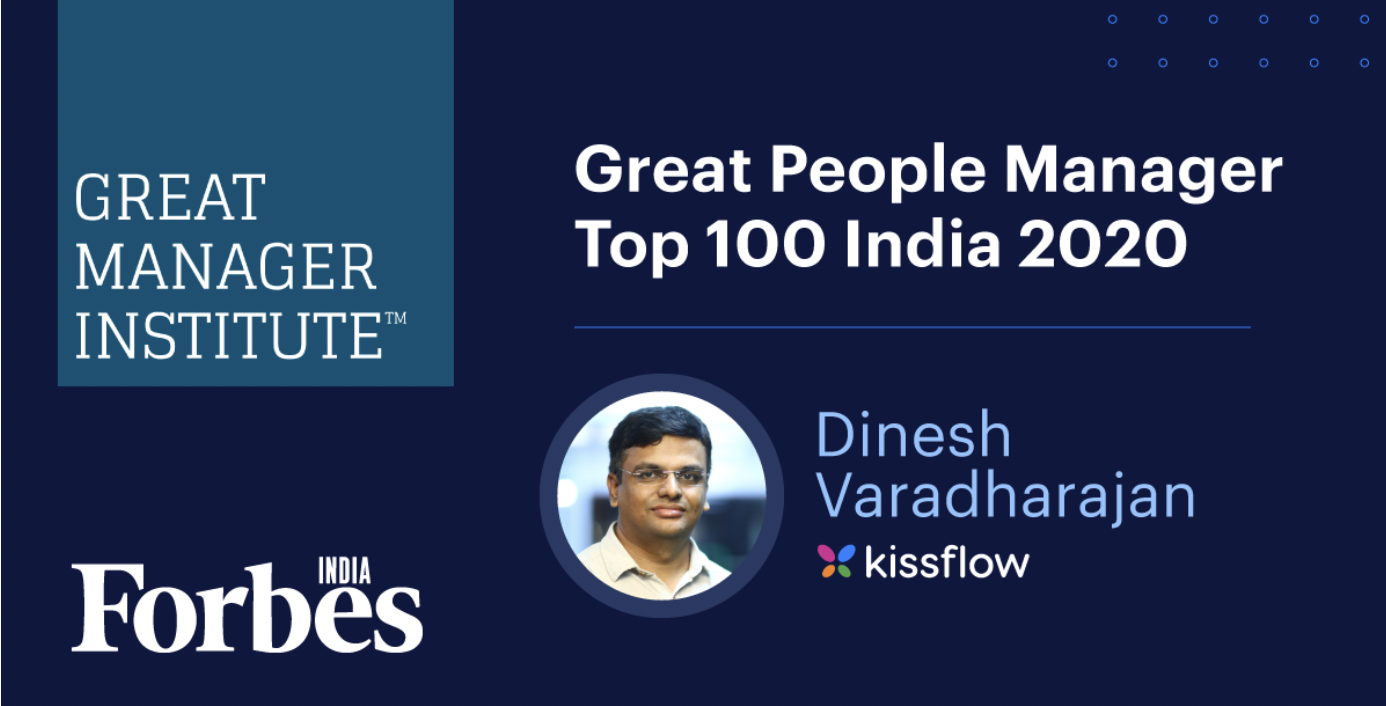 Whenever we see an outstanding leader, we are struck by the fact that they demonstrate 3 common qualities: the ability to connect, develop and inspire their teams.
With an ambition to create an institution that nurtures greatness in people, we set out on a mission to understand the ability of our people managers to connect, develop and inspire their teams.
We are excited to announce that Dinesh Varadharajan, Vice President – Product Management at Kissflow has been featured in the List of Top 100 Great People Managers & Leaders 2020, conducted by Great Manager Institute and Forbes India, for successfully demonstrating the traits of a great leader.
The selection happens through a rigorous process involving 1100+ organizations, 6300+ managers/leaders and multi-layered evaluation. We are proud to have Dinesh in this prestigious list.
Dinesh Varadharajan is the Vice President at Kissflow. He leads the product management team at Kissflow, the first unified digital workplace for organizations to manage all of their work on a single, unified platform. An MCA graduate from Gobichettipalayam, Tamil Nadu, Dinesh was part of the founding team and has been with Kissflow for 16 yrs now. He is a hands-on executive with a wide range of experience working with bleeding-edge technologies, developing great products and mentoring highly productive teams. He has profound knowledge in design and technical implementation of BPM solutions.
When asked what is it he has learned during his years leading teams, Dinesh says, "We see ourselves as a collective, and not just as a company. All 200 of us drive the organisation forward.
I believe in an 'eyes-on, hands-off' approach. We recruit really smart people who don't need to be managed – they only need guidance. We only facilitate, we don't direct. We believe in creating a team of superstars, working together to solve a common problem. Processes and rules should only act as guardrails."
Talking about the work culture at Kissflow, he says, "We have created a networked environment rather than a top-down structure. We make people own the things they do! That's all a good leader needs to do to unleash the real potential of teams."
Share this article