Rafic A. Kreidie (RAK)
Paper Approvals Deserve to Go the Way of the Dodo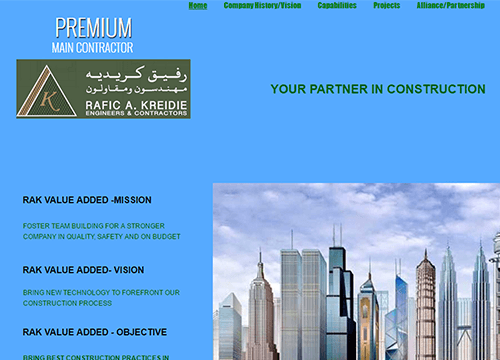 Industry Type
Construction
Number of Employees
201-500
Number of Apps Created
41
Rafic A. Kreidie (RAK) is an engineering and contracting firm based in Jeddah, Saudi Arabia. A. Hashim, IT Specialist with RAK, heads an IT support team to assist departments such as procurement, sales, and the finance team with tech issues, email requests, and application works.
The team had its hands full with lots of support requests pouring in. Sometimes things went awry because requests mostly came via paper forms. Hashim needed a solution to help his department get back on track or else they would start losing contracts quickly.
RAK's Processes Were in a Mess
RAK used a traditional way of managing workflow in the organization across departments. One person would send a task request or an approval that would go back and forth through a trail of paperwork.
When Hashim had to send a request order to someone in a department to initiate a process, he had to wait for weeks before the tasks finally came back to life. It was demoralizing for him to see the tasks not being followed up, approved, or taken seriously at all. His team and others lost a lot of time trying to get papers signed and there was a lot of blame happening among cross-functioning teams.
The Saving Grace
Hashim credits Kissflow for helping his company stay on top of tasks without unnecessary delays.
"After (implementing) Kissflow, everything is smooth. Everyone can manage their work. People are not blaming others anymore as managers can now see how a task is progressing, where is it stuck, or who is delaying it. Everything is fast now," Hashim said.
The Visible Difference
Substituting RAK's manual workflow process with Kissflow has set order to things. Now teams don't pass the buck to other departments and the process is transparent. Approvals are quick, procurements are done on time, and initiators of tasks are informed about how far a request has progressed.
"What took us one hour previously now takes just 5-10 minutes. Everyone uses their computer to follow tasks and process it forward to the next stage."
And during the few times when his team encountered a problem using Kissflow, the support team quickly helped him troubleshoot the issues.
Things Are Looking Up for RAK
Hashim says the upgrade to Kissflow 2.0 has worked out nicely for his company. To start, the new user interface seems better and more visually appealing. New features like dynamic reporting system and customizable notifications are definitely valuable. Hashim and his whole team are very happy to see the workflow process speed up at RAK and are anxious to try it in new ways.
Automate Work. Reduce Chaos
Drag & Drop. No Coding Required. Trusted by 10,000+ Companies.