One of the greatest and most important challenges of project management is communicating clearly with your team about both the details and the big picture of your project. After all, it's unlikely people will work on the right things in the right order if they don't understand how each task– and its timely completion– contributes to the success of the project. One of the best ways to communicate with your team is via visual project management.
Visual project management is a method by which you can organize and visualize processes over traditional projects and utilize tools to help everyone involved visualize the status and needs of the project.
Not all project management strategies for visual are made equal, however, and they aren't one-size-fits-all solutions to every one of your project management needs. According to the Project Management Institute, "Visual project management offers up information delivered in such a way that anyone can consume it at a time, place, and manner that is convenient to them."
5 Visual project management tools to look for right now
There are many digital platforms you can use to employ these visual project management tools. Project managers need to choose one that suits your team's needs and is easy for everyone to use. Here is the 5 best visual project management software that is best on the market.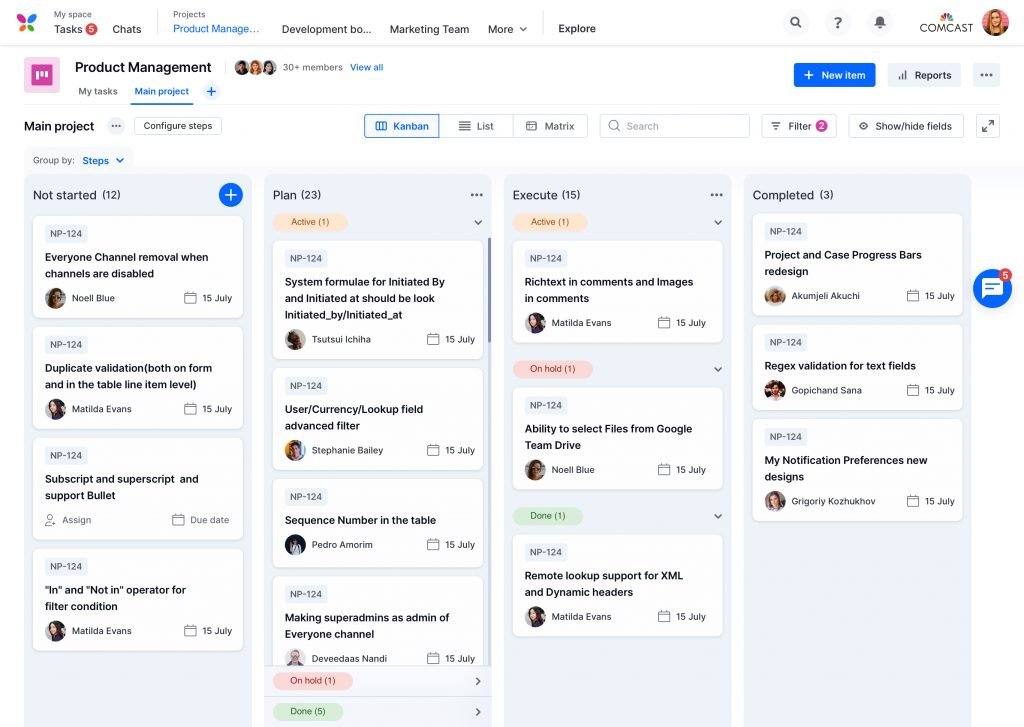 Kissflow Project takes a unique approach to kanban boards, adding divisions in each column for "in progress", "on hold", and "done" sections. This de-clutters the kanban board by allowing fewer columns (rather than a separate one for "on hold" tasks in each phase for example) and thus making the project easier to visualize. Kissflow Project kanban boards can easily be utilized for scrum sprints.
2. Asana
Asana allows users to create templates for use on similar projects in the future. It's good for all-size businesses but not ideal for freelancers. Some users feel Asana's interface is overly simple and the system is too rigid, but Asana offers Gantt charts, calendars, and kanban boards.
3. Monday.com
Monday.com has Gantt charts, calendars, and work breakdown structures. Some users feel the interface gets too cluttered when multiple assignments or comments are on a single board, but overall the user experience is intuitive and simple.
4. Wrike
Wrike offers Gantt charts, calendars, and kanban boards. It's a flexible platform and lets the user decide how to visualize their projects effectively. Wrike allows users to prioritize certain tasks over others and easily integrate with other external applications.
5. Zoho Sprints
Zoho Sprints is an agile project management tool featuring scrum boards. It integrates with Zoho Projects, which features Gantt charts, Kanban boards, and other customizable functions. It has many integrations, though not as many as some of its competitors, and it isn't robust enough for large enterprises.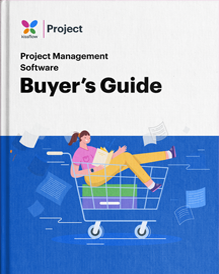 Struggling to pick the perfect project tool?
A comprehensive guide to help in your search
Read for Free
Types of views in a visual project management software
It's important to use tools and a format that will actually be useful to your team, so let's take a look at some of the options.
Kanban boards
The Kanban Method is a visual system for organizing workflows. It helps prevent bottlenecks, encourages incremental improvements, and balances demands against available capacity.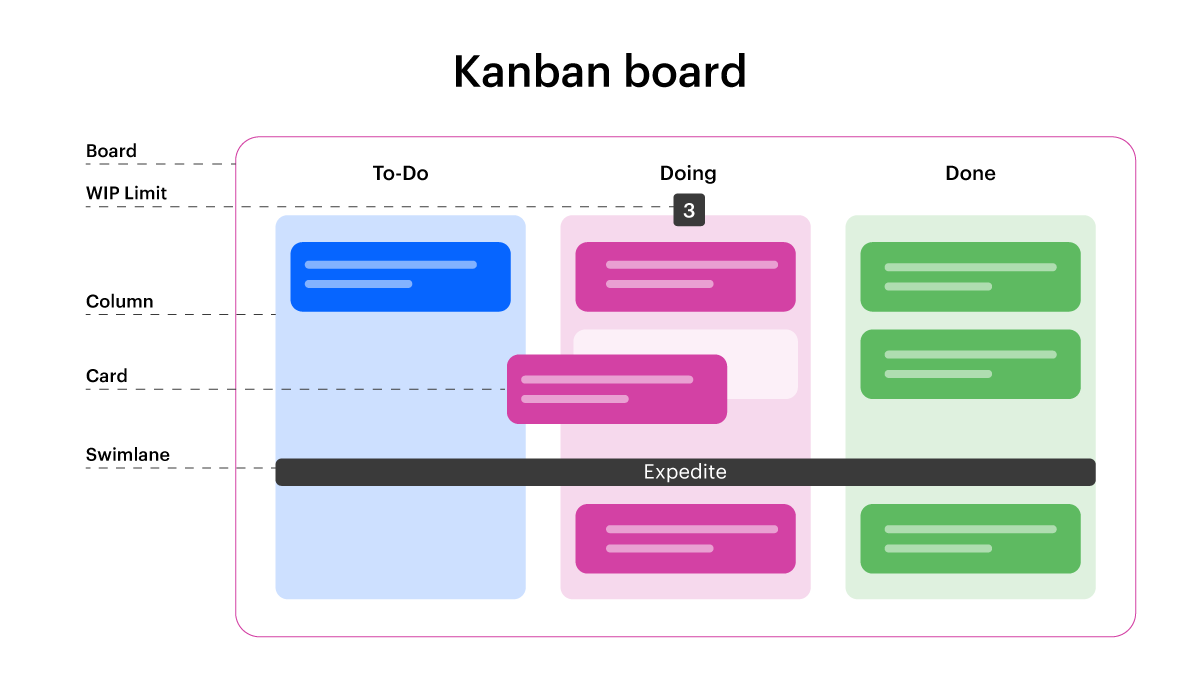 A Kanban board works by dividing a project up into phases and assigning each of these phases to a column on the board. Then the board is populated by creating task "cards", one card for each task. It is kind of a project collaboration tool where the cards should include just enough information to help everyone stay organized- perhaps a task name, due date, and person to whom it's assigned.
Cards are moved from column to column as tasks are completed, and the whole team can see at a glance the status of each task and the overall progress of the project.
Scrum boards
Similar to a kanban board, a scrum board organizes projects using columns and cards and operates as a "pull system," meaning that completed work leaves a space on the board, signaling new tasks can begin. Unlike a kanban board, which is used for continual processes, a scrum board is based on short "sprints" of work, usually two to six weeks.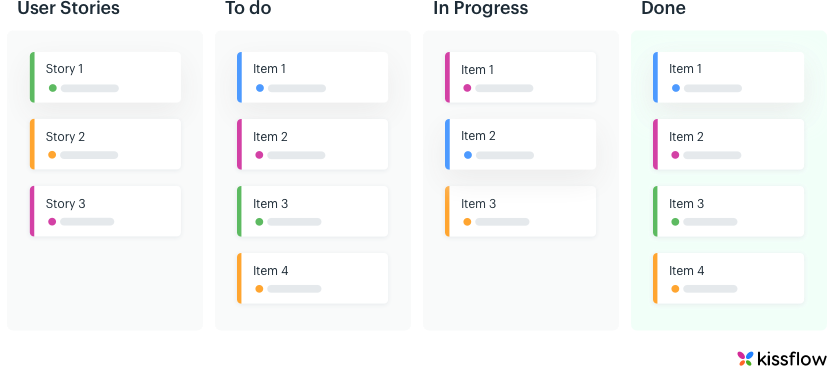 New items can't be added to the scrum board during the sprint, and the board is cleared for the beginning of each new sprint.
Project timelines
A project timeline displays activities (defined as tasks or events) against a period of time using horizontal bars to illustrate the duration of each activity. Every project should probably utilize at least a simple timeline to make sure everyone can visualize quickly the project constraints and their project phases.
Timelines serve an important purpose but should be complemented by other visual tools, like kanban boards, to fill in the details of sub-tasks and team responsibilities.
Gantt charts
A Gantt chart is the most popular type of project timeline. It allows users to easily visualize the total length of the project; the tasks in a project; their anticipated start dates, end dates, and durations; and any overlap among tasks in the project. Gantt charts work best for projects with relatively few tasks and in which few schedule changes are likely.
Complex projects may result in a cluttered and difficult-to-use Gantt chart, and they can be cumbersome to update if changes occur.
Calendars
Digital calendars are useful because they're easy to update, shareable, and can send you reminders of upcoming deadlines and meetings. If you use a calendar integrated with a google project management tool, you can often change views, automatically send alerts and updates to affected team members, and import information from other features into your calendar.
Work breakdown structure
A work breakdown structure (WBS) is a chart that divides a project up into smaller sets of tasks and activities. It sometimes looks something like a family tree at first glance, with the project name at the top, individual deliverables below, and progressively smaller "chunks" of work at each descending level. Normally a maximum of four levels is sufficient.
Work breakdown structures are very helpful for estimating the costs and duration of a project. However, they aren't designed to be flexible or to show durations or dependencies of tasks.
Visualize projects with Kissflow Project
As you can tell, there is a huge array of digital project management platforms such as Kissflow Project that offers a wide variety of visual project management tools. We've only scratched the surface here. You can help your team see success by implementing visual tools in your project management software.