What's the first step of success in project management?
Getting started.
And how do you get started?
By creating a plan.
No matter how awesome the project you're set to execute is or how enthusiastic and energetic you are to deliver on it, you'll never achieve your targets without a clear vision of where you're going.
That's where the work plan comes in.
What is a work plan?
A work plan is a roadmap of how you're going to execute a project. A work plan is essentially your master plan outlining the steps you'll take, the objectives you intend to achieve from them, and a general overview of where your project is headed.
You'll agree that project management is largely a game of planning as you'll only be able to achieve your stated objectives when you have a clear outlook on where you're going.
In this article, you'll learn:
Why exactly do you need to manage a project with a work plan,
How to create a functional work plan—terms, tactics, and tools, and,
The ideal tool to use for building the best work plan possible.
Why do you need a work plan?
Before we set off building work plans and exploring how they work, we have to first understand where a work plan sits in your project management strategy. Why do you even need it and how exactly does it help you achieve the goals you set out to complete?
Keeps your team organized and builds accountability
You can only provide leadership when everyone on the team has a clear vision of what we're all gunning for, and what they should each be doing to get the team closer to your target at the end of the day.
The work plan serves as your ideal tool for this. The work plan shows your team your project goals in clear terms, but most importantly, shows them the work each one has been assigned, so everyone doubles down doing what brings success in the bigger picture.
It's always harder to mess up when you know what exactly you should be doing and how it adds up in the bigger picture.
Align your stakeholders
At the end of the day, project management doesn't happen in a vacuum.
Typically, you'll have executives, product owners, project managers, and a lot of stakeholders across and outside your organization who're affected by the work you're doing on each project.
In order to deliver the best outcomes possible, you need buy-in from these stakeholders to guide your efforts, ensure you're on the right track, and that your efforts are well-coordinated.
A work plan serves as a canvas where you can draw your battle plan, get input from relevant stakeholders, and change what needs to be changed so you can get the best outcomes.
Create a fully functional battle plan
A work plan serves as a battle plan where you can visualize your strengths, weaknesses, opportunities, and any threats facing you and your goals on the impending project execution. Outlining everything helps you visualize what you can expect in the course of executing a project.
A work plan is a map you create to guide you through the entire process of executing a project and delivering your project goals. Without one, failure is inevitable.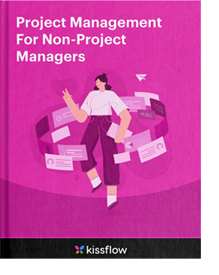 Want to learn project management but put off by jargon?
Learn what's important in the simplest ebook for non-project managers.
Download Now
How to create a work plan?
Knowing how crucial a work plan is within the bigger picture of the project planning, how then do you create one?
For best outcomes, your work plan needs to be planned in-depth, involve as many stakeholders as possible, and include enough details to truly serve as a roadmap that offers enough information throughout the course of the project.
1. Create a master file with basic project details—name, high-level goals, timeline, etc.
Before taking any significant steps to execute a project, the first step needed is to clarify where you stand right now.
What are your goals?
What does the project timeline look like?
What are the basic bits of information surrounding your situation?
A master file gives every stakeholder involved a single source of truth where they can quickly access and stay in touch with why you are carrying out this project in the first place.
2. Frame a background for your work plan
As we established already, no project takes place in a vacuum.
A project is always the outcome of work a company has going on that led to another offshoot.
Likewise, every project touches on different parts of an organization that need to be kept in tandem.
Create a thesis statement explaining the background of your project, how you got started, where you are at, where you're headed, relevant stakeholders, and as much information to provide actionable context to whoever it may concern.
3. Outline your goals and objectives
What are we here for?
What are we looking to achieve?
When can we say this project is done?
How can we define 'done' based on the work we need to do?
A project will never be achieved until you have a clear vision of exactly what you need to do first of all. That's why you need to outline the goals and objectives you intend on achieving in the course of your project. A goal is a high-level big picture outcome the entire project is intended to have, while objectives are the targets that add up to your bigger picture goals.
Goals and objectives should be SMART.
4. Take stock of the resources you have at your disposal—tools, manpower or headcount, budget
Resource accounting is a two-step process: first, you have to estimate how much technical and human input you need to deliver on your project targets.
Secondly, you need to take stock of the resources you have on hand to be able to allocate them efficiently.
5. Outline the obstacles you have to surmount to achieve this project
What hurdles would you have to jump over to get this project delivered? Do you have any experience with such obstacles? Can you acquire anyone with such expertise?
6. Assign tasks to team members—keep everyone accountable for who does what exactly
With your project objectives broken into bits, you can assign tasks to individual teams and experts. This creates an atmosphere of accountability where people get to own results and at the day's end, you have a specific person or team to hold responsible when anything doesn't go as planned.
Creating and managing a work plan isn't disarmingly hard nor is it rocket science.
Using our 6-step process, you'll be able to create a work plan that serves as the perfect roadmap for your envisioned project.
Create and manage a work plan with a project board
Now you have a simple, easy-to-follow outline for creating and managing a work plan in your hands. Next up, you'll need to choose a project management tool for building one.
Like all things project management, you'll need to choose a tool to help you create and manage your work plan.
Now, that tool could be MS Word, Excel, Google Docs, Kissflow Project, Asana, or just about any too, out there you want —your pick.
But, take it from me, you want to pick a tool that empowers you to plan, engage stakeholders, and eventually moves you closer on the path of fully delivering your project objectives.
So, first, you'd need to understand what you need to have in a work planning tool to make an informed decision.
Ideally, some of the features you want in a work planning tool include:
Task management, so you can assign tasks to team members, track their progress, and know when they're done—without chatting them up every 15 minutes,
Project collaboration tools

with

communication

via comments, chat, @mentions, and notifications to help everyone stay informed of whatever's happening that they need to know,
Workflow features so processes and tasks can be programmed to automatically go through the various levels of input they need to be completed,
Time tracking

to help keep everyone within your timeline, and
So, which one tool combines all these features into one easy-to-use tool?
A project board would be your best bet. Project boards are designed to offer you a visual project management tool for managing work so you can plan with better context, manage with ease, and engage your entire team.
Project boards are built to be simple, powerful, and capable of hosting powerful automation so you can do more from a simple, easy-to-use interface.
A project tracking software offers all the need-to-have features we've listed above so you can do more with less, and achieve better outcomes on your projects.
With the Kissflow project board, you can:
Create tasks and move them through phases by dragging and dropping in different columns,
Create one source of truth for your entire team to work from,
Manage a large team with ease, and
Leverage the power of automation to complete tasks faster.
More specifically, Kissflow Project, our Kanban board is designed as a project management machine for teams. Unlike other project boards that may skimp on collaboration features (mentions, notifications, chat) workflows, time tracking, or even task management, Kissflow Project offers the ideal work planning tool for teams of all sizes.
Kissflow project board simplifies the work planning process so you can:
Visualize what you intend to achieve before you even start,
Keep track of assets and information, all in one place,
Engage and manage your team,
Focus on executing without stagnating on small details.
Take Kissflow Project for a spin here.