Project Management
Here's How an Editorial Calendar Can Help Beat Your Content Marketing Goals
An editorial calendar is an incredible tool when it comes to marketing content. It helps with scheduling and organizing different types of content to provide consistency and direction. Managing an editorial calendar with efficiency is crucial. It involves dedication from everyone involved. Without that, it becomes tough to reap the numerous benefits it offers.
Typically, in project management, handling an editorial calendar involves choosing the right project management tools and relevant topics, as well as prioritizing tasks and scheduling deadlines. The great thing about them is how they assist in making the content management process seamless.
Editorial calendars contain relevant information on how everything should pan out. Therefore, when you want to publish content to reach its target audience, using editorial calendars is always a good idea.
Editorial calendar vs content calendar
What is an editorial calendar, and how is it different from a content calendar? Newcomers might use these two terms interchangeably, but there are important differences.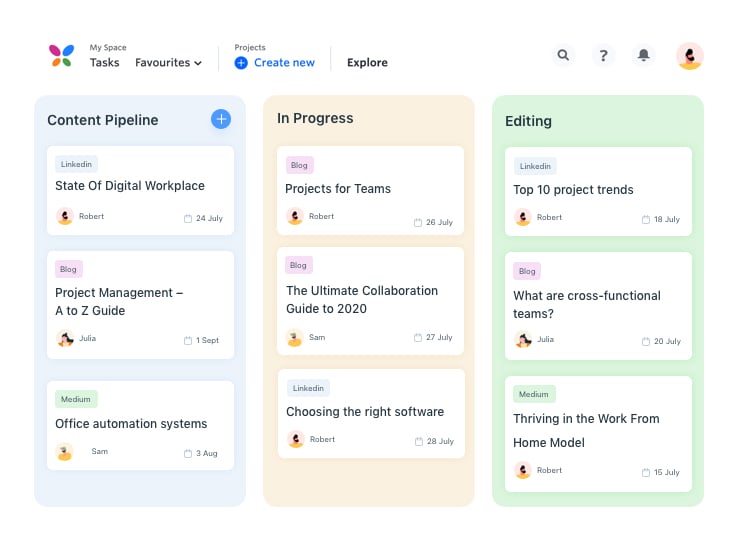 Editorial calendars outline content themes for blogs, social media, and magazines by enabling the option to mark dates for important events. They contribute to the overall coherence and increase opportunities for promotional activities, conversions, and achievement of milestones.
One editorial calendar example could be of a skincare brand wanting to advertise its products on a blog through a sponsored post. If you're interested in collaborating, you could sift through your calendar and choose the best date to schedule the article. Perhaps, it could be just before Black Friday when you know people are more likely to make a purchase.
Contrarily, content calendars only track progress. They help reduce the chances of missed opportunities and streamline marketing strategy to deliver desired results. However, what delineates between the two types of calendars is privacy. Content calendars are for personal reference only, whereas their editorial counterparts are often made accessible to advertisers.
Some people even choose to combine both calendars as a means of seeking maximum benefits, which can stimulate significant improvements in the overall editorial process.
How to organize an editorial calendar – the right way
There's no point in using an editorial calendar if you don't use it properly. Every creator approaches organizing an editorial calendar with a unique perspective, but it is necessary to ensure efficiency in any approach. Remember, there is powerful marketing project management software, but diligent planning is an indispensable prerequisite. Therefore, certain steps need to be followed.
1. Download a suitable template
The right marketing template can go a long way. For a publisher, getting a blog editorial calendar template with a working format can solve a lot of problems. From scheduling and publishing to promotions, you can integrate social media, email, and content marketing all in one place.
2. Set marketing goals
Marketing goals are a derivation of business goals. Naturally, marketing goals help you make a roadmap for your team to follow. Once you figure out why you're expending the effort, you'll work with more zeal and stay motivated to deliver.
3. Formulate a strategy and choose compelling topics
Content is king! The statement may sound old and overused, but it is still relevant. Writing about what interests your audience is crucial if you want to connect with them. This stage involves coming up with relevant topics, pointers on how to create content, and a proficient strategy that can propel your team to the top.
4. Schedule everything
Assigning dates to activities like publishing, advertising, and collaborations are vital. Proper project scheduling allows you to utilize the benefits of every tool at your disposal and makes it easier for your team to gauge its performance. Consistently missing deadlines or cutting it close would indicate that the current approach is not working, and lead you to try new things.
However, don't make it too easy as well. That will cause another set of problems for your team.
And don't forget to try our Free and Customizable Templates:
5. Stay adaptable
With any process, modifying content ideas as well as strategy is necessary. What works at a certain point in time may become redundant in the future. This is why consistent monitoring is important, as it eliminates errors and improves the quality of your work.
Social media calendars in the digital age
In 2020, every business, publisher, and content creator is leveraging the benefits of digital marketing with the help of creative project management software. Social media has revolutionized brand awareness, and that isn't changing for a long time. Publishing engaging posts at the right time, using targeted hashtags, and running ads are all inexpensive methods of skyrocketing business success. However, all of it can quickly become overwhelming. With social media calendars, however, you can elevate planning your content so that it yields results.
Today, there is a plethora of social media tools at your disposal. Some may focus on a specific element of social media, while some come with an all-in-one package. Some of the most popular features include bulk posting, automated scheduled posting, analytics, AI recommendations, integration across various platforms, and much more.
Make the most out of your editorial calendar
You'll need more than just the right mindset to design a promising editorial calendar that delivers excellent results. The correct project management template and tools are undeniably the lifeblood of such processes, but following certain practices can make all the difference. Some of the tried-and-tested ways of ensuring success are:
1. Distribute time proportionately
When scheduling content, make sure you assign adequate time and achievable deadlines. Otherwise, you'll always be behind on realizing your business objectives. Unrealistic deadlines will demotivate your team and will negatively impact everyone's performance.
2. Categorize efficiently
Categorization is the fundamental advantage that editorial calendars provide. With effective visualization, your team can easily get an idea of what's happening with a single glance. Hence, this task deserves your utmost attention. Be patient and Divide your work according to different platforms, urgency, completion, and other pertinent metrics.
3. Create a board for rough ideas
Rely on your calendar for everything! Especially when you brainstorm, formulate rough ideas, and record them to refine later. Depending on which template you're using, you can even share project boards with your teammates and ask for their feedback.
Editorial calendars turn you into a hero
The 21st century is fast-paced and all content creators need to be great at their game if they want to succeed. Relying on integrated channels for improved processing, efficient project collaboration, and effective management is now a necessity. With Kissflow Project, using an editorial calendar has numerous benefits as it eliminates most of the complications that come with manual organization.
These calendars help fill gaps, save time, improve scheduling, and help with planning to ensure excellent results with unparalleled consistency.