Project management plays a critical role in the growth of small and medium businesses. Unlike large entities, small businesses require their project managers to wear many hats and oversee multiple responsibilities. With so much on your plate, you need the best project management software for small teams to navigate requirements and maintain productivity.
7 best small business project management software review
Here's a brief overview of the 7 best project management software for small businesses and teams that are available on the market today.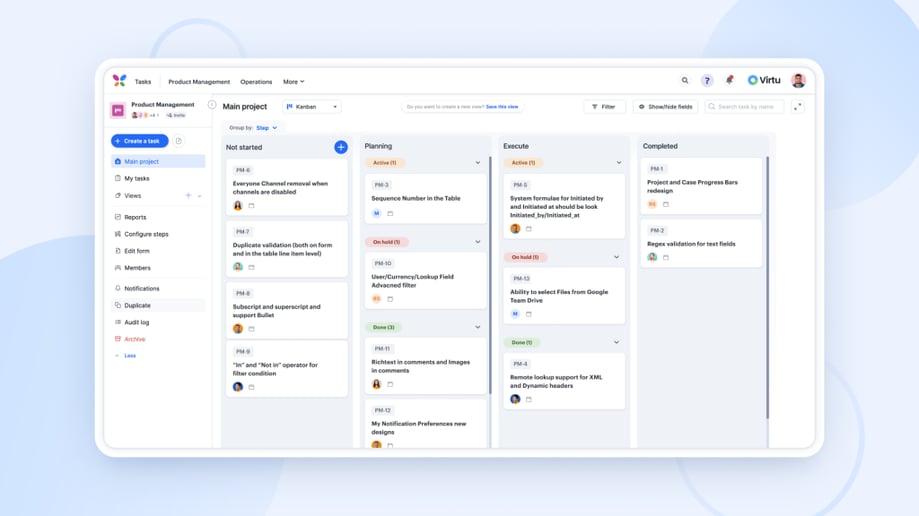 Simplicity, efficiency, and effectiveness. Kissflow Project personifies these characteristics and successfully optimizes the way you handle projects. Small businesses seldom have project managers. This role is usually fulfilled by functional managers who are not formally trained or experienced in the field. Kissflow Project equips them with exactly what they need to succeed.
Here are some of the most important features of the Kissflow Project that are especially useful for small teams:
Advanced communication channels
Capability to create secret channels
Project reporting

and analytics
Visualization tools

between Kanban, matrix, and lists
Excellent security features
24/7 support
Custom fields
Project and task status
Small businesses for project management don't have the luxury of vast IT budgets and need to be frugal when selecting any tool. Kissflow Project understands that and offers multiple free and paid plans.
Free

– A basic package for small teams. Can allow 3 users and runs 1 project at a time.
Starter ($45/month)

– Equipped with everything you need to get your team on track. The package has a limit of 5 users and 5 projects. However, you can pay $5 per additional user.
Professional ($75/month)

– Unlimited custom views and unmatched capabilities. You'll find everything you'll need to optimize your workflows and streamline processes. The package has a limit of 5 users and 10 projects. You can add additional users at the rate of $10.
Enterprise (Custom)

– Tailored plans to fit your organization's needs with their excellent capabilities. Enjoy unlimited views, storage, and file-sharing options at a very reasonable price.

Kissflow Project pricing here.
2. Deskaway (Brightpod)
Brightpod is a specialized project management system for marketing teams that uses flexibility, visualization, and simplicity to optimize performance. Being designed for marketing project management does not mean that Brightpod can't work in other industries. For small businesses, the ability to adapt quickly and communicate effectively are paramount for success.
A project management tool like Brightpod can help you achieve that with the following features:
Excellent visualization
Task delegation and tracking
Workflow automation
Specialized widgets for content and social media strategy
Task and project management
The pricing structure of Brightpod is also favorable for small businesses. Instead of paying for additional features depending on your requirement, Brightpod allows you to pay one flat rate for all services. You'll pay for the number of users and projects you can run. Here are the 4 plans they offer:
Professional ($29/month)

– All the features with 5 users, 15 projects, and a maximum 10 GB storage.
Studio ($59/month)

– All the features with 12 users, 50 projects, and 100 GB storage.
Agency ($99/month)

– Unlimited projects for 25 users with 250 GB storage and advanced insights.
Agency Plus ($199/month)

– Unlimited projects for unlimited users with 500 GB storage and multiple add-ons.
3. Blocksted
Blocksted is a small business project management tool that focuses on minimizing clutter by focusing only on the important things. This tool is specially designed for small businesses and allows managers to keep an eye on all ongoing processes in only a few clicks.
Here are a few key features of Blocksted:
Task and project management
Kanban boards
Reporting analytics
Task delegation
Unlike many other options, Blocksted offers a very simple pricing structure. There are only two plans:
Personal ($0)

– Absolutely free for up to 10 users and 10 clients. You have 3 projects and storage of 1 GB
Business ($76/month)

– Unlimited users, projects, and clients. This plan offers 500 GB storage space along with access to priority support at any time.
4. Flowzone
Flexibility and customization are among the top requirements of any tool that caters to small businesses. In their initial stages, businesses deal with high-impact projects and need to deliver results with consistency. Flowzone can help you with that. Being true to its name, this small business project management software tool comes with an inherent flexibility that makes it a great fit for any industry.
From the simplest projects to complex setups, Flowzone has everything you need.
Contrary to the pricing structure of many tools in this list, Flowzone does not limit its features based on the plan you purchase. All features are available from day one and the only limit is on the number of users.
Here are the plans:
10 – 50 users:

Monthly charges of $12/user. The minimum number of users is 10.
51 – 100 users:

Monthly charges of $9/user.
100+ users:

Monthly charges $6 per user.
5. Projecturf
Small businesses are generally more chaotic in nature. To stimulate growth, such entities must consistently punch above their weight, and this leads to some unique issues for project managers. Smaller teams, fewer resources, and stricter schedules are some of the most common challenges that small businesses face.
Some of the top features of Projecturf are:
Task delegation
Project visualization
Collaborative interface
Little to no learning curve
Scalability
The software offers 3 payment plans:
Basic ($50 flat/month)

– A simple collaborative interface to get everyone on the same page.
Standard ($15/user/month)

– Basic task and project management features with 50 GB storage and 3 project templates.
Advanced ($30/user/month)

– A comprehensive project management tool with unlimited templates and open projects. It also offers storage space of 100 GB.
6. Slenke
Slenke is a comprehensive small business project management tool that simplifies work by organizing tasks and improving communication. It allows you to streamline all stages of project management starting from the plan to the final stage. You can make use of this tool's several templates, monitor your progress, and keep an eye on the overall time and resources you are spending.
Project and task management
Seamless

project collaboration

for everyone
Excellent project visualization
Integration with other tools
End-to-end encryption
When it comes to functionality, Slenke does not limit the features based on the package you have. However, the premium plan allows you to run more projects and does not limit the number of users. Here are the details:
Free Plan

– All Slenke features are available for a single project and up to 5 users.
Premium plan ($18/user/month)

– Add unlimited users and run multiple projects at a time with some other benefits like priority support, custom branding, and unlimited storage.
7. NiftyPM
NiftyPM lives up to its name by centralizing work and creating an automated project management process for your team. This small business project management software comes with all the project and task management capabilities you can expect from any high-end project management software on the market.
All-in-one tool
Task and timeline management
Collaborative functions
Allows you to switch between Kanban, list, and matrix views
Import workflows from other tools like Asana, Basecamp, etc.
Businesses at different stages have different requirements and Nifty caters to them. It offers 4 different packages that cover the requirements of all kinds of businesses easily. All rates are flat, so you won't have to worry about paying a specific fee for every user.
Starter ($49/month)

– For small teams of up to 10 members. The package offers unlimited guest accounts and can run 40 projects at a time.
Pro ($99/month)

– A simple, but powerful choice for budding businesses. Can run unlimited projects at a time and supports up to 20 members.
Business ($149/month)

– Perfect choice for established businesses and teams looking for growth opportunities. This package allows up to 50 members and offers a storage space of 1 TB.
Enterprise ($499/month)

– A comprehensive choice for the most advanced teams. Enjoy all of Nifty's solutions and add unlimited members to your team without any additional charges.
Why do small business needs project management software?
Small businesses have several unique requirements and the small business project management software you select must be able to fulfill them. While there is no one-size-fits-all approach for project management, there are some key features that are indispensable. The following lines will go through some of the features that are necessary for any project management tool for small teams or businesses.
Integration with other apps:

Any business, big or small, relies on multiple tools and technologies to optimize its projects and operations. An

online project management software

allows you to integrate required apps into your workflows. This would save everyone's time and allow them to focus on work.
Cross-platform accessibility:

Another essential feature for any project management tool is cross-platform accessibility. As a small business, you'll sometimes outsource tasks to freelancers and other external resources. Similarly, clients would also need to be onboarded at different stages.
It's unrealistic to expect that everyone would use the same operating systems or devices to access the software. You must make sure that the software you select can support the most common platforms like iOS, Android, Windows, Mac, etc.
Scalability:

You are not in the market to remain a small or medium business forever. Your project management software should be capable of accommodating your long-term growth plans for a significant time frame. Imagine having to switch up your primary tool every couple of years. That would be expensive, inefficient, and inconvenient for everyone.
Project/task management features:

Project management features

that help you maintain control,

transparency, and visibility are the entire point of the software. It goes without saying that the software you choose must be able to provide the features you might need for effective project management.
Project management software built for your small teams
An effective project management software for small teams can make all the difference to the productivity of a small business. If you are considering the best small business project management software for your team or are thinking about changing your current one, give Kissflow Project a spin. The enhanced communication capabilities, reporting features, and unlimited flexibility make Kissflow Project is a natural choice for any industry.
Try Kissflow Project today. It's free!