Kanban board is part of a visual system for organizing workflows. Kanban is a Japanese word meaning "sign" or "billboard," and is the name given to an organizational method invented at the Toyota Company.
Kanban method utilizes a simple board and card system, allowing everyone on a team to have visibility on the larger picture of team activity as well as on individual tasks that need to be accomplished.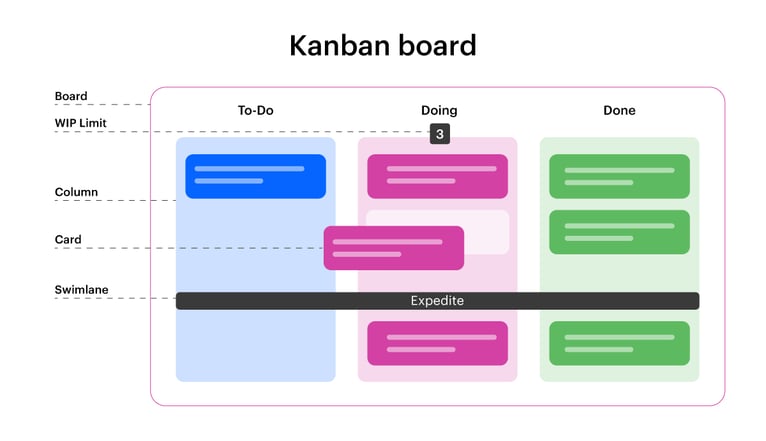 Examples of Kanban Board consist of personal Kanban boards that can be as simple as sticky notes on the wall or rows of business cards on your desk, but for project management, digital kanban boards add functionality to the system. Digital Kanban boards, sometimes called e-kanban, allow users to add detailed information, incorporate deadlines with reminders, and track project tasks.
Why do you need a kanban board?
Most professionals need to know how to create a kanban board with the help of Kanban cards and how they help the organization in their lives. If you have any kind of project or team leadership responsibilities, you know that organization is about as vital as oxygen.
Raise your hands,
If your team has more than one thing to do at any given time.
How about if your team could use better communication?
Do you need to reduce waste of time, money, or materials in your processes?
Ever wish your team was more efficient? Do you find yourself desperate for a visual overview of your projects?
Want everyone in your organization to take ownership of their responsibilities?
If you can raise your hand to any of these, you could probably use a kanban board using project management software.
Kanban board examples for various teams
Who can use the Kanban board? Just about anybody. Here are some kanban board examples for a few different kinds of teams:
1. Kanban boards for marketing teams
The marketing team is the face of your company, and you want to put your best face forward. Marketing teams can use kanban boards to organize their ongoing processes, prioritizing tasks, including regular content production and internal communications creation.
Time-limited efforts like market research projects and marketing campaigns can be managed with Kanban cards as well.
2. Kanban boards for creative teams
Creative teams can utilize kanban cards to break up content requests into text, design, and web engineering. This helps team members with diverse project management skills better communicate across disciplines, giving everyone a visual representation of project status.
Kanban system can also reduce administrative time, leaving more minutes in the day for the actual creating of creative work.
3. Kanban boards for software development teams
Kanban boards can help software development teams divide and subdivide tasks to easily manageable levels, making it easier to track (and celebrate) progress. You can prioritize deadlines and delegate tasks easily allowing team members to take ownership of their individual project components while keeping an eye on the big picture.
4. Kanban boards for sales/support team
Sales and support teams need strong organization tools because they're interacting with your company's most important assets: your customers. Sales teams or individual salespeople can use kanban boards to visualize their sales pipeline and track where each prospect is along that path.
Support teams can prioritize and manage support requests with kanban to make sure every customer gets a quick and helpful response.
Create your own kanban board for teams using Kissflow Project
No matter what kind of team you're on, you can use kanban methodology to work more effectively. With project management software like Kissflow Project, you can get all the benefits of Kanban as well as intuitive features and powerful integrations, all within a user-friendly interface.
Kissflow Project helps all your teams work well so your organization can focus on what you do best. Check out the Kissflow Project today to see how your team can get more done with a kanban board.