The process of procuring goods and services for an organization can be more complicated than just the simple act of purchasing. Payment challenges, duplicate invoices, unauthorized purchases, supply shortages, delays in delivery, and inaccurate shipments can all quickly occur throughout the procurement process.
Purchase Orders are an essential part of procurement documentation that can help streamline the procurement process and prevent organizations from facing such kinds of issues that have the possibility of disrupting their supply chain.
A purchase order, often known as a PO, is a legal document that a buyer delivers to a vendor or supplier to approve a purchase. The purchase order form specifies what the customer wants to buy and how much of it they want to get. They aid in the prevention of incorrect orders by enabling buyers and sellers to see and document every detail, maintaining clear lines of communication.
But to draft a purchase order, you need to have a suitable purchase order form template that guides you and the involved parties to understand what is required of them. So first, let's see what is a purchase order form.
What is a Purchase Order Form?
A purchase order form is a document that serves as a template for a purchase order. A purchase order is a written or digital document that records a buyer's and seller's commercial transactions. When the buyer makes a purchase order and the seller accepts it, the two parties enter into a legally binding contract.
The purchase order form ensures that business operations are efficient and well-organized. It also allows the seller to check that the products and services requested are available before committing to fulfillment. Purchase order forms assist both the buyer and the seller keep precise, complete records for audits and financial statements.
What Does the Purchase Order Form Include?
A good purchase order form should be able to address general questions of both the seller and buyer, such as when was the order placed? How many items are required? Who has authorized the purchase order? And so on.
Here are some of the essential elements that your purchase order form must include:
Details of the Buyer: Name, address, and phone number of the person paying for the products.
Details of the vendor/seller: Name, address, and contact information for the person making payment for the products from the seller.
Purchase Order Number: Each purchase order is granted a unique identifier for easier tracking.
Description of Goods: The details, number of items, unit pricing, and total cost of goods.
Shipping/Delivery Address: The shipping address is where the products will be delivered.
Shipping/Delivery Date: The day on which the items will be delivered to their final destination is known as the shipping date.
Billing Address: This is the address to which the seller should send the invoice for payment so that the buyer may pay it.
Signatures: Each purchase order should have at least two signatures: one or more for the person(s) approving the purchase on behalf of the company and one or more for the person(s) receiving the order on behalf of the seller.
Order Date: The date on which the commercial transaction took place is known as the order date.
It is better to include other essential details in the purchase order form, such as:
Type of currency used.
Percentage of Tax applied on the gross total.
Will the buyer pay in advance, in cash, with a credit card, or with a check?
What method will the products be delivered in? Who is the transporter? Will they be picked up or delivered via courier?
Shipping costs and who will cover them
Will the vendor provide insurance if the shipment is lost or damaged?
Terms of conditions include whether or not things may be returned, what will happen if items are lost or damaged during delivery, and who is liable. Indicate if products may be returned and when they can be returned
Mention Governing Law. The seller's state laws will apply by default.
Any additional comments or directions
Here is a generic purchase order form template that you can use to place purchase orders: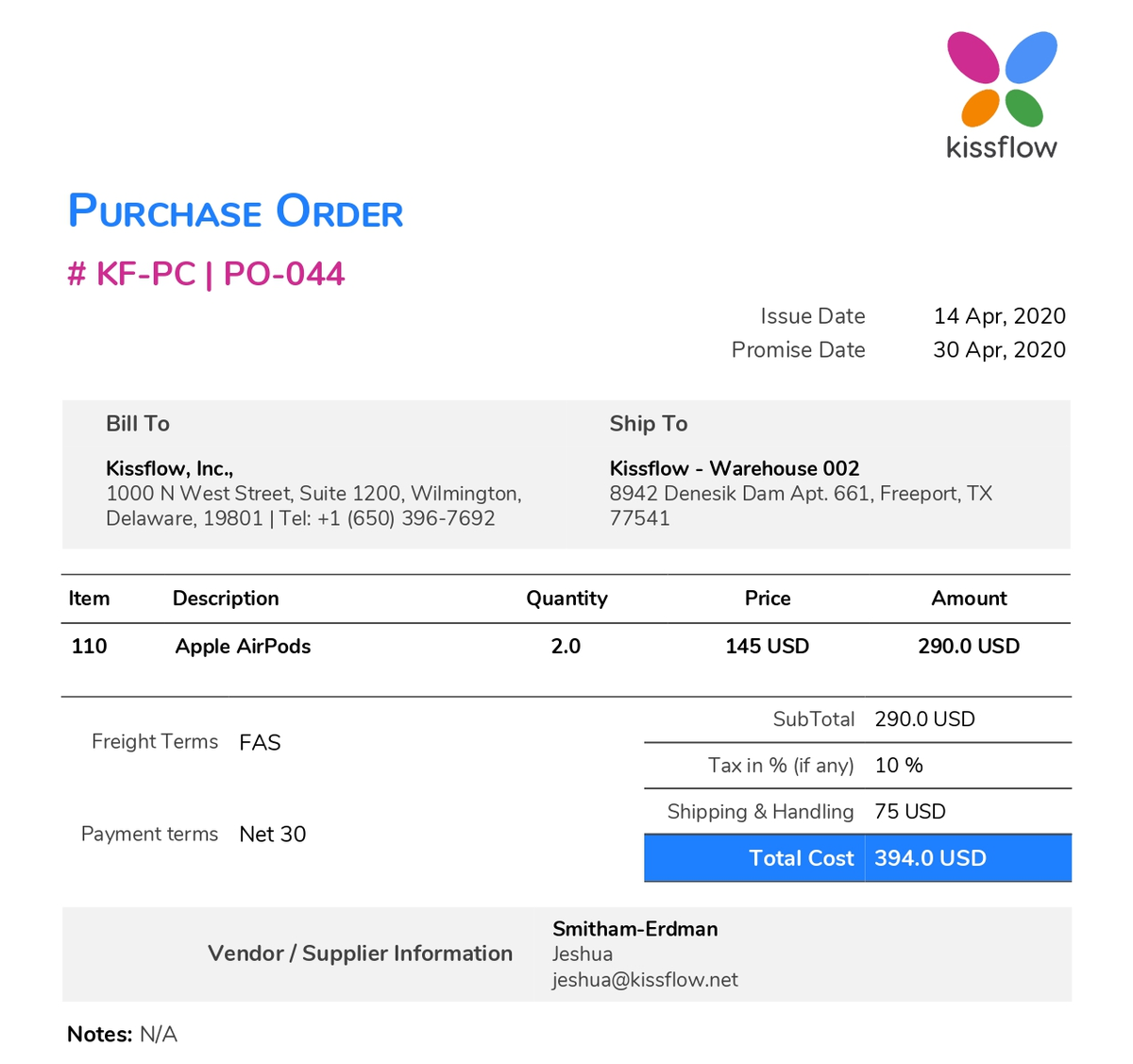 Automate Your Purchase Order Process with Kissflow Procurement Cloud
According to Gartner, four significant challenges come with manually processing purchase orders. This includes:
Lack of Visibility: It gets difficult to control procurement spend, conduct budgeting and forecasting activities, and manage inventory.
Slow Order Processing Time: Manual inputs and data processing, continuous corrections, urgent demands, many adjustments, and delayed approvals slow down productivity.
Order Processing Errors: Manual work increases the risk of human errors, which can cause strained supplier relationships, miscommunication, incorrect shipment, and delays in the supply chain
High Processing Costs: Multiple resources will have to be engaged to process purchase orders which can increase the organization's costs. Moreover, human errors can lead to duplicate invoices, decreased business, and loss of competitive edge.
Automating your purchase order process with Kissflow Procurement Cloud can save you from the hassles of all the intense paperwork and redundant tasks. It provides you with the complete visibility of your work through a unified console to trace your functions, with the simplicity of drag and drop forms.
Here's how Kissflow Procurement Cloud can help you streamline your purchase order processes:
Step 1: Map Out Your Purchase Order Workflow
By planning out the whole process, you may spot potential bottlenecks and change your purchasing strategy, ensuring that your organization is ready for automation.
Answering some general questions will help you map out your workflow. For example, you can start asking yourself: Who can initiate the request for purchase in an organization? Who will approve the request? What criteria will be set for approvals? Who will support the funding? Who will receive the goods?
Once you know your workflow, you can embed it into the software. This way, if a purchaser initiates a request, it will automatically route towards the approver, notifying them to approve it within a certain time.
Step 2: Set Up Approval Rules
There would be multiple requests for purchasing coming from multiple departments. For each sort of purchase, clearly state who has approval power. You can have a single approver or a multi-level approval system.
For example, suppose your organization is working on a large scale. In that case, requests from any department could be first approved by the supervisor and then the department head before routing towards the purchasing department.
The astringent approval procedure guarantees that you have the necessary system to regulate spending. Likewise, if you are a small-medium organization with a centralized organizational structure, the requests could be approved by a single individual.
Kissflow Procurement Cloud allows you to define what an approver can do. It enables them to see item information, reassign tasks, budget information, modify the requisition information, request more information, or reject it.
You can also define criteria for approvals based on dollar value, category, priority, project type, or a combination of different criteria.
Step 3: Auto-flip To Purchase Order
After the request is fully approved and reviewed, a purchase order form is automatically created through an auto-flip from purchase requisition, and all necessary information will be assigned to the procurement team via the purchase order.
You can either choose from different available purchase order templates, or you can design or dynamically set your purchase order with your company's logo, colors, branding, etc. You can also add further information such as payment terms, freight terms, expected delivery location, and any other documents required to send along with the purchase order to the supplier.
With Kissflow Procurement Cloud, the prepared purchase order can then be shared with suppliers in a multitude of ways, starting with a simple email to the supplier or through an external based interface. Of course, this depends upon how tech-savvy your suppliers are or what medium they prefer. The purchase order form gets auto-generated once it is fully approved and automatically attached to the email sent to the supplier.
Let's Kickstart!
If you are looking to automate your purchase order process to gain more control and visibility into your procurement spend, request a free demo of Kissflow Procurement Cloud to find out how you can create quick purchase order forms systematically. We will help you leave your tedious, manual work process behind and step up your game through our cloud-based purchase order system.