Procurement
How Kissflow Procurement Cloud + Netsuite Helps Simplify the Procure-To-Pay Process
05.09.2023
Enterprise Resource Planning systems are commonly used by businesses of all sizes, irrespective of the industry. Principally, ERP systems serve as a platform that manages, aggregates, and store data. Doing so inherently acts as a conjunction between various departments, divisions, and value-chain partners.
Data is power, and resources are scarce, so ERPs have facilitated better and more timely decision-making through the holistic integration of the whole organization and, at times, the value chain.
ERPs have been sufficient for organizations for most functionalities, but when procurement processes are in question, the effectiveness of ERPs is not satisfying. Procurement is not as straightforward as other processes, requiring flexibility and collaborative work.
The best solution to this inefficiency of ERPs is a specialized procurement solution to be integrated into the mainframe ERP system of the organization.
What Is NetSuite?
NetSuite is a robust cloud-based business management software suite that enables businesses of all sizes to manage better their finances, inventory, operations, and customers better.
While larger enterprises most use it, NetSuite can also be adapted to the needs of smaller businesses. Its comprehensive features and scalability make it an ideal solution for companies looking to streamline their operations and improve their bottom line. Here are just a few of the ways that NetSuite can help your business:
Automate Your Accounting and Financial Reporting: NetSuite can help you automate many tedious accounting and financial reporting tasks, freeing up your staff to focus on more strategic tasks.
Improve Inventory Management: NetSuite provides real-time visibility into your inventory levels, so you can quickly identify and resolve any issues. This can help you avoid the costly mistakes that can occur when manual inventory management methods are used.
Streamline Order Processing: With NetSuite, you can automate many steps in order processing, from customer inquiries to invoicing. This can help you improve customer satisfaction by reducing the time it takes to fill orders.
Optimize Your Website for E-commerce: NetSuite's powerful e-commerce capabilities can help you drive more traffic to your website and convert more visitors into customers.
Improve Customer Service: NetSuite's customer relationship management (CRM) features give you the tools you need to manage your customer relationships better. This can help you improve customer satisfaction and loyalty, leading to repeat business and referrals.

Why Is NetSuite ERP Not the Right Fit for Procurement Purposes?
Despite being a comprehensive and popular ERP solution, NetSuite has some shortcomings in procurement. One issue is that it does not offer a central repository for all purchase orders, making it difficult to track and manage them.
Additionally, the approval process for purchase orders can be cumbersome, requiring multiple levels of approval from different users. This can often lead to delays in the approval process. Another issue is that NetSuite does not provide an integrated solution for supplier management. This means organizations using NetSuite will need to use a separate system for managing suppliers, which can add complexity and cost.
Finally, NetSuite's reporting capabilities are limited, making it challenging to generate detailed reports on procurement activities. When C-level executives do not have a 360-degree view of what is happening in their organization, they can not make timely and wise decisions, leading to lost opportunities and loss to the organization.
Benefits of Integrating NetSuite With Kissflow Procurement Cloud
NetSuite is a cloud-based business management software suite that offers a complete set of enterprise resource planning (ERP) and customer relationship management (CRM) applications. At the same time, Kissflow Procurement Cloud is a cloud-based procurement software that helps organizations streamline their purchasing processes.
When integrated, NetSuite and Kissflow Procurement Cloud provide organizations with a comprehensive solution for managing their finances, operations, and customer relationships. Some of the benefits of integrating NetSuite with Kissflow Procurement Cloud include:
Improved Visibility and Control Over Financial Data
With NetSuite, entities can get a real-time view of their financial data, including invoices, purchase orders, and expenses. This allows them to make more informed decisions about their spending. In addition, NetSuite's financial reports can be easily exported into Kissflow Procurement Cloud for further analysis.
Efficient and Accurate Billing
Integrating NetSuite and Kissflow Procurement Cloud enables organizations to generate invoices based on purchase orders automatically. This eliminates the need for manual data entry, reducing errors risk. In addition, the integration allows organizations to track payments and receivables from within Kissflow Procurement Cloud.
Enhanced Customer Service
By integrating NetSuite with Kissflow Procurement Cloud, organizations can have a single view of their customer's data. This includes contact information, order history, invoices, and payments. This information can be used to provide better customer service by promptly addressing customer inquiries and complaints. In addition, the integration allows organizations to reach out to customers with targeted marketing campaigns proactively.
Improved Supplier Management
Integrating NetSuite and Kissflow Procurement Cloud allows organizations to manage their suppliers from within the procurement software. This includes tracking supplier performance, managing supplier contracts, and creating purchase orders. In addition, the integration allows organizations to take advantage of NetSuite's supplier diversity program to identify qualified minority-owned businesses.
How Does Kissflow Procurement Cloud + NetSuite Integration Work?


Kissflow Procurement Cloud offers a suite of features that includes request management, supplier management, and analytics, whereas NetSuite is an enterprise resource planning (ERP) software that helps businesses manage their financials, inventory, and other data.
The Kissflow Procurement Cloud and NetSuite ERP allow businesses to automate their procure-to-pay process by integrating Kissflow with NetSuite's financials, inventory, and order management data.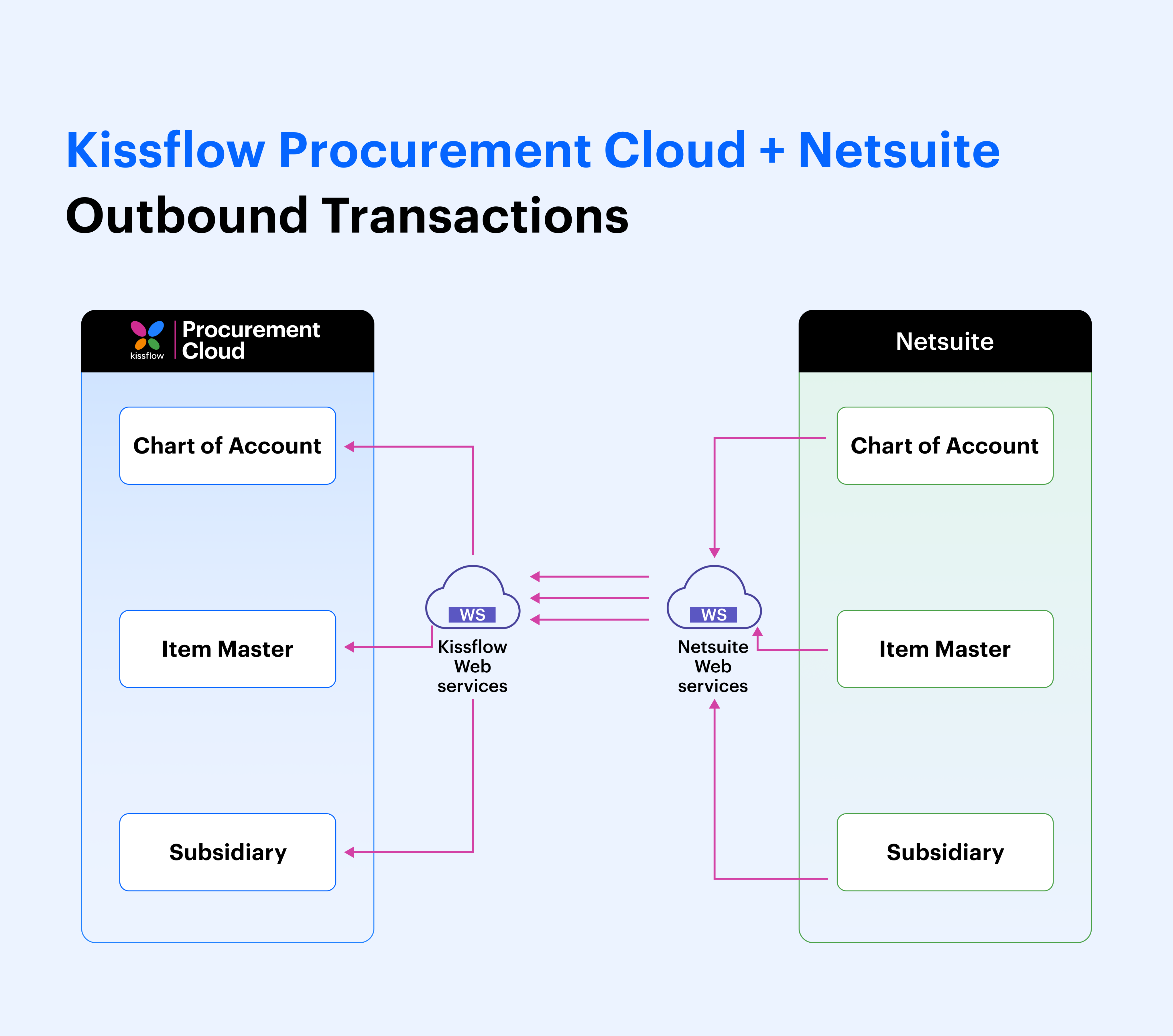 This integration provides a single platform for businesses to manage their entire procure-to-pay process, from requisition to payment. Starting from importing data from NetSuite with a single click, the integration between Kissflow Procurement Cloud and NetSuite gives businesses the ability to:
Automate the Purchase order (PO) and GRN Process: It helps in generating POs automatically from approved requisitions in Kissflow Procurement Cloud and having them sync back to NetSuite. PO data pointers are sent to NetSuite. NetSuite doesn't return anything. Kissflow Procurement Cloud again calls Netsuite for the Internal ID. The same process is repeated for Goods Receivable Notes (GRN).
Streamline Invoice Processing: Automatically generate invoices in NetSuite based on PO data from Kissflow Procurement Cloud. When an invoice is paid, Kissflow's system is notified and a mail gets triggered from the Kissflow system to the supplier informing the supplier that the payment has been made. Data exists in Kissflow Procurement Cloud and also in NetSuite for reconciliation
Vendor Onboarding and Management: While vendor onboarding happens on Kissflow Procurement Cloud, the details about the supplier are pushed to NetSuite. NetSuite stores the information and doesn't return anything to Kissflow. From Kissflow Procurement Cloud, an API call is made to pull the internal ID against the supplier onboarded. This information is then stored in the Master data of Kissflow Procurement Cloud.
In a nutshell, information about suppliers during onboarding, PO, GRN, and Invoice details exist both on Kissflow Procurement Cloud's platform and also on NetSuite so there is basically a 2-way sync that ensures data's integrity is maintained and operations are performed successfully.

Conclusion
Some companies try using NetSuite for procurement but realize it isn't built to handle procurement. They are costly and are used only by finance as the licenses are expensive. Customization is not possible. On the other hand, Kissflow Procurement Cloud is flexible to users' needs and is value-for-money.
This integration makes it easy to get started with Kissflow Procurement Cloud and take advantage of its powerful automation capabilities while still using NetSuite as your primary ERP system.