Kissflow, an easy way to build workflows for Google Apps, was launched at Google I/O, the flagship annual developers conference by Google held last week (June 27 – 29) at San Francisco, CA. The product was launched in the "App Engine Overview" session attended by a number of Google I/O participants and thousands worldwide through Google I/O Live. Mani Doraisamy, CTO and Dinesh Varadharajan, Director – Engineering demonstrated the product features by creating a simple expense claim workflow.
The 3 minute expense claim demo in the "App Engine Overview" session drew a number of I/O participants to Kissflow Sandbox booth for an individual Demo and Q&A with the creators of Kissflow. It was a humbling experience to hear the visitors talk excitedly about Kissflow's simple and clean user interface; ability to include Google docs and contacts directly in workflows; and the ease with which workflows could be created using the 5-step wizard in minutes. Most of the visitors had signed for Kissflow trial later in the day.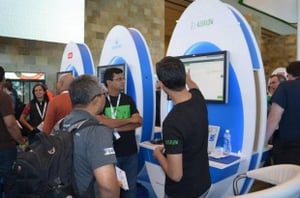 Kissflow at Google I/O Sandbox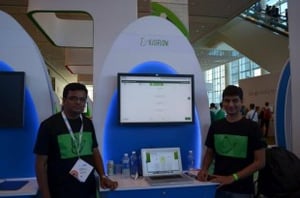 Kissflow at Google I/O Sandbox
Kissflow launch was featured in TechCrunch and was also widely covered in the media with the official press release being picked up by various news sites and bloggers.
Here's the official press release brief. You can read the full press release here.
OrangeScape's Kissflow brings workflow built on Google Cloud Platform to the 4 million businesses who have "Gone Google".
Kissflow is the first workflow product deeply integrated with Google Apps. It has a familiar user experience consistent with Gmail, and works with Google Docs out-of-the-box. Google Apps users can now attach their Docs directly in their workflows and collaborate with other users and groups in their Google Apps domain.
Here's a excerpt from the TechCrunch article. You can read more about it here.
OrangeScape Launches Kissflow, A Workflow-Builder For Google Apps.
Businesses using Google workflow apps should have an easier time managing complex tasks starting today with the launch of Kissflow from startup OrangeScape — it's supposedly the first workflow-creator that's "deeply integrated" with Apps.
Businesses can signup for Kissflow here with their Google Apps ID, and it is FREE for upto 10 users. Give it a try and share your story with us.