16 Sep 2021
Kissflow Digital Worker VoxPop Poll – 2021 reveals key insights about remote work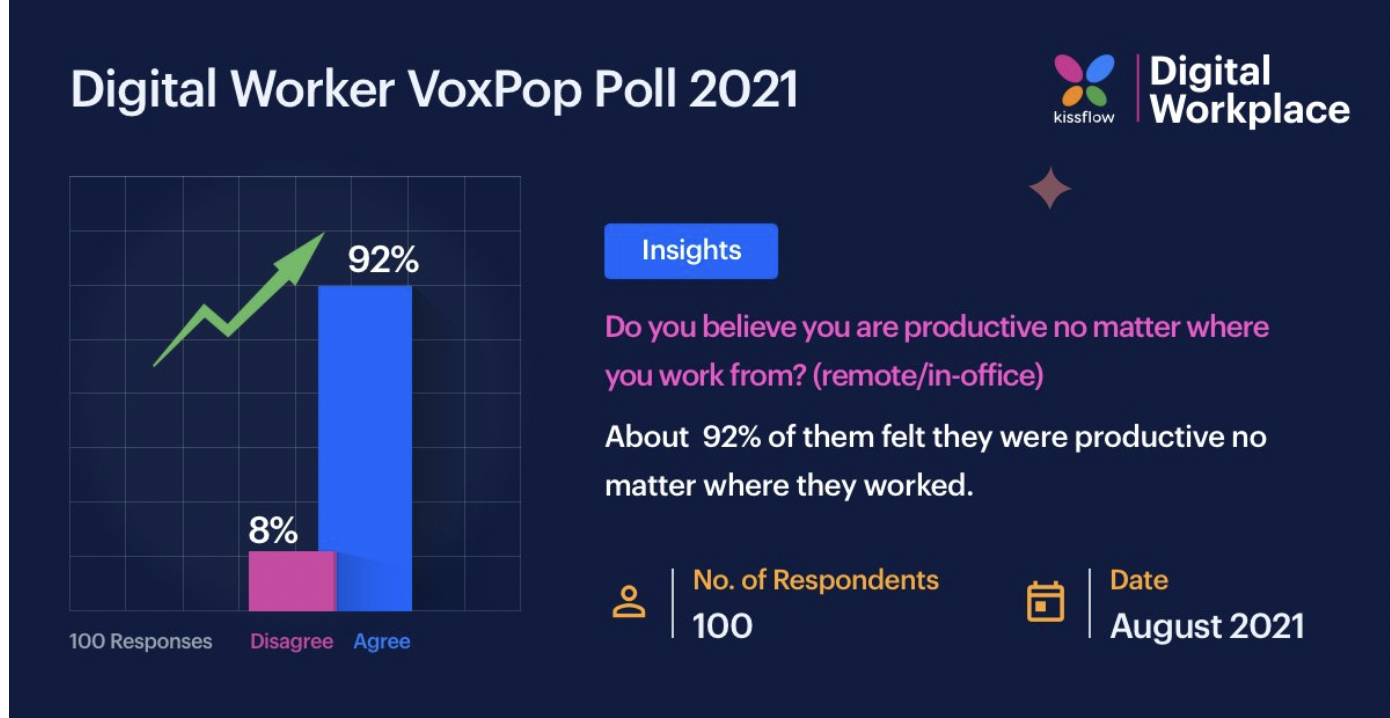 Digital workplace productivity can be a difficult thing to gauge. That's why we came up with the Kissflow Digital Worker VoxPop Poll – 2021 to help understand how digital workers are performing at their workplaces. We asked the respondents just three questions. Their responses were fascinating.
Do you think you are productive no matter where you work from?
The answer was a resounding yes. 92% of respondents believed they were more productive regardless of where they worked from. This means most organizations have largely adapted to agile methods of work and assimilated a digital culture that helps them and their employees sustain and even enhance productivity at their digital workplaces.
Does your organization trust employees to work remotely?
Like the first one, there were a similar number of affirmative responses to this question. Almost 92% of respondents felt that their organization trusted them inherently when it came to performing their jobs. While in-office work carries reliable supervision, this response shows that organizations have made a seamless shift to a digital culture.
Can the choice of work management tools we use contribute to our happiness at the workplace?
This question got the largest percentage of affirmative responses with close to 98% of respondents confirming that the tools they use contributed a lot to their happiness at the workplace. This is an eye opener for organizations that still depend on legacy technologies to run their digital workplaces. The ideal digital workplace is one that runs on the latest tools and technologies.
Yes, we all know work can bring many levels of complexities. Remote work or a Hybrid work model (a REMOTE+ in our case) needs to bring balance and improve culture. This was a small poll that has opened the doors to many new questions. Feel free to comment below with your questions so we can find out more from our community. We'll keep you posted with the responses.
Our news directly to your email
Share this article