You must have heard a lot about workforce management over the last few years, be it in management journals, organizational strategy articles, or even in sales pitches from human resources (HR) software providers. But what does workforce optimization really mean and how can you leverage its benefits effectively for your own organization? This article dives into this increasingly popular area of HR and operational thinking and teaches you how to implement it into your business.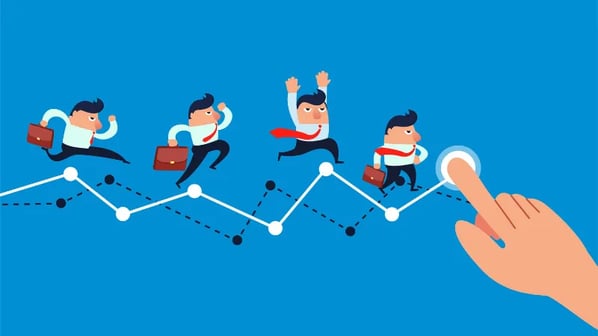 What is workforce optimization?
Workforce optimization is a management practice and strategic imperative that focuses on improving the efficiency, productivity, and performance of a company's employees. The overall goal is subsequently improving organizational success. Organizations seek technological solutions like workforce optimization software to optimize their workforce effectively.
How can workforce optimization benefit your organization?
Implementing initiatives that support your employees to work harder and more effectively sounds great on paper. Before buying into the concept for your own organization, however, it is important to understand what tangible benefits workforce optimization has the potential to offer you. Let's take a look:
1. Improved employee performance and productivity
As part of your workforce optimization project, you will need to break down each part of your employees' work activities to establish strengths and opportunities to gain efficiencies. Identifying these areas means that you will be able to implement resources to improve overall productivity and output, and crucially, measure the success of the initiatives. These improvements can have measurable effects across your business.
2. More cost-effective operations
A natural by-product of improving productivity is often a reduction in costs due to quick, accurate, and high-quality performance of tasks. This concept of doing more with less is at the heart of the concept of workforce optimization.
3. Better customer service and customer retention
Your customers will likely benefit from dealing with an organization that has simple, streamlined processes and employees who work to their strengths in roles that are well designed and organized. As a result, your customers are more likely to be satisfied and will return to do business with you on an ongoing basis.

Key elements of workforce optimization across organizations
Workforce optimization is a concept that has become increasingly popular and respected in organizations of different industries all around the world. Although the focus depends greatly on the circumstances of the individual business, there are many common factors and areas of focus that most organizations consider as part of their workforce optimization efforts.
Time and attendance software are important tools to get the best from a workforce optimization exercise. They have the ability to speed up and automate employee clock in processes and then use this data to analyze the effectiveness of the scheduling in that department. Not only can this help management to ascertain whether staff resources are being used in the most cost-effective and productive way, but it can also deliver performance-based insights into the teams' productivity and work rate.
How does workforce optimization software work?
More and more organizations are turning to technology to support them in reaching into the detail of their workforce optimization to make quantitative assessments on different parts of their business to identify current performance and scope for improvement.
Workforce optimization software aims to provide a single platform to gather, analyze, and store data across a range of areas of employee productivity and performance. This could include data on recruitment, training, and performance management, as well as specific performance and productivity based statistics such as processing times, quality standards, etc. The workforce optimization software can then support continuous monitoring and improvement in the identified areas of improvement such as improved staff scheduling, workload delegation, coaching and training delivery, and many other initiatives.
Summary
With so many providers of workforce optimization software on the market, it pays dividends to do an in-depth analysis of your organization's needs. After that organizations can research their options to see which workforce optimization tool could benefit them. Based on their unique situation, organizations can select a standalone HCM tool or an integrated HR suite.
While standalone HCM tools might help organizations save cost, integrated HR suites like Kissflow HR Cloud, help businesses not only control workforce management costs but also retrieve great insights to extract more value from the human capital.
Take the leap from talent management to workforce optimization today with the Kissflow HR Cloud. Sign up for a free demo and see how easy it is to optimize your talent's lifecycle.

Related Articles: