Everybody's doing it. Ok, not everybody. Just the forward-thinking somebodies. "It" is talent management, the trendy big-city cousin of human resources management. First coined less than 25 years ago, the phrase "talent management" has risen in popularity and importance in the business world over a relatively short period. But if it's not just a cooler word for HR, how do you even define "talent management"? Why is it important and how do you do it well?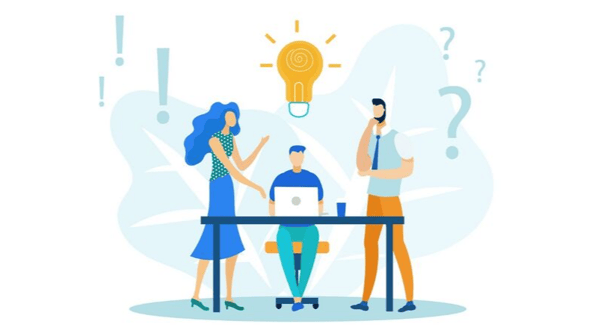 What is a talent management strategy?
Talent management strategy is the unified effort an organization makes to hire and retain high-quality employees in order to meet its goals. Focused on more than simply filling vacant positions, talent management takes into account the long term vision and goals of the organization, seeking out team members that are both highly qualified and a good fit for the company's culture.
How is talent management different from HR?
Talent management and HR handle many of the same functions. They're both about managing the people that make up an organization. The difference is in the approach to managing those people, often resulting in different strategies for accomplishing those people management activities.
HR tends to be more oriented toward accomplishing the clerical tasks of people management, while talent management strategy focuses more on the vision those people are present to accomplish and the best strategies to achieve that vision.
With an HR mindset, most of the people management activities of the organization are carried out by a small group of people in the same department. When a company shifts to a talent management mindset, the responsibility is understood to be shared across the organization; every department shares the goal of attracting, retaining, and developing team members.
The benefits of talent management
Some companies are getting along just fine with a traditional HR approach. However, many companies would be better served by the fresh perspective of the talent management mindset. The talent management system empowers individuals and strengthens the organization they work for.
Some of the benefits of talent management are:
Improved hiring
Higher retention
Happier employees
Better performance
Stronger company culture
Essential components of talent management
1. Planning
It's important to think strategically about the future needs of your company. Many companies do well in planning for capital needs, buildings, equipment, and even branding but fail to think through the medium to long term personnel needs of the organization.
As you plan for your company's growth, it's not enough to estimate how many people you'll need to hire. You must also consider the kind of people most able to help your business get from where it is to where you want to go. In many cases, this means promoting or shifting people internally and identifying who will fill the vacancies left by those adjustments.
2. Recruiting
It's hard to overstate the importance of good recruiting. Bad recruiting means positions remain vacant or – even worse – are filled by the wrong people. Most recruiters already know the importance of getting your job listing in front of many people.
There is a multitude of job search sites, plus job boards for specific professions and at university and graduate school websites. Don't forget to advertise openings internally as well; someone in your organization may be a perfect fit for the job or know someone who is.
Developing a large talent pool is just the beginning. Good recruiting also requires a smart screening and interview process. You need to ask the right questions, screen for the right skills, and discern which candidates are a great match for the vision and culture of your organization.
3. Motivating
Nearly everyone has a story about a boring or draining job they've held, one that was hard to care about. Unmotivated employees are bad for the company of course, and being an unmotivated employee is bad for the individual.
Good performance management is a win-win, keeping employees engaged, productive, and motivated to continually contribute to the organization and its goals. Many companies are opting out of annual performance reviews in favor of more frequent evaluations with an emphasis on coaching employees as they develop their skills and careers.
When done well, this puts managers and employees on the same side in identifying both strengths and weaknesses. Motivated employees not only perform better, but are also less likely to resign than their peers.
4. Retaining and rewarding
Motivation goes a long way toward employee retention, but there's more to consider when it comes to keeping great people on your team. A key part of the talent management strategy is rewarding your team members well.
Traditional rewards like raises, bonuses, and promotions are important but not sufficient in and of themselves. Look for creative ways to give recognition in the form of plaques, certificates, milestone pins, or some tangible gift that aligns with your company's sphere and culture.
The craft beer company New Belgium, for example, gives employees a cruiser-style bicycle (in homage to their Fat Tire brew, named after a wide-tired bike) on their first anniversary. Simple expressions of appreciation such as a hand-written note or a small celebration for the team also make an impact.
5. Developing
If you've recruited skilled and motivated people, they're probably going to expect opportunities for personal and career development. It's good for the organization and for the individual employees to provide ample opportunities for training and development.
Anything from cross-training employees, providing funds for continuing education, or offering sponsorship for a workshop or seminar can help employees hone their expertise. Make sure to ask employees about their career goals and look for ways to help them work towards that vision. It's also important to develop the soft skills of your team members.
Occasional training events on emotional intelligence, working styles, and communication preferences can not only benefit each individual team member but also contribute to the growth and development of your team as a group.

Talent management best practices
1. Take a broad scope and holistic approach
Talent management strategy must be driven by the goals, vision, mission, and values of your organization. When recruiting, talent management professionals should consider the long-term potential of each candidate in terms of their skill set, emotional IQ, and fit with the company culture.
2. Recruit strategically
While there's often pressure to fill vacancies quickly, it's crucial to be thoughtful and thorough in your recruiting process. Take time to carefully craft job descriptions and postings, screen applicants on values that make sense for your organization, and execute an interview process that is most likely to result in new hires that are a good fit.
3. Take care of your team members
There's a vast array of ways to take care of the people who make up your organization: thoughtful performance reviews, meaningful rewards, benefits like health care and parental leave, professional development opportunities.
However you're approaching it, make sure the systems and programs you have in place are serving your people well, and reevaluate those systems frequently. Talent management exists because your people are the most important components of your organization. When your team is taken care of, the organization does well.
4. Leverage technology to centralize talent management in one system
Having all the elements of talent management available in a single comprehensive system allows your team to accurately assess, track, motivate, and reward employees, creating both a better experience for team members and better results for the organization.
Adopt the talent management mindset with Kissflow HR Cloud
Talent management is made simple with a centralized digital workspace like Kissflow HR Cloud. Kissflow HR Cloud lets you harness the power of technology to better understand the needs of your candidates and keep them engaged.
After new hires complete the dynamic and customized hiring process, you can align individual employees and teams with corporate goals and strategies via built-in tools for reviews, milestone tracking, rewards, and more.
Kissflow HR Cloud standardizes your employee evaluation process while giving you the flexibility to tailor the process to your unique needs. Complete the talent management loop with a streamlined offboarding process as an employee's time with your organization comes to a close.
To see how you can transform your team's experience with a good talent management system, sign up today for a free demo of Kissflow HR Cloud.

---
Related Articles:
---