Organizations with an effective performance review process are creating the best possible environment for their employees to succeed in their roles. Companies succeed by giving their employees the opportunity to give and receive constructive feedback, identify their strengths and scope for improvement, and support their individual growth and development.
What is a performance review?
A performance review is a regular event where an employee and manager review the past work performance and set goals for the future. Performance reviews are also used to realign objectives and priorities and create action plans to map out how an employee will contribute more to the overall success of the organization.
There are a few parts to a performance review. First, in the planning stage, both the individual and their line manager take the time to gather evidence and feedback to support their views regarding past performance.
The need to move away from manual performance review templates
Performance review processes need to create a work environment that enables people to perform to the best of their abilities. However, managing it manually with paper-based templates is neither easy nor straightforward.
Organizations need to move away from manual performance review templates because:
They make

performance management

cumbersome and labor-intensive
They don't support on-demand performance management
They make the whole process stressful and inconsistent
They are prone to bias and favoritism
They don't offer any visibility of objectives or progress
They make it extremely difficult to normalize data
How to plan for a performance review
Line managers play a crucial part in performance reviews. To get the best out of the performance review meeting with your team members, there are a number of things that you can do to prepare.
Given below is a handy performance management checklist businesses can use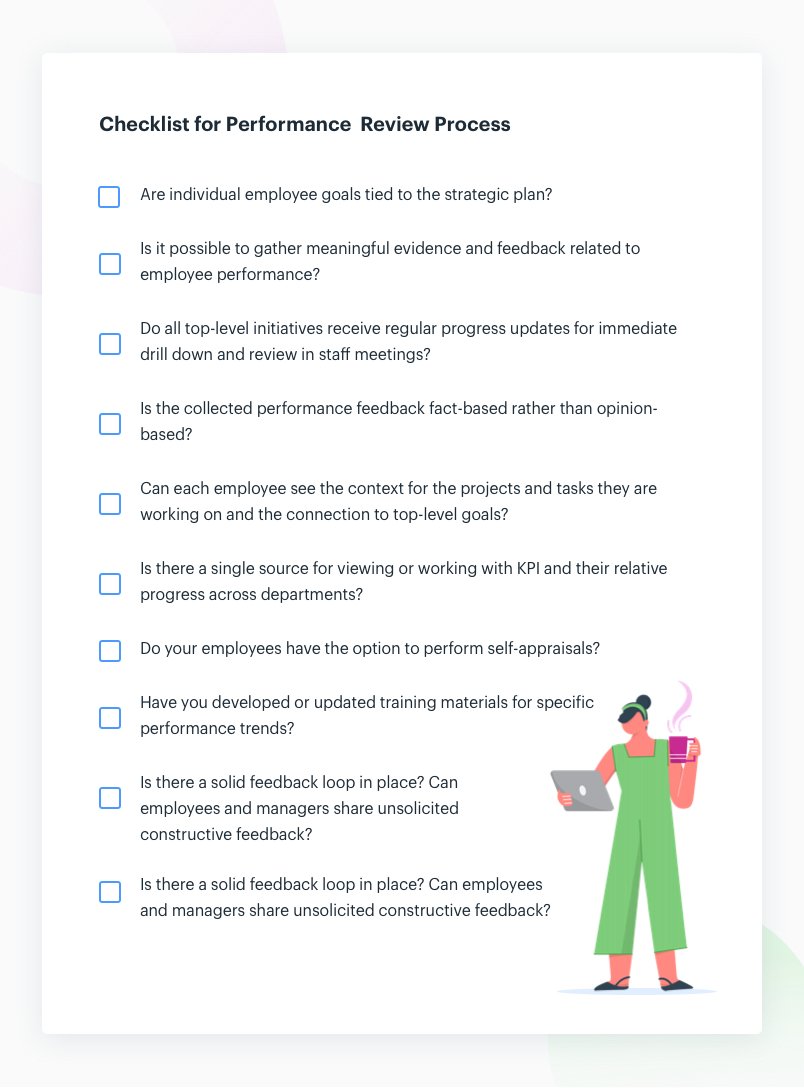 Important tips for performance reviews
Achieving successful performance reviews with your team isn't rocket science. But there are a few pointers that can help you turn a mediocre review into an inspiring and rewarding experience for your employee.
1. Involve your team
Naturally, there will be plenty of things that you'll want to say, but don't forget to really listen to your team members. The performance review meeting is a great opportunity to hear some honest views that might help you run your business while simultaneously boosting your team's morale.
2. Avoid bias
Another tip is to beware of bias. Try to stick to facts gained from feedback and other data about your team member's performance so that you can keep the conversation fair and objective.
3. Ensure privacy
Hosting your performance review in a private meeting room will offer you the privacy to have an open and fruitful conversation without interruptions. It will also ensure that any documentation is kept confidential. By preparing in such a way, your team members will know that you value them.
4. Coach forward
Constant employee training is a critical aspect of any decent performance review process. Organizations can increase the effectiveness of their coaching process by reviewing expectations, discussing what success looks like, and even by role-playing possible scenarios to make employees comfortable.
5. Solicit frequent feedback
Employee feedback should not just review an employee's past performance but also provide impactful future-focused suggestions that will encourage the employee to perform better.

7 reasons why your business needs performance management
An effective performance appraisal process helps businesses to promote and develop values, principles, and competencies that are required to ensure optimal outcomes. Here are seven major reasons why every organization irrespective of its size or industry needs to have a robust performance review process in place.
A good performance management process:
Educates employees' about the performance level they should maintain
Aligns individual goals with overall organizational goals
Enforces possible consequences if performance standards are not met
Motivates employees to perform better with timely rewards and recognitions
Helps build a superior, high-performing workforce with proper training
Reduces any chance for conflicts and favoritism with transparency
Shortens the appraisal cycle and cuts down associated cost
How to create the perfect performance review template
A performance review template forms the basis for a performance appraisal process. It usually depicts all critical business prerequisites that form the base of an employee appraisal process. These templates comprise of specific sections for facilitating employee self-evaluation, 360-degree reviews, coaching/empowering staff, offering rewards, and performance improvement plans.
Given below is a sample performance review form: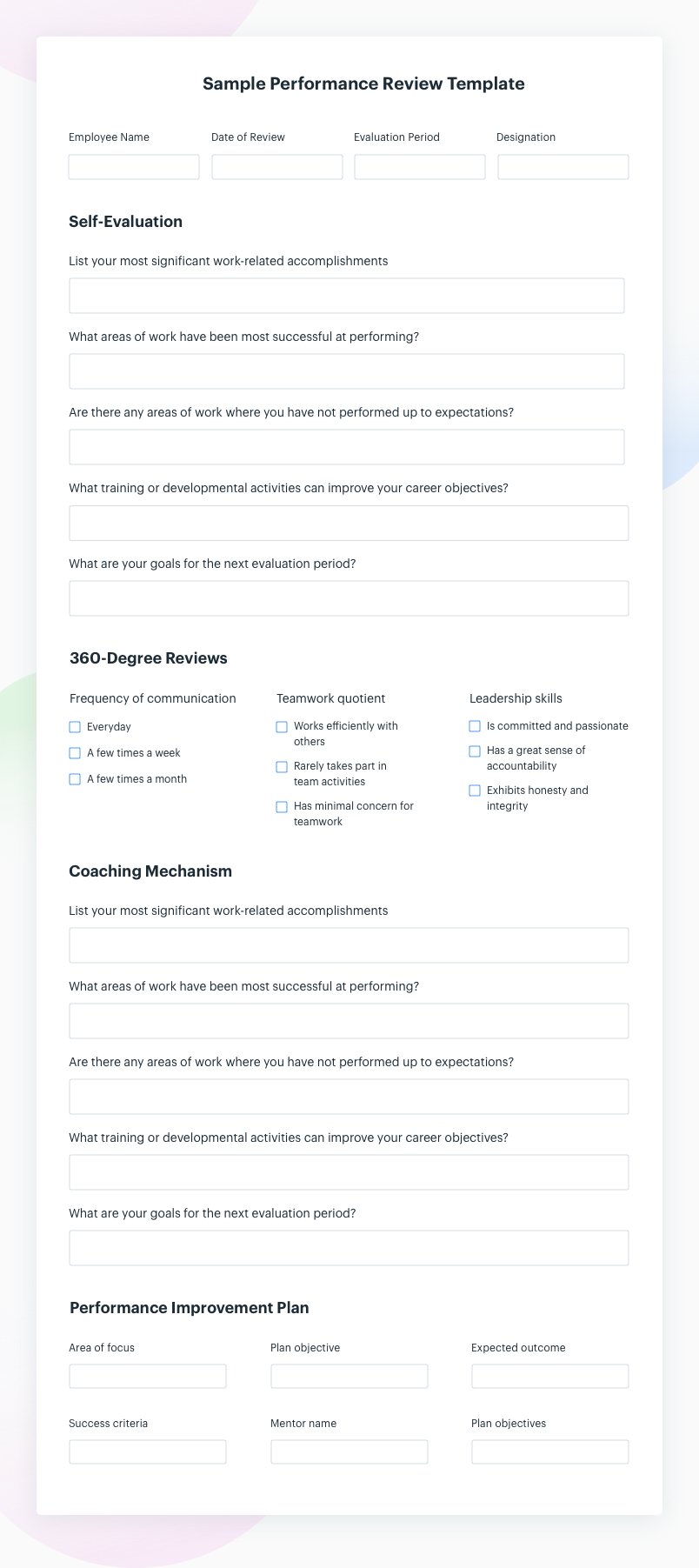 Using an all-in-one HR suite like Kissflow HR Cloud, businesses can create a number of templates for different employees in management positions and for salaried employees for the performance review process. Organizations can specify different objectives or weightings for every employee group.
Organizations can simplify and streamline their performance management process in every way from setting up automated reminders to conducting timely check-ins and gathering actionable performance trends. With customizable performance review templates, 360-degree reviews, rewards and recognition programs, and performance improvement plans, revamping performance management has never been easier.
Conclusion
Some managers and employees make the mistake of looking upon the performance management process as a simple tick-box exercise. However, recognizing the key business benefits that can be achieved by putting proper care into the process can yield great returns.
HR solutions like Kissflow HR Cloud give businesses the potential to drive performance further while making it simpler and more effective for everyone involved. Its performance management module encompasses activities like goals and milestone setting, continuous performance review, frequent communication, streamlined feedback, employee development, and rewards program.
Trying to reinvent performance management? Give Kissflow HR Cloud a spin and see how easy it is to tailor a performance appraisal process.

Most Related Articles: