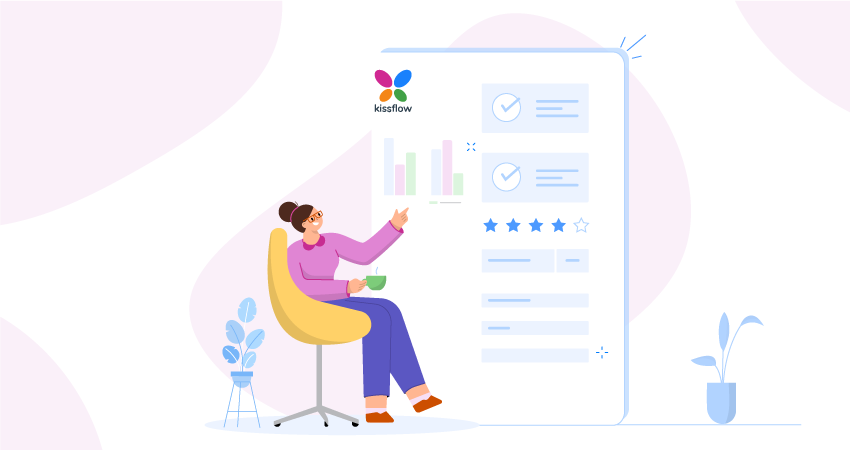 Organizations are constantly looking to get better at evaluating and measuring employee performance. Performance management is aimed at improving an organization's bottom line by stimulating employee performance. It also aligns workforce and individual goals with the wider organizational goals and mission.
Initially, organizations relied on paper-based annual performance reviews. But the paper-based process was clunky, stressful and subject to bias. To solve its glaring inefficiencies, organizations embraced technology—they moved to performance management tools.
Performance management tools helped organizations shift from broken annual performance reviews to regular, frequent feedback. However, choosing the right performance management software is a battle in itself. Just the thought of floundering in the dark with an unknown, complex software will make organizations want to move back to the traditional performance appraisal process.
But everything's not lost! Here is a comparison of the six best performance management tools on the market and a complete HRs guide to help organizations in their quest to find the perfect system for their organization.
What is a Performance Management System (PMS)?
A performance management system is a tool that monitors and evaluates employee performance in a consistent and quantifiable way. The system combines various techniques to ensure that everyone in the organization works harmoniously and contributes to the company's strategic goals.
Why Performance Management System?
Performance management system speed up the performance management process and help organizations deliver fair, periodic reviews. Performance management tools can offer the following seven benefits for your organization:
Enable continuous performance management
Offer 360-degree performance reviews
Improve the frequency of feedback
Ensure a fair performance appraisal process
Make it easy to track employee performance
Identify training requirements
Automate performance review reporting
Top features of the best performance management systems
Most performance management tools have several different components built into them.
1. Past performance details
This allows managers and employees to review achievements and successes and put the current performance in context. It also shows how they have performed against their role profile, and sets objectives for the year.
2. Feedback mechanisms
A good performance management tool includes a section for capturing 360-degree feedback on an employee's performance.
3. Ratings and scores
You will be able to assign ratings to your team's performance, and a good performance management tool will allow the business to customize these options to fit in with their existing performance scoring process.
4. Development plans
This part of an employee performance management systems allows employees and managers to detail the expectations relating to what they should work towards and achieve in the future, as well as capturing any associated information about potential future training needs, promotional opportunities or other development-related topics.
Top 6 popular performance management Tools
There are many types of performance management tools out there, but here are six of the best ones for you to choose from.
1. Kissflow HR Cloud
Kissflow HR Cloud enables businesses to streamline their performance management processes in a way it eliminates favoritism and improves retention.
It enables businesses to:
Assess on-going employee performance (monthly, quarterly, half-yearly, or annual)
Gather 360-degree feedback from peers, reportees, vendors, and more
Spot underperformers and trigger performance improvement plans
Create measurable goals and align them with business objectives
Identify top performers and reward them properly
Using Kissflow HR Cloud, businesses can store employee evaluations and quantitative manager feedback in the cloud for future reference. Best of all, businesses can initiate performance improvement plan when employee performance is not up to and even offboard an employee in the case there is no improvement.
Pros: Omni-channel, user-friendly, custom rating scales, 360-degree reviews, qualitative analysis, performance improvement plan, integration-friendly, and insightful reports.
Cons: Lack of career planning and compensation management.

2. Workday
Workday's compensation management module is an ideal solution for enterprises to create, define, and analyze employee performance and business objectives linkage. It supports the performance review process end-to-end: from goals alignment to review and compensation. Organizations have the liberty to update goals or KPIs as and when required.
Although it is a powerful performance management software, the lack of training materials to understand how the platform works and little to no support from Workday itself makes users wary.
Pros: Opportunity graph, team performance, compensation management, career interest, performance matrix, and talent cards.
Cons: Lack of weighted performance measures and peer appraisals. No chance for customization.
3. BambooHR
BambooHR is a great performance management tool for small businesses and medium-sized organizations. Its performance review system is made for the redefined performance management landscape including frequent check-ins.
It comes with an impressive reporting feature that provides real-time insights on high-performers and people with performance issues. As BambooHR is pretty choosy with partnerships, there are issues with integrations.
Pros: 360-degree feedback, review cycle tracking, self-appraisals, self-service portal, and compensation management.
Cons: Inflexible workflows, fewer built-in integrations, and little to no customization possibility.
4. Engagedly
True to its name, Engagedly takes an engaging approach to the performance review process and enhances employee engagement. It solves all the performance management needs of an organization with robust functionalities like social collaboration, goal management and cascading, collaboration, LMS, surveys, and rewards. However, Engagedly's reporting aspects aren't its strong suit. What's worse is that even the dashboard layout can be confusing occasionally.
Pros: Goal tracking, check-ins, social praise, peer crowdsourcing, extensive permission controls, and integration with social media platforms.
Cons: Lack of compensation management, steep learning curve, feature overload, and no customizations except personal branding.
5. UltiPro
UltiPro is a cloud-based performance management software that focuses on improving employee experiences. It offers specific modules to develop performance, manage succession, administer compensation plans, deliver workplace surveys, and discover employees' feelings about their job through sentiment analysis.
Pro: Individual development plan, team competencies, talent analytics, performance measurement matrix, and employee observations.
Cons: Not user-friendly, siloed structure, customization limitations, and lack of online third-party app store.
6. Halogen Performance
Halogen's performance management system allows organizations to configure the performance review template to meet their own policy framework. Its intuitive and user-friendly interface is coupled with a seamlessly never-ending list of enhancements.
The employee feedback feature allows managers to share quick feedback with anyone within the organization. On the downside, it is a lot of work to build everything from scratch since there are no pre-designed forms or "out of the box" functionalities that are ready for use.
Pros: Builtin LMS system, comprehensive functionalities, multi-rater and compensation module (on demand), active goal tracking, and peer appraisals.
Cons: Not intuitive, expensive licenses, limitations to customizations, and disjointed processes.
How can performance management tool benefit my organization?
Switching your existing processes to a performance management system can yield a much more efficient performance management process among these other benefits:
1. Better consistency across the performance management process
By tracking performance, you can make sure you are using the same metrics across all employees.
2. Objectively identify high performers and training needs
A transparent performance management system will clearly show which employees are doing the best based on a fair system, and where training gaps exist.
3. Review training effectiveness
You can note how well a training course impacted the performance over a certain period.
4. Increased motivation and morale of employees
Employees feel more engaged where they know people actually care about their performance and where they get consistent feedback.
5. Better employee retention
Many people will leave jobs where it is clear that what they do doesn't matter. When you clearly link performance to corporate and individual goals, it gives people yet another reason to stay.
6. Time savings
Without painful paperwork, evaluations can be filled out, shared, and processed much faster, making the process easier and repeatable.
Statistics about modern performance management systems
Most organizations are starting to move away from time-consuming manual performance management tools to modern performance management software. Here are a few recent surveys that depict the importance and impact of automated performance management.
Modern performance management systems provide more importance to learning and development opportunities to fulfill rising employee demands.
Take performance management system to the new level
Whether you are building yours for the first time, or just looking for a change, having a great performance management system is essential to great work culture. Sign-up for Kissflow HR Cloud's free demo and use it as a benchmark against other performance management tools to see what it's like to have a fully automated system to evaluate your team!

---
Related Articles:
---