Performance evaluation is a necessary evil. Employee performance appraisals are not only used to eliminate any productivity or efficiency issues, but they also help motivate employees. These evaluations offer a useful and accurate assessment of every employee's skills, abilities, knowledge, and overall job performance.
To fully understand the level of impact it can have on your workforce and HR processes, you'll need to get a firm grasp of the concept of employee performance evaluation.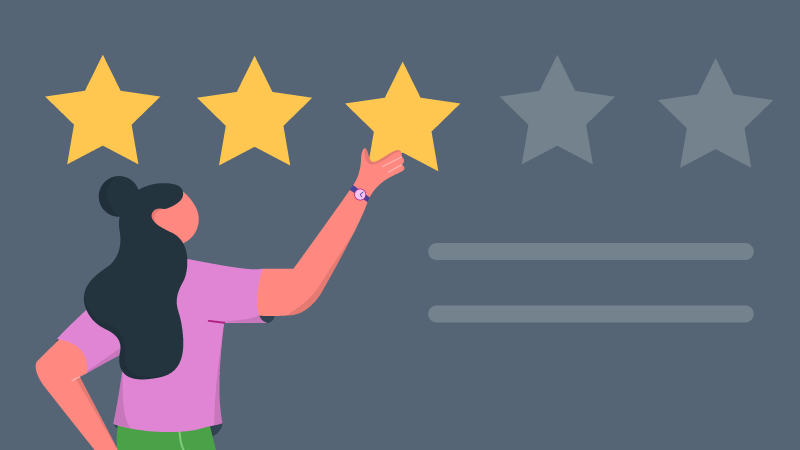 What is a performance evaluation process?
Performance evaluation is defined as a formal procedure to measure an employee's work based on their job responsibilities. The idea behind employee performance evaluation is to calculate the total value that an employee adds to the company's business revenue. By annually grading employees, you can either suitably promote them or offer bonuses which in turn boost employee morale.
Ideal questions that should be present in an employee evaluation form
Performance evaluation forms play an integral role in providing periodic feedback to employees so that they are more aware of their own performance metrics.
The ideal questions for employee evaluation forms can be broadly categorized into the following. You can use these as the performance evaluation template and modify them according to your requirements:
Job satisfaction
1- What motivates you everyday to get your job done well?
2- What are the daily tasks that you enjoy the most and why?
3- What are the tasks that you don't enjoy at all and why?
4- What are the five major things that the company can do better?
Company leadership
1- Do you think the leadership in the company treats all employees fairly?
2- What are the leadership qualities that you believe you have?
3- Give an example of a situation at work when you were able to effectively use your leadership skills?
4- Do you think that there is effective communication between the leadership and employees of the company?
5- If you were in a leadership position in the company, what advice would you give to the employees?
Value addition
1- What are the things that you did in the last year which helped contribute to the overall success of the organization?
2- What are your views about work recognition?
3- Are you able to receive regular feedback from your peers and managers?
4- How many time-sensitive projects were you able to handle in the last year?
5- Do you feel valued for working in the company?
Workplace culture
1- In the last year, did you propose any changes to the company procedures or policies?
2- How often are you able to communicate with your managers or peers?
3- Do you often help your peers to successfully complete their assigned tasks?
4- Have you had any uncomfortable or unpleasant discussions with your team members or the manager?
5- Are there any changes that you would want to incorporate in the office to make the workplace culture more positive?
What are the end goals of the performance evaluation process?
1. Motivating employees:
When your employees are clear about the outputs that are expected from them, they are able to perform better at their jobs. Periodic performance evaluation motivates the employees to give their best because they know that their managers will be carefully analysing all their hard work.
2. Providing feedback for improvement
Performance evaluation is like an employee's report card which acknowledges their work and scope for improvement as well. Consistent feedback allows employees to see where they can improve.
3. Improving internal processes
Regular employee evaluation helps organizations understand how their employees work on an everyday basis and what they can do to improve the overall employee efficiency. Based on the feedback received from the employees, company leaders and department heads can modify and optimize internal business processes to ensure that employees can work and collaborate seamlessly.
4. Maintaining an unbiased appraisal process
The employee performance evaluation offers a clear metric for non-discriminatory appraisals. Department heads and managers can refer to the performance evaluation documentation of every employee to analyze how much work they were able to accomplish and offer them promotions and recognitions accordingly.

Three top tips for effective performance evaluations
1. Have a two-way discussion
Whenever the employee's performance is being discussed, managers should ensure that the discussion is two-way. Involving employees in the job performance evaluation improves the overall process since the managers can get a clear idea of how the employees handle their work and how the company can help them become more productive.
After all, the entire goal of a performance management process is to help employees improve and perform better at their jobs.
2. Start with employee self-appraisals
Employees can be asked to fill up self-appraisal forms that are similar to the performance evaluation forms which their managers have to fill up before going into the performance review meeting. When both the employee and manager have clear answers for all their relevant performance-related questions, it's easier to have a smooth discussion.
3. Constructive and clear feedback
As part of the employee evaluation, you should get 360-degree feedback of the employees from their team members, bosses, and any other reporting staff to get a better idea about the employee's performance.
You can have informal discussions to obtain the feedback or even consider developing a format for the feedback forms that can be easily shared with everyone.
What are the ideal features of performance evaluation software?
An employee performance evaluation software helps digitize the entire employee performance process. It captures the quantitative and qualitative feedback for every employee and turns them into actionable insights.
The ideal features of a performance evaluation system include:
1- Thorough performance reviews
The tool should allow you to create and track goals, rate job performance, and get insights for every employee.
2- Cloud-based
You can access all the performance-related data saved on the cloud from any device and any location which in turn improves the overall efficiency of the process.
3- Highly customizable
Every company has a unique performance appraisal process and the employee performance evaluation software should have all the necessary customization options to digitize those processes accurately. The software should let you customize performance evaluation templates and configure multiple levels of approvals, appraisals, and reminders.
4- Integration with other HR tools
The best employee evaluation software should integrate seamlessly with the other HR tools that your HR department uses to manage its daily operations.
Find the right performance evaluation tool
Job performance evaluations give organizations the opportunity to assess their employees' contribution and in turn develop powerful teams. Organizations cannot resolve performance hurdles they face with archaic performance evaluation tools.
Today's HR suites are capable of straightening the performance review process in a jiffy. HR tools like Kissflow HR Cloud offer resources every business needs to automate end-to-end HR processes and scale it up or down to meet their process needs.
Kissflow HR Cloud's performance evaluation module can enable you to streamline and automate the entire performance assessment process to ensure that your employees are assessed in an unbiased and accurate way.
Sign up for a free trial of Kissflow today and see how effortless performance evaluations can be!

---
Related Articles:
---