As 75% of the workforce will be made up of millennials by 2025, organizations can no longer ignore the demands of these tech-savvy employees. What worked with their predecessors like baby boomers and Gen X will not work well with millennials. The workplace is evolving, and SMBs need to adapt quickly.
There was a time where organizations relied entirely on leave letters, emails, and spreadsheets to manage their employees' leave requests. Now that millennials have invaded the workforce, these traditional time-off managers are pretty much useless. Because work was not what it used to be, and also because the net-generation employees look down on these traditional time-off management practices.
Work has progressed past a cubicle place and moved into space. The absence of communication barriers has created transparent workplaces. Antiquated 9-5 office timings no longer exist. Always-online millennials demand an ever-available office. This evolving work-culture raises the demand for organizations to rethink their time off management strategy.
You can create a millennial-friendly workplace using several options like flexible work timing, remote working option, nap rooms, indoor sports centers, etc. While these options might not be feasible for every company, one trick will work for every organization out there: time off. Millennials value their time off, so proper time-off management will be an easy way to attract and retain them and using technology like a time-off management software is the best way to achieve this.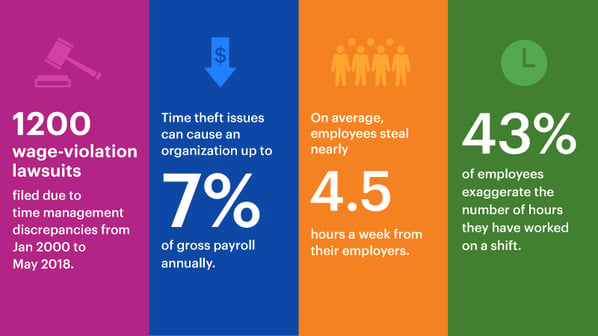 Challenges in time-off management
Spreadsheets used to be HR's best friend. When teams were relatively small, spreadsheets can seem user-friendly and flexible. But as teams expanded, managing employee leave data, and merging it with payroll, becomes difficult. As spreadsheets started multiplying, so did their complexity and challenges in time-off management.
Listed below are some of the major challenges in manual time-off management:
A substantial amount of stakeholder working time is spent on administrative work

HR teams spend a lot of time rekeying data into an array of systems

Its labour-intensive nature creates a barrier to work efficiency

Maintaining a clean record of employee time-off can be nerve-wracking

Manual payroll calculations are time-intensive and error-ridden

Inaccuracies can result in compliance problems and wage-theft issues
Here are a few manual time-off management horror stories. Jason Shoumaker, former facilities director at the University of Texas tampered his time sheets to look like he was reporting to work every day when he was actually travelling to lavish vacation destinations.
Nearly 500 U.S based organizations like Walmart, FedEx, Walt Disney etc. paid $8.8 billion for 1200 wage-violation lawsuits filed as a result of discrepancies in time management during the period Jan 2000 – May 2018.
Features to look for in a time-off manager
Here are some of the features you need to look for when choosing your time-off manager to automate your time-off management process.
Set a leave policy – Display and codify compliance with your company's policy

Automate leave requests – Remove manual intervention wherever it isn't strictly required

Automate leave approvals – Let rule-based automation take over approvals

Paid Time-off tracking

– Get access anytime to leave records and employee-specific time-off history

Comprehensive reports – Choose the parameters and metrics you need for detailed custom reports

Leave management on the go – With mobile capability, apply for and approve leaves from anywhere

Integration with other HR apps – Kissflow HR Cloud is designed to integrate easily with other HR tools you use
Benefits of using a time-off manager
By implementing a time-off manager, every stakeholder involved in the process can reap a variety of benefits. Given below is a list of stakeholder-wise benefits on implementing a powerful time-off manager:
Human resources department
Time-off managers will eradicate paperwork since everything is handled online

Automated time-off processes reduce the administrative burden of HR staff

HR teams can manage time-offs efficiently using a web-based time-off manager
Employees
Unnecessary back and forth in the time-off management process will be eliminated making it streamlined and quick

Employees don't have to keep chasing approvers to know the status of their time-off request, and time-off managers will retrieve all necessary approvals automatically

Since leave balances are displayed in a transparent way employees can keep track of them without nagging the HR team

As the hassle of applying for time-off will reduce drastically, employee satisfaction will improve substantially
Managers/Approvers
Managers can approve time-off requests in a single click

While denying a request they can mention their reason and send it back for revision

The one-click time-off approval system saves time and increases efficiency

Timely notifications speed up the approval cycle and reduce backlogs
Management
With a web-based, time-off manager, organizations can save a considerable amount of time and money

An automated time-off management process will increase the productivity of employees. Since they don't have to worry about their time-off request they can focus more on work.

The management can generate and analyze custom reports about time-off trends and extract valuable insights

As the organization's time-off data is stored in one platform, it remains confidential and secure
Why is this the best time to automate your time-off management process
A time-off manager software is a sleek application that automates the time-off management process, end to end. The new-age time-off tracker offers an employee the liberty to initiate, track, and monitor time-off requests easily from their mobile device. Managers can approve/deny time-off requests and check employee leave balances without navigating through a maze of spreadsheets.
The entire time-off management process becomes transparent and more efficient through just these simple applications. A robust time-off manager will eliminate paper-trails, reduce manual intervention, ensure legal compliance, and offer real-time data. However, it will also raise the need for data reconciliation that leads to inefficiencies and manual errors.
Is there no way to remove these inefficiencies once and for all? Yes, there is a way. Time-Off Automation. And no, you don't have to install top-of-the-line gadgets or robots to achieve it.
Automating your time-off management process
Automating HR processes is no longer a daunting task, nor does it demand an array of IT warriors to handle it. HR automation tools allow business users like HR managers to create their own application without any coding. Their simple drag-and-drop interface allows HR leaders to create a powerful time-off management app in a short time.
Since these sleek time-off managers operate on a cloud-based platform, there is no need to manage an on-premise database. And what's even better is that you can seamlessly integrate these time-off managers with your existing HR management tools.
Did you know?
OrthoSensor automated their time-off management process end-to-end with Kissflow HR Cloud and offered their employees the freedom to take paid time-offs (PTOs) easily without disrupting the workload.
Popular online time-off managers
If you're looking to automate your time-off management process, there are some of the popular time-off managers you need to consider. Most of these tools are HR management platforms which can help you automate more than just leave management.
Kissflow HR Cloud offers a user-friendly module to track employee time-off approvals. It helps HR managers to track employee leave requests and approvals while complying with diverse time-off policies and organizational hierarchies.
Pros: Customizable rule engine, dynamic approval workflows, seamless biometric and third-party integration.
Cons: Could only be purchased as a complete package. No option to purchase individual modules.
Pricing: It follows a user-based pricing model. Pricing starts from $27/month (up to 10 employees) and moves up to $467.50/month (max of 500 employees).
2. PurelyHR
PurelyHR is a cloud-based time-off manager ideal for small to mid-sized businesses. It offers an engaging experience that drives user adoption across the workforce enabling businesses to streamline their time-off management process.
Pros: Ease of access, calendar share feature, and leave balance insights.
Cons: Data limit restriction, customizing accruals for employees who join late in the year, and inability to make requests into the future year.
Pricing: It follows a user-based pricing model. Pricing starts from $27/month (up to 10 employees) and moves up to $467.50/month (max of 500 employees).
3. ADP Workforce Now
ADP's core HR module tracks employee working hours, paid-time-off (PTO), sick time, schedules, and other workforce-related data in a single interface. It helps employees manage their eligibility for paid and unpaid leave based on criteria including vacation, sick time, and more.
Pros: Message board style layout, easy navigation capabilities, pay statement link, and more.
Cons: Not really intuitive, font size restrictions, and trouble navigating the product from a mobile device without ADP app.
Pricing: Pricing information for ADP Workforce Now is not available on their website, users need to contact the vendor to get pricing on a quote basis.
4. BambooHR
Bamboo HR comes with an intuitive and easy-to-use employee leave tracking tool. Its calendar view enables HR teams to toggle between a company-wide or department-only view which can be used to manage their workforce and their leaves.
Pros: Easy time-off initiation, transparent approval process, intuitive interface, and more.
Cons: Lack of customization, inability to track net leave balance, and problems with third-party integration.
Pricing: BambooHR offers two packages—Essentials and Advantage. However, pricing is based on the number of employees and functionalities requested, so it is provided only on quote basis.
5. Keka HR
Keka HR allows HR teams to retrieve a quick overview of employee attendance, leave balance, performance, and most importantly, it allows employees to stay connected with their team around the clock.
Pros: Good GUI, responsive support team, and user-friendly dashboard.
Cons: Delay in data update, complicated functionalities, and lack of customization.
Pricing: Keka HR provides three different pricing plans (Foundation, Strength, and Growth) for users to choose from. It starts from INR 4999.
Create your time-off manager with Kissflow HR Cloud
Kissflow's HR Cloud time-off management software simplifies all the steps involved in a time-off process: initiation, approval, tracking, and auditing. In addition to eliminating complexities in the leave management system, Kissflow HR Cloud integrates seamlessly with other HR management modules and an organization's calendar, keeping all stakeholders in the loop.
Make your organization a millennial-friendly workplace with Kissflow HR Cloud. Time-off management automation is the future–get on board with a free demo and see for yourself!
---
Related Articles: