Modern human resources (HR) functions are ever changing and evolving. In addition to dealing reactively with issues such as talent shortages, payroll issues, or skills gaps, HR managers also need to keep an eye on strategic HR initiatives.
To be the most beneficial, they need to rely on a system that is as flexible and adaptable as their diverse activities require — hence the unprecedented rise in popularity of HR cloud software.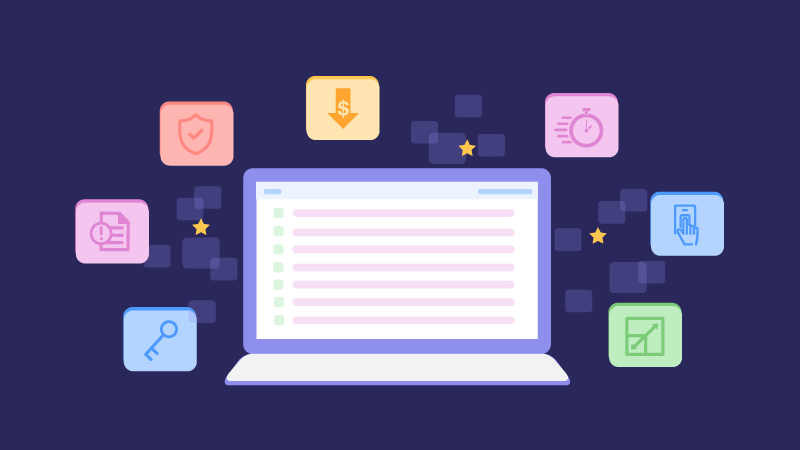 What exactly is an HR cloud?
Essentially, an HR cloud is ​an online-based HR management system that is used to store, manage, and process human capital and employee related data. An HR cloud is an alternative to outdated, on-premise HR software and standalone HR apps. eliminates redundancy from the human resource management process and improves the efficiency of the entire employee lifecycle.
Why switch from standalone HR apps to an HR cloud?
It is no coincidence that the decline of on-premise or standalone HR software has coincided with a great increase in the number of organizations proactively choosing an HR cloud option for their software needs. An HR cloud can offer businesses of all shapes and sizes many benefits over standalone apps or on-premise systems.
Here are just a few of them:
1. Uninterrupted access
As data is hosted on the cloud, your HR team can access the system across a range of devices, at any time of the day. This is perfect for offering real flexibility in how the HR team members carry out many of their regular tasks.
2. Low setup costs
A big benefit of an HR cloud is that it is based on a subscription model, and therefore, no upfront costs are payable. You pay for your use with regular payments, meaning that it is an operating expense rather than a capital expense. What's more, maintenance and support services, plus upgrades and software licenses are typically included, removing the need for annual contracts.
3. Fast implementation
Standalone apps generally require installation onto the company's computer systems, which can take time to complete and inevitably cost more. When you invest in an HR cloud solution, it can be deployed quickly and seamlessly. This allows your HR team to get to work using it almost immediately.
4. Unparalleled scalability
An HR cloud can grow with your business. The subscription model means that you only need to pay for the features and functionalities that you need at any given time, with options to bolt on additional services as your organization expands. This option offers much greater flexibility as you only pay for what you use and can easily scale to meet demand.
5. Tight security
Data is managed online rather than on a server in your business. Thus, it can benefit from enhanced security measures that are often more comprehensive than you could afford internally.
Tips for selecting the right HR cloud​ for your business
The single biggest factor in determining what is the most suitable HR cloud for your business is your organization's own structure and needs.
Ask yourself the following questions before shortlisting potential providers:
How likely is my organization to grow in the future, and therefore, do I need a scalable HR solution?
What's my budget, both in terms of one-off costs for training and implementation, and on an ongoing basis?
How complex are my organization's HR processes, and therefore, what degree of customization am I likely to benefit from?
Does my HR function or wider business use any other software or platforms that either duplicate the work of an HR cloud or perhaps needs to integrate with it?

Top features that constitute the perfect HR cloud​
Each HR cloud solution provides a different mix of features to help you to manage the human capital needs of your business and discover what your areas of focus are. This allows you to choose which HR software will best suit your needs. It is important to consider these factors when you are shopping on the market.
That said, there are several key areas that the best HR cloud may be of most use to your HR function are as follows:
1. Employee information management
Your chosen HR cloud should offer a secure, central point for all current and historical employee data to be stored. It is particularly useful to be able to link information about employees according to different criteria, so that you can view an individual's historical salary as well as their career progression, for example, at the touch of a button.
Maintaining data this way is perfect for creating meaningful reports on a range of employee information across different parameters. It is also significantly quicker and easier for the HR team to administer. In addition, the best HR cloud solutions on the market also offer employee self-service functionalities, enabling staff members to make requests and certain changes to personal data themselves.
2. Recruitment and onboarding
A robust HR cloud solution has the potential to make significant cost and efficiency savings across the whole hiring process. Users can create job posts quickly using templates, linking them automatically with online hiring portals or internal talent pools.
Keyword searches can help to screen and shortlist potential applicants, allowing HR to compare candidates effectively, without the laborious work of manual CV evaluation by hiring managers.
Further, automatic rejection emails can be sent to unsuccessful candidates, and automatic interview scheduling can significantly speed up the hiring cycle. In terms of onboarding, contracts and offer packs can be automatically generated and sent to new hires and inductions can be arranged online for maximum efficiency.
3. Compensation and benefits
Good HR cloud solutions can take the strain of managing various employee benefits such as health care, retirement plans, etc. This allows employees to automatically enroll into benefits via self service and support better communication and administration with third-party benefits providers.
4. Performance and talent management
Most HR cloud software offers a comprehensive learning management system as part of its service. This feature can help to schedule and track employee appraisals, match employee skills gaps to potential training solutions, and administer and organize training courses.
From a talent management perspective, the system can use performance appraisal data to target employees with potential and create talent pools to address future recruitment needs.
5. Time and attendance
A key feature of an HR cloud is the ability to schedule, track, and manage the working hours of employees across different departments and locations. The use of electronic timesheets can cut down the time taken to process working hours. It can also improve the accuracy.
Further, line managers can take proactive actions to address staffing shortages by creating online schedules and comparing them to customer demand. Some systems also allow automatic integration to payroll systems for ultimate ease.
Best HR cloud software on the market
Take a look at our top picks of HR cloud software for your business:
1. BambooHR
BambooHR is a compact, cloud software solution targeted at smaller businesses. It offers a range of built-in, simple-to-use functionality across a wide range of HR functions, from time and attendance tracking to recruitment and more.
Pricing: BambooHR offer new users a free trial. Pricing is customized depending on use and user volumes.
2. Kissflow HR Cloud
Kissflow HR Cloud offers its clients a range of HR applications from recruitment and onboarding to performance and leave management. It is favored by organizations across different industries and of different sizes for its multiple advanced built-in functionalities.
It is also a favorite because of the high degree of customization that it offers. This enables users to build their own fully personalized HR cloud to integrate and streamline their existing HR processes seamlessly.
Pricing: Kissflow HR Cloud offers two pricing structures for maximum flexibility. The standard package is $690 per month, and the enterprise package starts from $1290 per month, both billed on an annual basis. New clients can benefit from a free trial to try the software out before committing.
3. Zoho People
Zoho People is a complete cloud-based HR solution, enabling organizations to manage their human resource activities within a single platform. The software features a full range of HR functionalities such as performance management, time and attendance, and compensation and benefits administration. A big plus is the ability to integrate it into the other business software provided by Zoho, to create a customized and smooth-running suite of functionalities.
Pricing: Pricing is dependent on the number of users, depending on the package and modules chosen.
See the benefits of an HR cloud solution in your own organization​
The HR function of a business is home to some of its most complex, high-volume, and business critical processes. Therefore, it is no surprise that more and more organizations are turning to HR software and automation to improve the speed, accuracy, and quality of their HR data and processes.
The ideal HR cloud can offer your organization unparalleled improvements to speed, accuracy, and productivity. The secret to success is carrying out a comprehensive needs analysis of the HR function of your company and shortlisting HR cloud software providers to choose the solution that will work best for your business.
Kick-start your quest by signing up for a free trial of Kissflow HR Cloud and see the difference a powerful HR software can make.

---
Related Articles: