Your learning and development model has been thriving. The training courses boost the morale of your employees, improve their skill set, and forge a good bond between team members. It's no wonder that your employees absolutely love your employee training program. Who wouldn't love a training course that is informative, exciting, engaging, and fun?
It hasn't been easy. You've stretched yourself thin to come up with an employee training that gives a great ROI. Although you're close to burning out, you pull out all stops to ensure that your training improves employee efficiency, enhances productivity, and increases retention rate. All this extra effort has made you a rock star. Of course, your management is super impressed.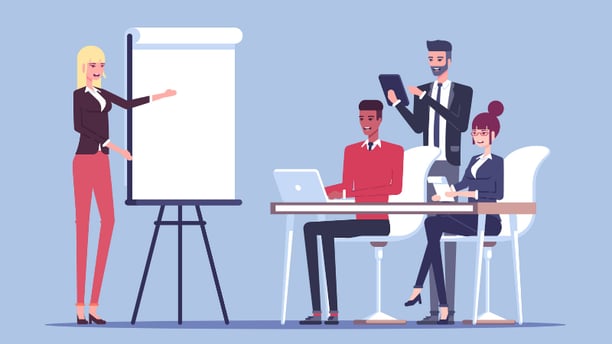 Now, they want you to scale up your employee training plan and design more training courses that bring forth organizational success and business growth.
However, instead of elated, you are dumbstruck.
While you've managed to keep the exhaustion under wraps, scaling up will definitely knock you off your rocker. Yet, you can't say no.
Your current training mechanism and the non-existent training system can never cope up with scaling. It's time to revamp your employee training and development program. A learning management system (LMS) can reduce your workload. But your organization cannot afford it, and trying to hire ten more people just like you is out of the question. What if there is an option to avoid a huge investment, start small, and scale up using a simple training software?
Employee training program made easy using automation
Here are five ways you can supercharge the employee training plan, and also what it looks like to use an automated training app like the one inside Kissflow HR Cloud.
1. Identify training needs
What is it about?
The training needs are identified by conducting a skills gap analysis. The performance gap is determined by comparing the desired skill set with that of existing employees. By analyzing the performance gap data, you identify specific skills to be improved and the timeframe within this has to be done.
Typical process
Skill gaps are usually identified by sifting through stacks of performance review feedback and matching them with the desired skill set. Manual sifting and sorting is inaccurate, arduous, and time-consuming.
With Kissflow HR Cloud
A qualitative review process captures data from multiple sources based on multiple parameters. The reporting engine analyses the data to obtain actionable insights for creating an effective employee training program that aligns with skill demand and individual training gap.
2. Define goals
What is it about?
This is the most critical–yet often overlooked–phase in a training initiative. Before sketching a successful plan to ramp up the employee training program, it's necessary to develop learning objectives that align with the organization's strategic HR plan. Learning goals (short-term and long-term) are derived from these objectives to create training content and establish learning parameters.
Typical process
Once an overarching roadmap for the program is created, it will have to pass it through an approval loop. Usually, the trainers obtain approvals through a series of paper form trails or by sending back-and-forth emails to the HR team, management, managers, etc.
With Kissflow HR Cloud
The goal-setting part of the employee performance module allows organizations to set SMART goals, gather required approvals, have frequent check-ins to monitor employee progress, and route the collected data through a trackable system.
3. Plan a training session
What is it about?
Once the essential skills are identified and clear goals are set, the next step is to prepare engaging course material and start planning the training program. A lot of factors that go into creating and executing a good training plan—identifying trainees, considering shift timings, picking a schedule that doesn't cause disruptions, sending out invites, and delivering reminders.
Typical process
Most of the steps involved in planning a training program are handled manually through a flurry of emails and in-person communication. However, most of the time, right before a session starts, trainers end up scurrying around to collect the trainees and sort out sudden schedule clashes.
With Kissflow HR Cloud:
Automated invites and reminders will be sent to all employees in the trainee list. Once an invite is accepted, it will be synced with the calendars, preventing potential clashes.
4. Obtain training feedback
What is it about?
Several organizations tend to overlook the process of retrieving feedback from participants. A post-training feedback obtained right after the training sessions–while the memories of your trainees are still fresh–will offer more insights than any form of analysis. This simple protocol can help you identify the areas that need improvement and ensure that business goals are met.
Typical process
Trainees are provided with post-training feedback surveys through paper or electronic forms. They are used to figure out whether the training technique was effective or not. However, documenting these feedback forms and analyzing them to retrieve insights is pretty tedious.
With Kissflow HR Cloud:
After the successful completion of a training program, all participants will receive a digital, mobile-friendly, qualitative feedback survey. It is then analyzed to identify whether the obtained outcomes match the desired expectations.
5. Training effectiveness measurement
What is it about?
Measuring the effectiveness is essential to find out whether a training program yields the expected results. In addition to collecting training feedback, it is essential to monitor the progress of a training program over time. To establish concrete results and determine the ROI of a training program, one definite metric (productivity or profit, for instance) is tracked and analyzed.
Typical process
Organizations typically measure the effectiveness of a training strategy through a post-training assessment, or by comparing the performance and efficiency of an employee before and after the employee training program. However, neither measure is accurate or effective.
With Kissflow HR Cloud
The inbuilt reporting module analyses assessment results, training feedback, and employee performance to obtain actionable insights, which offer real-time progress and insight into trends.
Supercharge your employee training plan using Kissflow HR Cloud
In the current business environment, it is critical to maintain workers' skills and improve their performance continuously. The learning and development process plays an integral role in this aspect.
Creating an employee training program that enhances productivity and improves outcomes with optimal resources is easy with an integrated HR tool like Kissflow HR Cloud.
With Kissflow HR Cloud, businesses can analyze, plan, launch, and measure employee training programs easily. Unlike an inflexible LMS or HRMS, Kissflow HR Cloud's training management module can be tailored to fit unique process needs. Best of all, organizations can improve employee engagement with a training plan that aligns with individual performance trends.
Sign up for a free trial of Kissflow HR Cloud and see how simple it is to streamline your training program.

Related Articles: