Employee attrition has always been a major concern for organizations. Nearly 40% of employee turnover occurs in the first six months or less. Who's fault is this? Should we blame HR for selecting flakey candidates who don't understand the role? Is it the training team's fault for not bringing them up to par? Or is it the fault of the managers for scaring away new hires?

But, there's something even SMBs can do to retain their employees a lot longer: scale up the onboarding process using a great employee onboarding checklist. A great employee onboarding process has the power to retain 69% of new hires for at least 3 years. It can help the organization stem attrition and build a strong foundation of trust. So, an employee onboarding checklist that does the bare minimum to prepare your new hires doesn't cut it.
You need something that will turn your new hires into loyal, long-time, productive employees for your organization. You need a great onboarding process that churns out superheroes who become torchbearers of your organization. Here's how you can take your employee onboarding checklists to the next level.
The employee onboarding checklist flow
In many startups and small businesses, the process flow tends to be quite simple. Most of the time, the entire process is handled by the same person. They scurry around with an onboarding checklist and try to manage all of the tasks manually. While onboarding checklists are useful, tracking each task manually is time-consuming and tedious.
At large enterprises, the entire employee onboarding checklists can cover many departments and formal training seminars. The process flow tends to be quite complex with an array of checkpoints. When the dependency on human intervention is high, the room for errors also increases. If HR managers have to get work done by tracking the progress manually, every point in the process has the potential for errors, for data to vanish.
5 common phases of employee onboarding checklist
Every organization has a unique style of working. No matter how your company executes its employee onboarding, these broadly defined stages are most likely how things are done. They represent the most common path that onboarding a new employee takes.
You can think of these stages as a collection of tasks, usually carried out in a sequence that varies from company to company.
Step 1: Preparation
This takes place before onboarding even starts, and sometimes extends well into the bulk of the onboarding process. Representatives from admin, HR, and L&D, all schedule and plan out their meetings with the new joinee.
Step 2: Orientation
During their first week, you walk new joinees through workplace policies, help them with paperwork, and welcome them to the organization. Some tasks here may be carried out by an admin representative, and then L&D can take over, especially if the company uses complex workplace software/tools.
Step 3: Integration
During integration, new employees meet their team. This is a two-part introduction, as they learn about the work they will be doing, as well as about the general culture/atmosphere within the organization.
Step 4: Engagement
Finally, new joinees go from fresh-faced newbie to settled-in employee. At this stage, they've started to build working relationships with teammates, and are prepared to contribute meaningfully to the organization's short- and long-term goals.
Step 5: Follow-Up
Once the employee has been onboarded, engagement is key to their success. This is maintained by regular follow-ups conducted by their immediate superiors/mentors, as well as representatives from HR.
Sample employee onboarding checklist
Kissflow HR cloud allows you to turn a paper-based checklist into an onboarding app and automate your onboarding process in minutes. Let's look at a sample new employee onboarding checklist:
Add personal employee information to an organizational database (name, address, contact)
Add the employee to organizational chart (role, manager, department, start date, location)
Set a reminder for birthday and work anniversary
Send a welcome note (Include a company swag)
Have the IT department create a new email address for the employee
Add their email address to appropriate email lists
Learn what resources (hardware, software, mobile phone, apps) they would need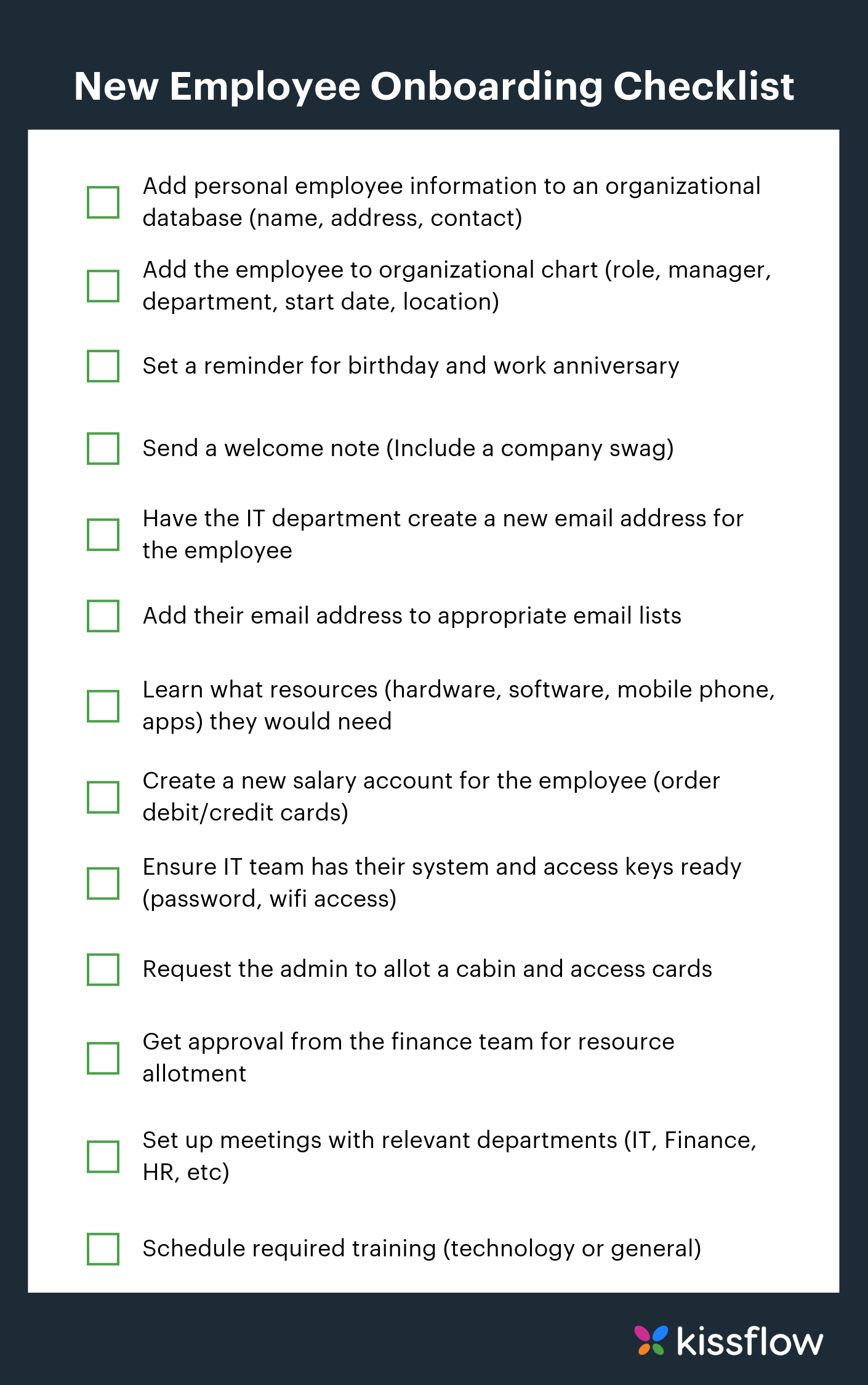 Create a new salary account for the employee (order debit/credit cards)
Ensure IT team has their system and access keys ready (password, wifi access)
Request the admin to allot a cabin and access cards
Get approval from the finance team for resource allotment
Set up meetings with relevant departments (IT, Finance, HR, etc)
Schedule required training (technology or general)
An onboarding workflow automation software will convert your employee onboarding checklist into live workflows which assigns right tasks and the right time to the right people while ensuring that nothing is overlooked. Kissflow HR Cloud offers the same amazing onboarding experience to every new employee.
Automating the employee onboarding checklist
Onboarding is a human-centric process that demands a lot of time and energy, and technology goes a long way in facilitating it. Manual and repetitive tasks involved in the process can be automated to improve the experience and relieve stress for both employees and HR leaders alike.
Automation will seamlessly integrate the various stages of onboarding and enable effortless collaboration. HR managers can collaborate with stakeholders before releasing an employee's offer, and an automated notification can be released to them all once when the employee accepts the offer.
In an automated employee onboarding template, HR managers have access to check the status of new hire documentation and verify whether the process follows the pre-defined onboarding workflow. Any delays or discrepancies will send automated notifications to all people involved. This added security ensures that the process is completed within the timeline and maintains the transparency throughout.
Employee onboarding workflow automation
Kissflow HR Cloud gives you all the flexibility you need to customize your own unique signature experience to impress your new hires. And best of all, you don't need coding expertise to automate your employee onboarding. The only thing every user needs is an email address. Sign-up for a free demo and get 30-day free trial and see how easy it is to create an automated employee onboarding solution.

---
Related Articles: