Recruitment tools play a critical role in winning the war for talent. Promoting job openings, building a magnetic brand image, and conducting interviews on zoom is quickly becoming table stakes. But, even today, several businesses continue to use legacy HR tools, spreadsheets, emails, and other decentralized tools to manage recruitment.
In times of talent shortage, outdated tools like online forms and spreadsheets to manage recruitment can leave organizations at a disadvantage. As soaring competition to find the best talent and shrinking talent pool meet, the need for technology adoption becomes inevitable.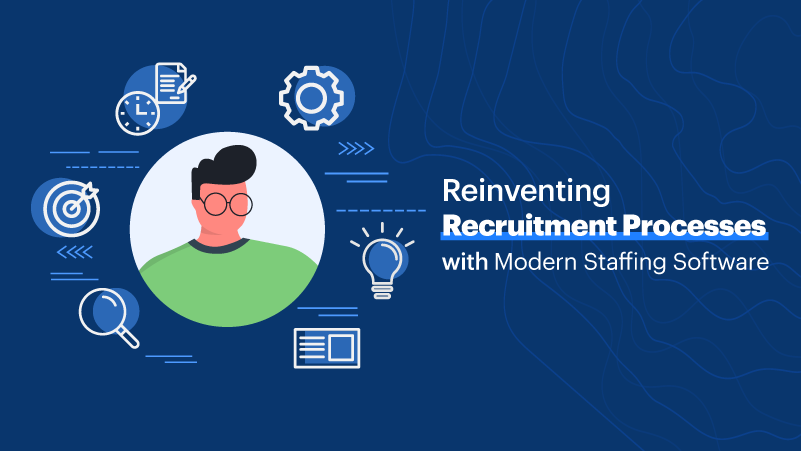 However, online recruitment is only the tip of the iceberg. To target, attract, and hire the best talent, applicant tracking tools need to work in tandem with core staffing processes. Modern staffing software can offer businesses the much-needed capabilities of collaboration, real-time visibility, and insights that help hiring teams to find the right talent and build a thriving business.
However, just implementing a random staffing software to automate broken recruitment practices will be of no use. It is critical to reinvent outdated processes and ensure that they keep up with evolving candidate demands. Instead of jumping head first into reengineering, here's all you need to know before marrying your recruitment processes with your core staffing software.
What are recruitment processes?
Recruitment processes are a list of hiring-related tasks that help HR managers implement hiring strategy and fulfill recruitment goals. It consists of tasks like initiating new hire requests, posting job adverts, collecting employee referrals, screening and interview, extending job offers, gathering candidate feedback, ensuring acceptance, onboarding and orientation, and employee confirmation.
1. Creating new hire requests
The preliminary step in a recruitment process is recognizing the need to hire a new resource. Be it a brand new designation or an existing job, talent needs are analyzed and the knowledge/skill gap is double-checked before initiating a new hire request.
2. Posting job advertisements
Gone are the days of passive recruitment where you posted jobs and waited for profiles. To procure the best candidate amidst the current talent war, organizations need to recruit pro-actively and reach targeted individuals who are not actively looking for a job.
3. Seeking employee referrals
Employee referrals are one of the most under-utilized recruitment methods. The practice of using current employees to source new hires is effective as:
Referred candidates are already pre-screened candidates
Employees set realistic expectations about the open position
Existing employees help new hires to master the job and keep them engaged
It captures the attention of people who are not actively looking for a change
The retention rate of employees hired through referrals is higher
4. Candidate screening and interview
Once the job advertisement goes live, HR managers will start receiving resumes of candidates who are interested in that position. This is when candidate screening is done. Candidate screening aims at analysing collected resumes to identify capabilities within the market to satisfy your recruitment goals and objectives.
A thorough screening process will lead to identification and invitation of best candidates for the next level of interview which could be a written test, a face-to-face interview, or a technical round. However, setting up interviews manually while ensuring the availability of all stakeholders (candidate, HR manager, functional manager, department head, and more) can be a challenge.
Once the interview is over, it is the duty of the HR manager to collect interview feedback from all stakeholders including the candidate. They collect the feedback and manually update their recruitment apps. Once all interviews are done and dusted, they go back to their recruitment apps and analyse the available information to find top performers and extend job offers.
5. Extending job offers
Once the desired candidate for the role is chosen, the HR manager needs to generate offer letters, employment contracts, and other relevant pre-boarding documents to the potential hire. In addition to this, the HR team must not only send rejection letters to unsuccessful candidates but also add their profiles to the existing talent pool.
6. Gathering candidate feedback
You can use the most expensive ATS tool in the market, however in order to measure the interview effectiveness, you need to gather feedback from people who attended your interview. Hiring the right person doesn't just stop with finding the best talent; a major portion of the success lies in convincing the candidate that your organization is worth working for.
While the process of collecting candidate feedback might look time-consuming and clunky, it plays a critical role in determining the effectiveness of your interviews. Organizations can gather feedback through candidate feedback forms, surveys, and more.
7. Offer management
Employee-centric workplaces don't just stop at providing employees with bean bags and MacBooks. In today's world, most employees tend to reject job offers if they don't have a positive feeling about becoming a part of your workforce.
8. Onboarding and orientation
The period where a candidate accepts an offer and actually joins the organization's workforce is crucial. As your organization has invested a significant amount of time and effort to bring the candidate to this phase, HR managers must take extra care to minimize the risk of losing the candidate at this point.
9. Employee confirmation
The objective of employee confirmation is to give new hires the time they need to review their expectations and ensure they match. Ideally, this phase will be filled with active conversation about the new hire's progress and their continued effort to become a valuable asset.
10. Evaluating recruitment results
Most HR managers only ensure whether or not their original objectives have been met. They don't have a plan in place to evaluate their recruitment efforts as a whole. Often, it is either due to the fact that organizations don't have enough data to look back at their recruitment metrics or because organizations are overwhelmed with the amount of data they have in their hands.
Reinventing and transforming your recruitment processes
In order to derive maximum value out of their recruitment processes, an organization needs to reinvent their archaic practices and ensure that they meet the evolving demands of a tech-savvy workforce while keeping costs and efforts within reasonable limits.
Recruitment processes have become transactional in nature. Everything from candidate search to endless rescheduling and incessant screening attempts is not only challenging but also ineffective. It's time organizations stepped into an era of recruitment that focuses on the human-centric, strategic part.
Listed below are ways in which organizations can reinvent their recruitment processes:
New resume parsing tools and interview solutions sift through bundles of resumes to weed out candidates so that HR managers can spend most time focusing on the best
Making diversity a priority instead of treating it like a checkbox exercise can help organizations to not only improve culture but also enhance their financial performance
Tracking the performance of your recruitment processes and analyzing it can offer credible insights that unveil recruitment trends and boost an organization's bottom line
Instead of trying to mend the traditional interview model, organizations need to embrace new tools like VR assessments, psychometric tests and more to get a holistic picture of a candidate's skill set
Businesses need to look for ways to strategically reskill their current employees and align them into new roles since an internal hire will only cost nearly ⅙ th of the cost of hiring an external candidate
Improving the recruitment processes using core staffing software
As the industry and technology continue to evolve, new HR management challenges are on the rise. Organizations must not only understand the complexities of the hiring cycle but also take efforts to integrate the process with their core staffing system.
Listed below are six benefits that employers can enjoy if they take the leap from disparate processes to a streamlined recruitment process that is in sync with the staffing software.
1. Automated process:
Organizations can automate all or part of their hiring cycle while ensuring policy compliance and speeding up the process considerably
2. Centralized access:
Talent acquisition tools will read, interpret, and recognize multiple unstructured, disparate sources of candidate information and build a single, up-to-date source of employee database
3. Data-driven decisions:
Modern staffing software can completely digitize the interview process enabling stakeholders to arrive at data-driven recruitment decisions instead of relying on memories and paperwork
4. Internal talent pool:
Most core staffing software come with a built-in talent pool which proactively stores, manages, and nurtures a talent pool of past candidates. Recruiters can use this talent pool as a reserve that they can turn to if and when they need to fill a specific role in the future.
5. Candidate engagement:
Modern staffing systems offer comprehensive collaboration tools, pre-made offer letters and employment contracts, digital workflows, and extensive integration with third-party tools like payroll software and accounting tools
Conclusion
Today's evolving recruitment trends are making traditional recruitment practices a thing of the past. To stay ahead of their competition and win the war for talent, organizations need to embrace them.
HR leaders need to secure the buy-in from their management to invest in recruitment technology and modern staffing tools that take care of tedious tasks and enable them to focus on building good rapport with candidates. By connecting their recruitment processes with staffing tools, organizations can speed up the time-to-hire and make smarter decisions.
Now that you're armed with fresh information about the candidate-led recruitment process, use it to gain a competitive advantage. Put your best foot forward by signing up for a customizable staffing software like Kissflow HR Cloud and see how easy it is to supercharge your recruitment.
---
Related Articles: