Candidate tracking systems have gained significant popularity recently due to the time and efficiency savings they can bring to the often complex and time-consuming recruitment processes. Read on to see how a candidate applicant tracking system could work in practice for your business.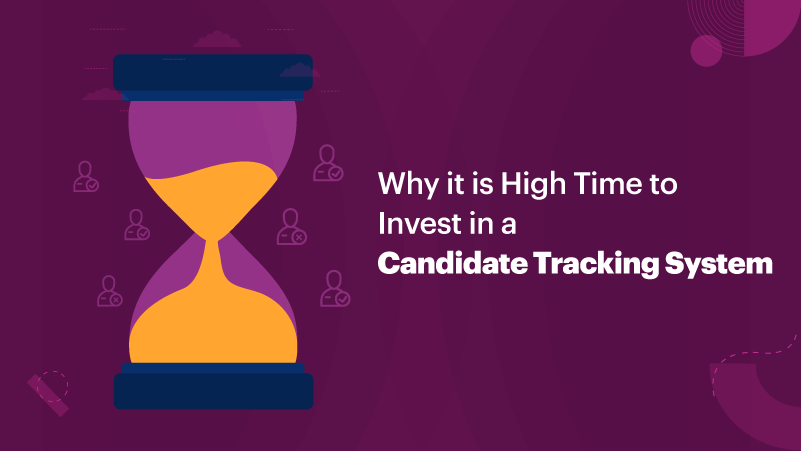 How does a candidate tracking system work​?
A candidate tracking system is a tool that adds automation to an otherwise manual recruitment process. This means that hiring managers can gather and collate applications for vacant positions, compare candidates' skills and experience, and ultimately track and manage candidates through the application process.
More than that though, choosing the right candidate management systems is a great opportunity to communicate more effectively with applicants. This allows a company to build solid relationships with them, ensuring their engagement with the brand and potentially improving candidate retention rates.
Why is it the right time to move from paper-based candidate sourcing​?
Attempting to attract and recruit candidates manually can be a challenge. Dealing with paper or email copies of CVs makes it difficult to make meaningful and well-reasoned comparisons between candidates.
Using a manual candidate tracker involves spending time inputting and updating data. Not only is this time-consuming and laborious work for recruiters, but it adds little value and is surely time better spent playing a more active role in the recruitment process. Paper-based candidate sourcing is also much more error-prone than using candidate tracking software. The result is a more costly and less efficient candidate management process.
Features to look for when buying a candidate tracking system​
With the choices in the candidate management systems market, it can be difficult to know where to start when looking for the best option to suit your business needs. Let's break down what are generally considered the most important or valuable features in candidate screening software to get you started:
1. Automatic job posting
Once you have created a new vacancy within the system, you can immediately share it with selected job portals and relevant social media sites to gain instant visibility with your target candidates.
2. Candidate skills matching
The best candidate tracking systems allow you to create keywords of desirable skills, experience, or character traits. It is ideal for your perfect candidates to possess and then match applications against the set keywords to create shortlists of candidates without manually sifting through CVs.
3. Robust reporting features
Good candidate relationship management tools allow your recruiting team to analyze a range of metrics relating to the recruitment process to determine both areas of success and improvement.
Examples include the lead time between creating a vacancy and filling the post, volume of applicants by role, the success of different recruitment methods, etc.
Steps involved in the candidate tracking process​
Candidate tracking can be broken down into the following stages:
1. Sourcing candidates
This involves using advertising, recruitment agencies, or internal recruitment/employee referrals to inform potential candidates of a new vacancy and attract them to both the role and organization.
2. Shortlisting candidates
You want to make the application process as enjoyable and stimulating for the candidate as possible and to build rapport with them right away. Once you have a certain volume of candidates, you can screen and shortlist them according to job requirements.
3. Communicating with candidates
An applicant status portal​ can help recruiters to view the details of each applicant, as well as the stage that they are in within the recruitment process.
How a candidate tracking system can improve you candidate relationship management
While candidate tracking systems offer great benefits in terms of cost and efficiency savings and general improvements to the quality of the candidate sourcing process, the knock-on effect on candidate engagements should not be underestimated.
Candidate relationship management tools that form part of the most advanced candidate tracking systems allow your organization to communicate directly with candidates from the earliest stage of the recruitment process. This, in turn, builds their engagement and commitment with the company right from the start.
It can be of enormous benefit if you are competing with rival organizations for top talent, by attracting and retaining the interest of quality candidates throughout your recruitment process. Features like automated emails, integration with websites and social media pages, ongoing communication enable businesses to put candidate relationship best practices in place quickly.
Gain the competitive advantage in your recruitment process
Make the change from outdated manual recruitment processes to smoother, streamlined ones with a candidate tracking system. Kissflow HR Cloud offers its users a full range of automated features to manage their organization's recruitment processes, with low set up costs.
If you're looking for a candidate tracking system that balances privacy and collaboration, Kissflow HR Cloud is the right choice. Try the free demo today to see just how efficient your candidate sourcing and tracking could really be.
---
Related Articles: