Business travelers are the face of the organization. They make awesome presentations, close deals, and keep the cash flowing. But you've got to spend money on travel to see the returns. Businesses continue to spend boatloads of money on corporate travel management to keep up these massive revenue streams.
In fact, this amount is projected to hit $1.6 trillion in 2020, according to the Global Business Travel Organization.
Even though business travel management might seem straightforward, it's far from simple. There are a lot of moving parts and far too many people are involved in it. By the time employees get their travel requests approved from the manager, the finance team, and the department head, ticket prices have gone up, hotels are sold out, and you are left paying a whole lot more than you planned.
Outdated travel processes result in ineffective travel expense management and an incredible waste of time and resources. But having an automated travel management platform can bring back some sanity to business travel processes.
Request to reimbursement: 5 step solution to travel and expense management process:
Start by thinking about a portal where your employees can raise a request for business trips. This can be a form where most employee details like name and reporting manager are pre-filled. Employees only have to enter details specific to the trip they're about to make.
Once employees submit their requests, they are sent for approval by one or more people. This is where having a well-defined corporate travel management policy comes handy. You can choose to auto-approve travel requests based on certain criteria. Perhaps, a one-day local trip doesn't need to go through the lengthy approval process.
3. Submitting Expenses
Employees can capture expense receipts and upload them as and when they happen. This saves them a lot of time when they come back. All they have to do is ensure that their expenses don't violate the business travel policy and submit it. There are even finance management tools to capture information from a digital copy of the receipt and categorize the expense accordingly.
By setting up an approval hierarchy, you can ensure that relevant information reaches the right person at the right time. You can even choose to auto-approve expense requests in certain cases.
For example, if the claim is less than $20 and the expense category falls under food, you can choose to approve this claim automatically, thereby saving a considerable amount of time.
5. Reimbursing the Employee
After approval from the finance team, you can set up an automatic travel reimbursement process where the money gets credited to the employees' bank accounts directly.

Features to look for in a travel and expense management
An ideal travel and expense management tool should take care of the entire process from you: right from travel requests, to approvals, to reimbursements.
Depending on your requirements, you might either need an off-the-shelf software or customize one on your own. However, there are a few key features you cannot do without: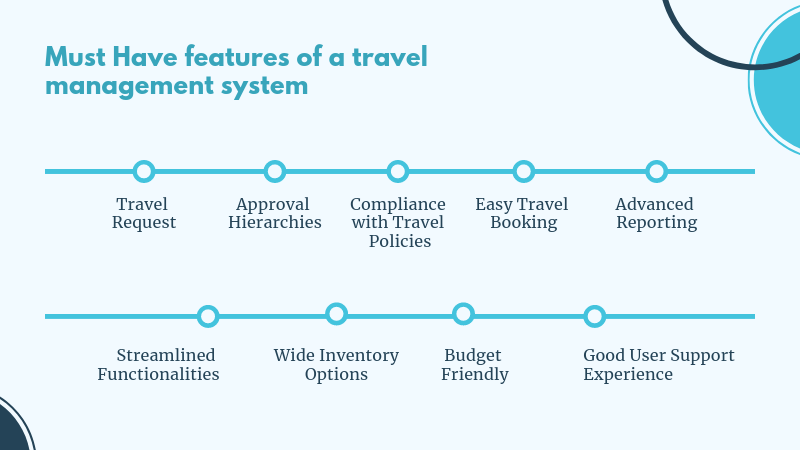 Pro tips to streamlining your travel and expense process
While claiming travel expenses can be dreary, there are a few things you can do to make it less daunting. Following a streamlined travel approval process can help you save time and avoid costly mistakes.
1. Use a Travel Expense Tracker
When your salespeople are out there closing deals, it can be frustrating for them to spend just as much time collecting receipts for food and travel as they do connecting with customers. It's crucial to make the process for claiming expenses as easy as possible to that requesting reimbursements doesn't become a full time job. A travel and expense tracker with a mobile app comes in handy so employees can submit expenses even when they're on the move.
2. Automate Whenever Possible
There are a lot of manual holes in the travel expense process. From paper receipts to keying in data on a spreadsheet, there are many chances to create a more automated system. Whether it is automated approvals for a particular amount or creating journal entries immediately, you can find many ways to introduce more smooth functioning.
3. Avoid Paperwork
Paper receipts not only fade and become illegible with time, but they're also easy to lose. So, it's always better to scan the receipts and back them up in the cloud. This saves you a lot of time during audits and you don't want to be at the mercy of archaeological work to decipher the lost ink on paper receipts.
4. Eliminate Double Entries
Connect your expense reporting system with your other systems like accounting software to avoid manually entering the same data twice. This not only saves you time but also eliminates human errors.
5. Set Up Online Reimbursements
When the finance team approves a claim, you can expedite the reimbursement process by setting up an ACH payment or a direct bank transfer and sending the money directly to the employee's bank account.
Conclusion
Streamline all your key finance processes like travel and expense reimbursement claims, travel approvals, and budget requests with Kissflow Finance & Ops Cloud. Get improved control over finance approvals and see your efficiency soaring. Get your free demo today.

Related Articles