Whether you're an enterprise CFO or 'the finance guy' at a startup, you probably don't joke about capital expenditure. An integral part of cash flow in any organization, it's crucial that the CapEx approval process runs smoothly and without error.
If you know your finance, skip right past the next section.
By definition, CapEx or Capital Expenditures are the funds used to acquire or upgrade a company's fixed assets, such as expenditures towards property, plant, or equipment (PP&E).
This could be something as simple as fixing a broken chair in the accounts room, or a complete and comprehensive IT infrastructure upgrade.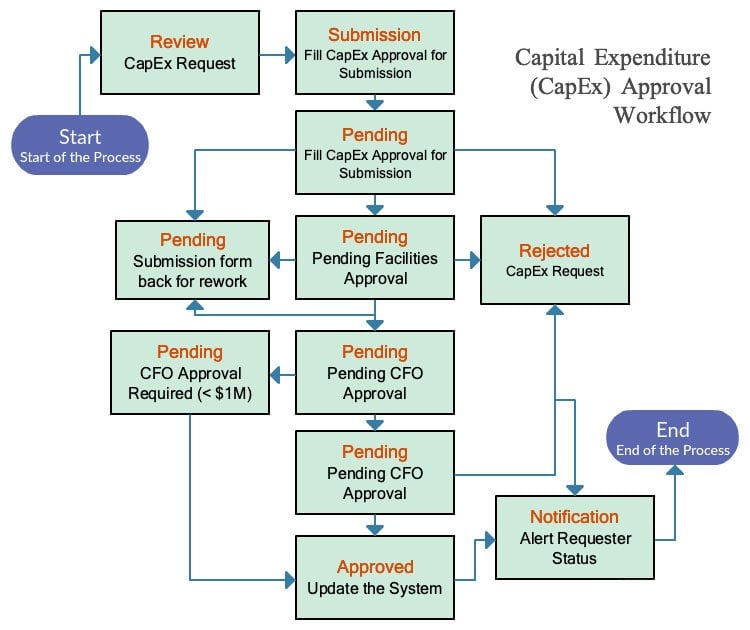 So what is a CapEx approval process?
Capex Approval process is actually a series of multiple approvals. Before funds get released, each CapEx approval request must pass through a series of stakeholders in various departments. Whether it's asset acquisition, renovation, or a lease, these stakeholders will all have to give their go-ahead before so much as one cent gets disbursed from the company's funds.
Why Your CapEx Approval Process Needs Automation
The CapEx approval process is crucial to the smooth running and growth of an organization. That's why it's a big problem when requests take time or get lost under a mound of paperwork. Without automation, CapEx approval workflows can be a veritable nightmare.
1. Traditional CapEx Approval Processes Are Slow
When you take the dated manual paper-based approach, your CapEx approval workflow tends to be ungainly, bloated, and slow. When an organization is trying its best to get to market as early as possible, a dated approval process can slow things down.
Especially with mid- and large-sized companies, manual CapEx approval processes tend to be lumberingly slow, heavy, and inefficient as well.
2. Manual Errors
One driving reason for automation being embraced around the world, in practically every industry vertical, is manual error and lapses.
Manual errors drive down efficiency and productivity in the CapEx approval process. People can make mistakes with the routing of approvals and in calculations. This affects productivity directly. Especially as more and more people need to sign off on company expenditures, the room for error also increases.
3. There Are No Standardized Guidelines
Technically, organizations do have a certain way by which the CapEx approval process is executed. Yours likely has some guidelines and policies in place that state that approvals can be made provided certain documentation and data is available, and some justification criteria is met.
But for the CapEx approval workflow to really work for you, these guidelines need to be an integral part of the process itself.
You can state strict guidelines in company policy, but they can be a little tricky to enforce. Team members who are processing multiple CapEx approvals each day can make errors, which leads to misinformation, missed timelines, and further time wasted resolving these issues.

Typical CapEx approval process
CapEx request
The CapEx approval process begins when individuals, usually department or regional heads, identify the need for a capital asset. They create a proposal with asset type, estimated ROI, useful life of the asset, and more. They submit it to the leadership teams or the finance heads for review and approval.
Approval by leadership teams and stakeholders
When CFOs receive a request for purchasing capital assets, they review the proposal and its impact on the growth of the company. Since capital expenditures are high-cost investments, they have to carefully consider the various options as it could lead to potential financial drain. They use various tools to forecast the profitability of the purchase in the longer run.
Department heads are offered a chance to justify the purchase and how it can help improve the revenue or efficiency. Once the leadership team is convinced that the asset is needed, they deliberate on the budget. The expense has to fall within the year's budget. If it doesn't various alternatives are considered.
Once all parties are on the same page, the CapEx request is approved and sent to the procurement team.
Procurement
The procurement team receives the purchase request and sends out purchase orders to get quotes from various vendors. Once the asset has been purchased and the invoice is approved, the finance team releases the payments and the appropriate entries are made to the journals.
Using Kissflow Finance, you have instant access to expense details like the date an expense was made, the type of expense, and why funds were necessary. You won't lose track of receipts either, as those can be attached right on Kissflow's easy-to-use interface. Instant access paves the way for crucial analysis and insights. This app can be edited as well; you can control access, the stakeholders and their order, and processing rules.
You can gain an insightful look into department-wise expenses, the status of each request, whose approval is pending, and date-wise statistics about approvals.
CapEx Approvals, on the Move
Given the close competition, it is crucial that organizations constantly grow to stay at the top, CapEx approval processes should definitely be automated. This is more necessity than a luxury, as the examples cited clearly show.

Related Articles: