Kissflow Events
Explore our collection of on-demand and upcoming events, webinars, and demos
Demo Day
Perfect your project management process with a tailored low-code application
Experience powerful project management with Kissflow's low-code no-code app, designed to streamline workflows, enhance productivity, and manage tasks effortlessly.

December 12, 2023

09:30 am PST, 10:00 am GMT, 4:00 pm AEST
Speakers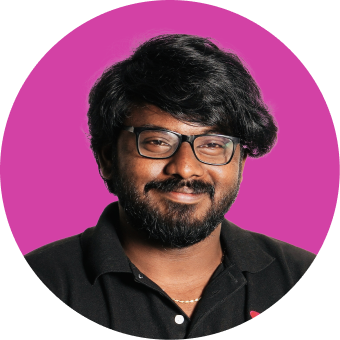 Barath Kumar
Senior Solutions Consultant
Kissflow
Bharath Kumar, Senior Solutions Consultant with 7 Years of specialization in SaaS, low-code no-code solutions. He helps customers navigate the complex landscape of business solutions through his expertise in app development. Bharath's approach to digital transformation has made him a leader in process improvement, consistently elevating business operations
Is your project management tool not aligning with your industry standards? Do you face customization conundrums?
Do you feel despite having people, process, and platform in place your project management is inefficient? Are you still breaking projects into sub-tasks and managing the end to end flow manually?
It's time to end generic timesheet management with customizable, automated workflows.
Managing your projects with transformative solutions using low-code platforms can redefine how your business should approach projects. With the Kissflow – Low-code No-code platform you can enhance your team's productivity, foster seamless project execution, and streamline data processing.
With the help of our application builder and our integration layer you can build a comprehensive project management app that will unlock better time management and improved efficiency.
Join our Global Demo Day - Perfect your project management process with a tailored low-code application and learn how to:
In the demo, you can learn how to:
Customize your project management app for your business needs
Build workflows that automate manual processes end-to-end
Connect with other apps/processes with our advanced integration studio
Implement transparent communication, and gain real-time visibility into projects
Join the demo to unlock the secret to successful project management in the digital age.