Differences between an intranet and a digital workplace
A digital workplace is a wide ranging platform that contains all the tools your organization needs to accomplish work. An intranet, if your organization has one could at best be only a part of this platform.
Modern intranets are a far cry from the clunky monoliths that they used to be even a decade ago. Today, intranets can be powerful tools for organizations to communicate and collaborate internally, but by their very definition, they're not digital workplaces. It helps to think of digital workplaces as much bigger ecosystems that enable a lot more to be accomplished.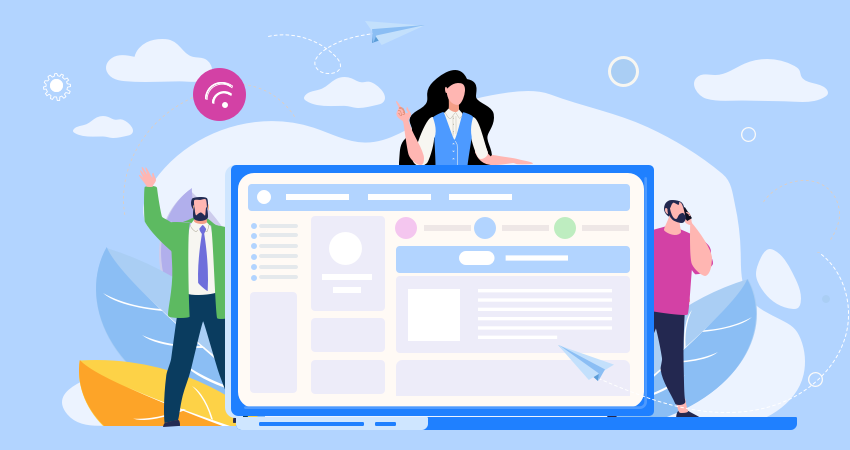 The intranet revolutionized modern work, offering companies one platform for:
managing files, memos, and generally, all internal knowledge handling
communications between coworkers and teams
internal support operations for streamlined issue handling
a unified collaboration management space
But, judging by the steady rise of modern SaaS apps designed to incorporate the communications and collaboration needs of companies small and large alike, the intranet may well be on its way out.
Or is it?
Does the intranet still have a part to play alongside the digital workplace, or should it even exist?
In this article, we dive into the declining popularity of the intranet, how it's gradually merging with the modern digital workplace, and how you can leverage it for improved operational efficiency.
The intranet is here to stay
Despite the meteoric rise in popularity of SaaS productivity apps in the workplace space, they have failed to do one thing well.
They failed to integrate and offer a coherent solution for teams to organize their work all in one place. On the other hand, while the intranet focused mainly on the legacy needs of organizations, it offered them leverage, in that it combined much or all of their needs into one platform.
Rather than pivot to one side, an ideal digital workplace must, therefore:
embrace the advanced functionalities modern work apps offer, and,
unite them all into one simple, easy-to-use platform.
In essence, the modern digital workplace should incorporate the functions of the intranet in order to offer the most value to organizations that utilize it.
How the intranet is an integral part of the digital workplace
As a result, the intranet is here to stay; only, it's evolving and combining with the digital workplace to offer organizations a more streamlined tech-enabled working experience.
So, what role exactly does the intranet play in the digital workplace? In the context of the digital workplace, the intranet:
offers knowledge transparency so team members can collaborate with minimal back-and-forth,
supports productivity within the context of established organizational guidelines, i.e. makes it easy to get work done in line with corporate policies,
helps establish a roadmap and blueprint for coordinating digital workplace initiatives.
Put together, the intranet and the digital workplace offer a new employee experience that makes it easier for teams to stay on the same page and get work done faster.
How can an intranet complement a DWP's features?
Long story short, for the modern digital workplace to offer the maximum value possible, it must leverage the best features of both the intranet and a digital workplace. It must be comprehensive, detailed, and well-grounded, while simultaneously agile, streamlined, and designed to meet modern challenges.
Some of the features of the intranet that come to play within a digital workplace include:
Integration functionality
Silos are bad for work because whenever information doesn't flow as seamlessly as it should, significant bottlenecks show up to account for that. On the other hand, when an organization can integrate the various work apps they collaborate from, it makes it easier to reach consensus and build knowledge transparency.
The intranet brings this to play in transforming the digital workplace from a closed system that either works or fails to one where external apps can be introduced to make it easier for the team to do their work.
Privacy
Hosted software solutions are notorious for their poor stance on user privacy, with numerous instances of personal info being spilled on the web. Here, the intranet can save the day by incorporating the privacy-conscious culture behind it, helping to safeguard the critical information of digital workplace users.
Uniform internal branding
Another significant area where the intranet's features can be employed to offer a better digital workplace solution is by smarter internal branding that makes it easier to project the company's culture across an organization's entire digital footprint.
How can organizations move to an intranet + digital workplace hybrid?
The verdict is out: a digital workplace solution will work even better with intranet capabilities designed to bring an organization together with ease.
So, what do you do?
How do you combine an on-premise intranet with newer digital workplace solutions? Will they even integrate? How can you create a solution that's designed around your organization's needs and does what it's supposed to?
Kissflow can help.
We designed Kissflow to meet the needs of organizations that need an intelligent workplace solution with intranet features, such as:
enhanced privacy for your internal communications,
improved

collaboration

capabilities, and,
brilliant integrations that move data around seamlessly.
With Kissflow, you can move completely to a solution designed to combine the best features of both intranet and a digital workplace so you can do your best work all in one platform.
Take Kissflow Digital Workplace for a spin!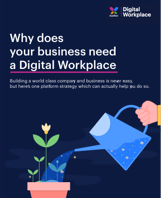 Wondering if your start-up needs a Digital Workplace?
Building a world-class company and business is not easy, but here's is one platform strategy which can actually help you do so.
Why is remote work culture important?
1. Remote work culture curbs remote isolation
Loneliness is the second biggest challenge for employees working remotely. A strong and consistent remote work culture can unite employees and give them a shared sense of purpose. It also imbibes a feeling of camaraderie and directly leads to real actions like casual check-ins and more informal conversations which help avoid remote isolation.
2. Remote work culture prepares your organization for future success
Remote work is slowly and steadily becoming the new normal. According to a survey, over 74 percent of Chief Financial Officers are now planning to keep at least a part of their workforce remote even after we are well past the pandemic and the physical distancing norms are relaxed.
Organizations with cultures that can withstand the transition to remote work will be able to move past the growing pains of shifting to a whole new work model and maintain consistent efficiency and productivity.
3. Remote work culture builds long term relationships
The right remote work culture is a win for your organization even if you eventually ask employees to come back to the office and fully embrace onsite work. After all, a strong remote work culture is just strong culture.
When you strengthen team bonds among remote employees, it directly translates into better relationships, improved trust, and enhanced communication. Not only does it make it easier for remote employees to communicate and connect with their in-office counterparts, but it also makes the transition from remote to office work smoother.
Top ideas to help you build a strong remote work culture
1. Create an environment of trust
To create a healthy remote work company culture, it's important to communicate all the high-level decisions with your team to show employees that you trust them completely to handle their work, even when they are working remotely. After all, trust is a two-way street. Your employees will only trust you when you trust them.
Moreover, you should focus more on the output of the employees instead of the total number of hours they spend online. Avoid checking in and micromanaging the employees too much. You should give them space to manage their work and only check in occasionally.
2. Share your company's mission and goals
Creating an optimum and high performing remote team work culture becomes easier when everyone in your organization understands the mission and goals you are trying to achieve. You need to find a concise and clear way of describing the company's mission and the overall goals that the company is trying to achieve (both short term and long term).
It can work as a constant reminder for employees to always know what they are trying to accomplish while working together.
3. Using right tools
The long term success of remote work also depends on whether you're using the right tools to manage work. The ideal software for remote work is a digital workplace platform where teams can collaborate, communicate and accomplish work within a unified virtual space.
Remote cultures are mostly agile. The use of a unified platform like a digital workplace can also help bring in a positive culture among remote workers and help them have a happier and more positive work experience.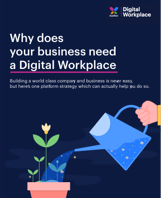 Wondering if your start-up needs a Digital Workplace?
Building a world-class company and business is not easy, but here's is one platform strategy which can actually help you do so.
4. Define your remote work policy
Remote work or flexible work can mean a lot of different things to different people. As a result, you need to be as specific and explicit as possible about your organization's remote work policy so that the employees always know exactly what to expect.
Do the employees have to be online a certain number of hours every day?
Do the employees have to be available in a certain time zone despite where they are located?
Do employees have the freedom to make their

remote work schedule?
Do they need to travel to the main office every once in a while?
Do they get a stipend to set up their home offices?
More clarity will only lead to smoother remote work and better company culture.
5. Make face-to-face meetings a priority
Sitting by your own in front of the laptop, week after week, can often get isolating for remote employees and alienate them from their team members. While there is no replacement to meeting your team members directly, regular video calls can help close the communication gap by a lot. Team managers should hold regular 1:1 meetings with the employees to build better connections, establish trust, and celebrate their individual accomplishments.
You should also encourage team members to switch on their video during team meetings to reinforce values through direct face-to-face communication and get to know each other in a better way.
6. Collect regular feedback and make changes accordingly
If you are new at running a remote team and establishing a remote work culture, chances are, you won't get everything exactly right the first time.
It is always a good idea to ask remote employees for their feedback regularly so that they can tell you what's working for them and what just isn't. It will also help you continuously improve the process for future hires as well.
Creating a remote work culture is an ongoing process
Developing a strong remote work culture where your employees feel trusted and empowered to perform their best work is an ongoing process that requires a lot of time and hard work. Whether you are transitioning your entire organization to remote work or adding a new remote team, you need to be equipped with all the best practices and tools to make the shift as smooth as possible for your employees.
The idea is to make the most out of your culture and foster transparency in order to create an environment of trust so your organization can continuously keep moving forward.