We're so thrilled to partner with Gartner for the Digital Workplace Summit happening in Phoenix, AZ this year. As the premier sponsor, we're thoroughly excited to be speaking at one of the largest digital workplace conferences.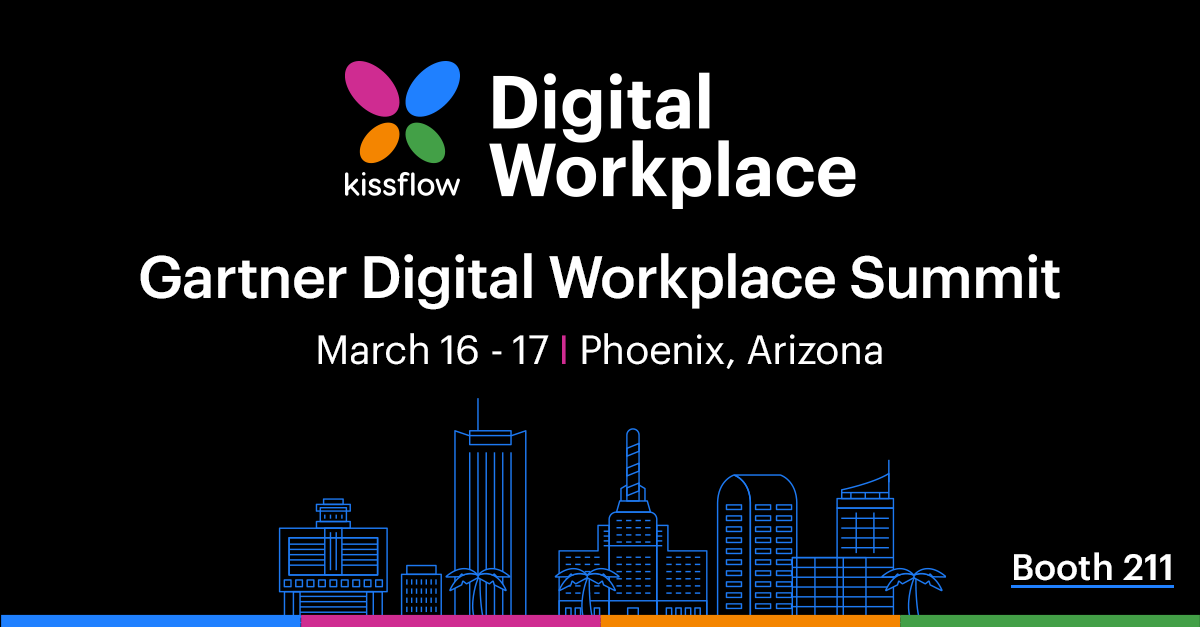 About the event
Gartner is a leading advisory and research company that hosts events all around the globe, offering invaluable insights to organizations in their digital ventures. Every year they host conferences across the globe to share their visions of the future. Their conferences span across topics like digital transformation, data analytics, IT, and more.
Attendees get access to all the latest research that can help them navigate the future demands of their organizations. They also get to network with peers and connect with software vendors who can help them implement a successful digital workplace.
Over 600 digital workplace leaders are attending the two-day event that starts on March 16. From planning and managing a digital workplace to how you can use it to drive employee engagement, there are going to be plenty of thought-provoking sessions, including how-tos and real-life case studies. You can learn about emerging trends, explore cutting-edge solutions, and leave with an actionable plan for your digital transformation strategy.
Kissflow's CEO Suresh Sambandam is speaking about the pitfalls of the digital workplace and how organizations can avoid them.
View the complete agenda here.
Why are we sponsoring?
We love the whole ethos of the Gartner events–friendly, inclusive, and extremely informative. We wouldn't want to pass on a chance to play a huge part in growing this wonderful community.
This year's event is particularly noteworthy for us because the topic of focus is about creating a workplace built on collaboration. This is in line with our philosophy of work and is the core idea behind Kissflow Digital Workplace.
Where to get tickets
You can get your tickets for the Phoenix event here. There are complimentary tickets available as well as special prices for public sector companies.
As a premier partner, we've got a few sponsor passes to the event and we'd love to share them with you. All you need to do is write to us with why you'd want to attend and the top three entries will get free passes.
If you're attending the event this March, stop by booth #211 and say hello. We'd love to connect with you. One of our Kissflow experts will help you with your digital transformation strategy, offer personalized demos and cool swags.
Can't attend?
Follow us on Twitter and we'll keep you updated with everything that's happening at the event.