The decision is final: your business has begun an intentional journey toward digital transformation. The next crucial step is adopting a digital workplace, but this can seem vague. What does a digital workplace actually look like? How is it different from what you already use?
Searching for digital workplace tools is even more overwhelming. At first glance, the applications look very similar. However, differences between solutions could mean days more training for your employees, or more app subscriptions to fill in missing features or meet communication needs.
Who wants to spend time learning to use an application that's going to fall flat, or waste resources on software turned shelfware? Here's a guide to the ten must-have features of digital workplace software to help set your organization on a successful path to digital transformation.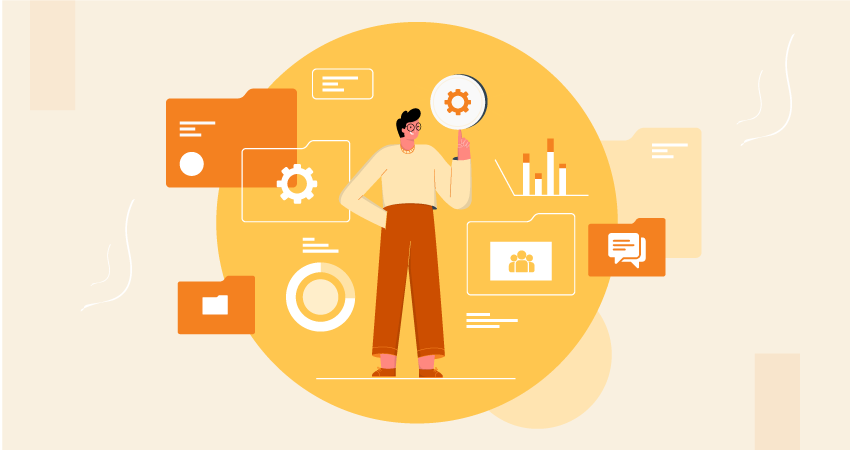 Top 10 Features of Digital Workplace Software
1. Modules for a variety of work
More than two-thirds[1] of workers waste up to 60 minutes a day toggling between apps on the job. The remedy? A digital workplace where employees can automate processes, build project boards, handle helpdesk cases, and collaborate—all under one tab.
When business processes are on a unified platform, locating information is a cinch. Instead of searching across numerous applications, just type what you're looking for in a power search bar, whether it's a file, discussion post, or user contact information.
2. Stress-free integration
Digital workplace software won't cover all a business's needs, such as customer relationship management, but CRM systems and other essential software can be integrated using API technology; no coding required.
Integration is not about pasting together an assortment of tech tools but connecting strategically selected software to achieve higher productivity. If you have some single-function systems, they should be moved into the digital workplace to save on subscription fees and toggle time. Essential tools, like accounting software, link to a digital workplace, streamlining reporting and data transfer procedures.
3. No-code workflow and project management
Get straight to work with a no-code, intuitive solution where employees can easily create simple or complex workflows.
Features like drag-and-drop forms and Kanban boards provide visual avenues for teams to solve problems without having to wait for an IT department to write a new program. Solow[2] of Deloitte commented that offering self-service options for administrative and HR-related tasks in digital workplace technology could improve productivity and efficiency.
Deloitte also found that improved user experience in a digital workplace can raise employee retention by up to 78 percent[3]. How many employees are waiting for the opportunity to utilize an intuitive system?
4. Pre-built apps for instant self-service
Even in a visual application, building workflow processes can be daunting for some employees. They might not be sure what information to include in a form, or precisely what steps are involved in a simple process. Smaller businesses or startups simply might not have the time to hammer out a workflow.
Pre-built apps save time for companies determined to automate workflow and adopt a digital workplace. Processes like budget approvals, purchase orders, and employee onboarding follow similar steps, no matter the type of business. Employees can install a pre-built app to get started and make adjustments as needed.
5. Contextual conversations
63 percent of US workers have wanted to quit their jobs because ineffective communication has interfered with their ability to do their job. While collaboration options are plentiful, most apps are just an add-on, loosely connected to day-to-day work tasks.
A digital workplace allows employees to tag others in conversations within the related task or project, making it easier to track correspondence. After a new team member is introduced, they can view all the previous comments and get up-to-speed in a matter of minutes.
Providing a useful communication tool also keeps shadow IT problems at bay. Compromised security, noncompliance, and loss of intellectual property ownership can lead to costly, long-term damage in any business.
6. Collaboration channels
For discussions not directly related to work, employees tag colleagues in collaboration channels groups, listed by category. Top-notch tools include emoji and GIF options in conversations and enable employees to exchange information through polls, surveys, and announcements.
If employees need to cut down on the digital chatter, management can offer them the option to switch off notifications for channels less relevant to their specific tasks. Managers who want to be sure conversations stay work-appropriate should be able to moderate posts and maintain control of discussion channels.
7. Smart reporting
A truly digital workplace includes a variety of reporting options to track and improve process efficiency. Look for digital workplace software with aging metrics, pivot tables, or custom reports to meet your business' requirements.
Identifying process problems can be tough, but complete audit logs archive every action to both save time and improve accountability as managers direct and tweak workflow.
8. Access control options
Where does confidential data fit into a public digital workplace? Security features control who can view sensitive fields and information. For conversations that must be kept under wraps, secret collaboration channels are an easy way to hold discussions privately in the digital workplace rather than revert to email.
Investigate the ease of altering viewing permissions. Some platforms provide access control but make the procedures cumbersome.
9. Workflow and formatting flexibility
Hold team members accountable for maintaining automated workflow progress using custom parameters for SLAs, deadlines, and escalations.
Depending on a project's stage, the ability to switch from Kanban boards to a spreadsheet layout or activity stream is beneficial.
Employees resolving helpdesk cases need the freedom to create individualized case resolutions and to change the quick info displayed on task cards for greater agility.
Manually assigning tasks that always go to the same people is a redundant time-buster. Select a tool where you can set up recurring tasks to trigger at regular intervals for repeating processes.
Custom attributes provide unique categories for users to add intelligence to how items get assigned, saving time in task distribution. Other types of tasks can be allocated through formulas or groups to get the right job to the right person.
In teams where members are working remotely, account and user-level preference settings for language, working days, currency, and time zones are valuable.
10. Limitless portability
To work effectively with global remote teams, the ability to carry your work anywhere is compulsory. Cloud-based digital workplace software not only gives your employees more versatility but considerably increases your access to talent around the world. Part-time and gig workers play invaluable roles in an organization by filling in work gaps or providing additional human resources in seasons of growth.
A digital workplace mobile app is another necessity for today's on-the-go culture. When in-house management presence is required to make approvals, processes drag. A simple tap on a mobile screen moves workflow along, ultimately impressing clients and vendors with speedy service.
Kissflow—a unified digital workplace
In a survey by Avande[5], organizations that have achieved a truly digital workplace reported incredible bottom-line impacts: increased productivity by 67 percent, improved employee engagement by 53 percent, and revenue growth by 43 percent.
The sooner your organization adopts a modern digital workplace, the sooner you will experience the benefits. Over 10,000 companies have chosen Kissflow to manage work and collaboration efficiently. Kissflow serves companies of all sizes and scales as an organization expands. The number of users, processes, projects, and channels changes as needed for an agile, competitive business.
An array of Kissflow digital workplace for work and collaboration are at your fingertips. Bring your teams together in a revolutionary way to drive innovation, raise profits, and strengthen your company culture with Kissflow.