According to research[1], when employees get objective and fair feedback for their work, it directly results in more engaged, productive, and happy employees. But only 14 percent of employees feel that their performance reviews are managed in a way that inspires them to improve their overall work.
Performance reviews can be quite overwhelming in general, but setting up and executing remote performance reviews is a whole other ball game. Unlike a traditional office setting where managers can observe how employees are going about their day, it is not possible to constantly check the day-to-day performance and struggles of remote employees. That is why there is a need to alter the performance review process in order to better represent the expectations, challenges, and goals of remote employees.
Let's discuss the main challenges of remote performance reviews and the best ways to manage them.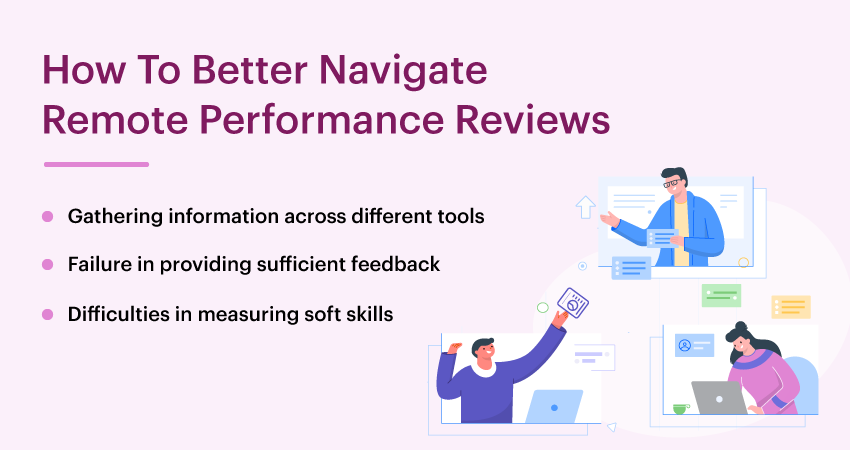 Challenges in navigating remote performance reviews
1. Difficulties in measuring soft skills
When you don't even get to see employees face to face and observe how they behave and interact with their coworkers in an office environment, it can be difficult to measure the soft skills of remote employees which can directly affect remote performance reviews.
While remote performance reviews do not have to be very different from the performance reviews you have been running in the office, it's important to consider the main differences between remote employees and the employees working from a physical office to identify the main performance parameters against which the employees should be judged.
The skills required by remote employees are very different from the skills required by employees that work in a physical office space. This is an aspect that a lot of HR professionals often miss out on. Remote employees need to be more adaptable, resilient, and self-motivated, as compared to their in-office counterparts.
2. Failure in providing sufficient feedback
Your performance review reports are only helpful if they can give employees constructive feedback and actionable suggestions to improve their work
But limited communication with remote employees can make it difficult to offer them accurate performance feedback. In fact, over 69 percent of managers feel uncomfortable communicating with their employees and 37 percent of them feel uncomfortable giving direct feedback to their team members.
If employees do not even understand where or how they are expected to improve, the entire performance review process would lead to no results at all. That is why, it is up to the HRs to make sure that team managers are able to provide direct, helpful, and actionable feedback to their team members.
3. Gathering information across different tools
If your remote employees use too many disparate applications at work, it can also make it difficult for you to gather information across all the different tools when it's time for their annual performance review.
Not only can too many tools make it difficult to search and retract information for year-end performance reviews, but they can also be incredibly time-consuming and leave a bigger room for errors. Moreover, too many complicated and disparate tools can also chip away at employee engagement which can directly affect employee efficiency and performance.
Top tips for productive remote performance reviews
1. Be more compassionate
It is important to acknowledge the fact that remote employees all have different work environments under which they operate. When providing work performance feedback for employees that work from home means, managers need to show a little more leniency, a little more flexibility, and a lot of heart. Some of your employees may be managing house chores all on their own while working full-time, others may have toddlers that they may need to attend to from time to time.
Instead of just looking at the deliverables of the employees, try to understand their main work challenges in order to figure out what you can do to support them in performing their best work.
2. Consider changing the rating system for remote employees
It is unfair to measure the performance of remote employees against the same metrics that you use to measure the performance of in-office employees.
There is a need for a more flexible rating system that takes the main challenges of remote work into consideration. The rating system needs to be more goal-oriented and take into account the fact that most remote employees have the flexibility to create their own remote work schedule, they don't need to work a fixed number of hours every day, and they are also more accountable for the work assigned to them.
3. Set the right tone for performance review meetings
For performance reviews, it's important to have video meetings so that you can add a personal and human touch to your discussions. HR managers need to set the right tone for these meetings to make employees feel comfortable enough so they can voice their opinions, suggestions, and problems. You should make sure you come off as warm and open. At the same time, you need to pay close attention to their body language so that you have context for everything that they are saying and avoid any kind of misunderstandings.
It is easy for remote employees to feel alienated and assume that the company cares too much about their performance and too little about their well-being. That is why you should be more explicit and verbal about how important the employees' well-being is for the company. It's important to ensure that the employees know their work is always appreciated.
4. Treat poor performers the right way
If a remote employee isn't performing as well as you had expected them to, beating them up over it and making them feel worse about their performance isn't the way to go. Instead, try and understand the reason behind their poor performance by asking them why. When employees work from home, the boundaries between work and professional life begin to blur and it becomes way too easy for personal problems to impact work performance. It is also common for remote employees to face burn out from time to time
Instead of hammering down on employees, give them space to voice their problems, understand how the company can support them, and provide them with some time-bound grace period to fix their performance issues. Of course, there may come a time when you have to make a difficult decision about poor performers in the organization, but you want to make sure you have done everything to support your employees by the point.
5. A unified platform to help navigate remote performance reviews
The biggest challenge when it comes to performance reviews is compiling information from different tools and conducting virtual meetings with everyone involved. With a remote workforce, you don't have as much data because you don't get to see the employees in person. The risk here is that your biases, both negative and positive, can get amplified.
To avoid this, you can move to a unified digital workplace which can help put all the performance data on one platform for easier reviews. You can take advantage of AI-powered analytics and automated reports to quickly create performance review reports and schedule meetings with employees.
But of course, a digital workplace is much more than just a tool that helps you in navigating remote performance reviews. A digital workplace platform like Kissflow can help you streamline processes, projects, cases, collaboration, and communication in your organization. It can connect all the disparate third-party applications, providing a centralized base for your employees to access all the work tools and data from one place.
Relevant Resources