Implementing a digital workplace in an organization and embracing digital transformation isn't something that can happen overnight. It requires a well thought out, multiphase strategy which can take anything from a few weeks to several months.
As a virtual replacement of the physical office space, a digital workplace gives employees access to all the digital tools that they need to perform their everyday work. A successful digital workplace platform is the one that can align the right technology and the right talent with your organization's future goals.
But to choose the right digital workplace for your business, you need to know all the important components that it should include. Here are seven things that your digital workplace needs.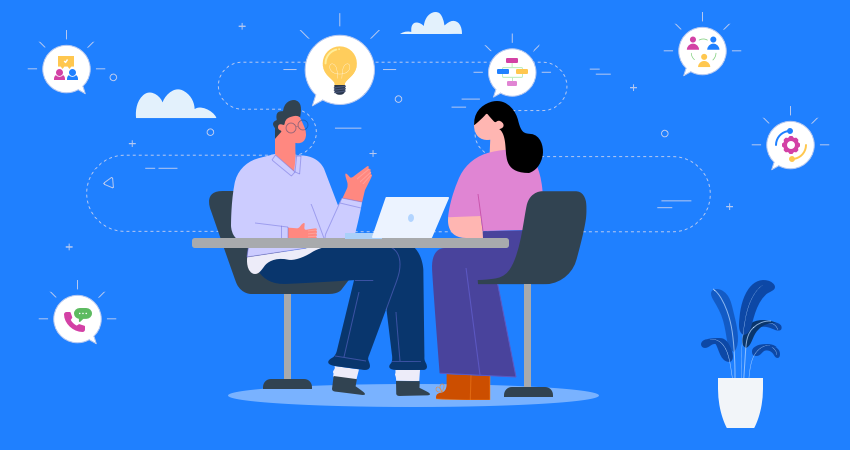 1. Synchronous communication channels
Synchronous communication is real-time communication between two or more users which can be in the form of instant messaging, voice calls, or even video conferencing.
A digital workplace should allow employees to communicate with each other in real time regardless of their location or the device they might be using.
When teams aren't present in the same physical office space and they can't have face to face meetings everyday to clarify any issues or doubts, synchronous communication becomes more important than ever.
As a major component of a digital workplace, synchronous communication allows teams to communicate seamlessly even when they are working remotely or from different physical offices with minimal disruptions.
2. Asynchronous communication channels
In asynchronous communication, users don't interact in real-time. One person provides information, then there can be a time lag before the recipients check the message and offer their response. An email is the perfect example.
Asynchronous communication has become ubiquitous in remote teams because it allows employees to respond to messages in their own time. This, in turn, gives remote team members the opportunity to create their own work schedule and maintain optimum productivity levels without the pressure of responding to messages in real-time.
By offering asynchronous communication, a digital workplace gives teams a place to have longer and more thought-out discussions, without excessive emails which can eventually get lost in the inbox. It's also the best way to have ad-hoc discussions, make announcements to larger groups, and collect and share meeting notes.
3. Project management
Project management is about establishing policies, procedures, and principles for successfully taking a project from conception to completion phase. It ensures all the involved departments in the organization are able to work together efficiently in order to achieve the project goals.
Teams can create new projects right inside the digital workplace platform and collaborate in real-time. They can also manage and track projects to ensure all the deadlines are met and project information is available easily for everyone involved.
4. Case management
Case management is the method of processing information through a combination of digitized workflows and human decision making. It offers a dynamic structure to execute unpredictable and non-routine business processes that require complex decision making.
A case can be different things, depending on the organization. It can be a service request that needs to be met or a customer complaint that has to be resolved. It can also include editorial cases, approval cases, and IT tickets.
A digital workplace makes it easier to handle cases from multiple users through a single interface. It also facilitates effective collaboration and expedites priority cases within the organization to ensure they are resolved on time.
5. Process management
Process management helps organizations create, edit, and analyze internal processes that make up the very core of their business. Implementing process management can help assess the current state of the organization and identify the areas of improvement.
With a digital workplace, organizations can digitize and convert their internal business processes into streamlined workflows. The repetitive parts of a process that follow a routine and predictable pattern can be identified and automated, which can in turn save the employees' time and allow them to focus on more important parts of their work responsibilities.
Process management lets you gain control over unwieldy processes by analyzing them and finding ways to improve them. Optimizing complex processes and converting them intro streamlined workflows also improves transparency, productivity, and efficiency.
Though it is easy to confuse project management with process management, they are actually two different concepts. Process management is an ongoing activity which focuses on improving efficiency and consistency across the entire organization. On the other hand, project management is time-bound and only focuses on the efficiency of a specific project.
6. Integrations
Every organization has particular applications they need to maintain–either an ERP tool, a CRM application, or any other industry specific app that they use to manage their business.
No digital workplace platform can be complete on its own. Your digital workplace needs close integration features to link applications internally and externally in order to manage all the core work in your organization.
The idea is to choose a digital workplace that can minimize the number of third-party applications you need by offering the majority of features required by your employees to manage their work.
7. Analytics
This is probably the most important aspect to look out for in a digital workplace platform. Detailed and intelligent analytics tools help turn vast amounts of dissonant data generated in a digital workplace into actionable insights.
Clear and cohesive analytics in digital work platforms is a huge plus as they translate data into charts, infographics and simplified forms to give you enhanced insight. Further, a digital workplace platform with powerful analytics tools offers a bird's eye view of everything you need to make important decisions.
Data visualization and analytics might make all the difference when choosing a digital workplace platform. Great analytics tools pave the way to higher productivity as they automate data analysis and deliver powerful insights with minimal human effort.
Kissflow is a unified digital workplace platform with everything you need
Kissflow is a digital workplace platform that allows organizations to streamline communication, projects, processes, tasks, cases, and third-party integration. From admin work to HR approvals, marketing campaigns, and customer support, Kissflow's unified platform allows organizations to manage all of their daily business activities.
As an all-in-one application, Kissflow helps connect all the disparate business functions in your organizations to allow your employees to work closely together in a more efficient manner.
Ready to take Kissflow on a test drive? Sign up today.