Across the world, business leaders plan on prioritizing employee experience over customer experience because research indicates companies that provide an engaging employee experience[1] provide a 50% better customer experience. While a better customer experience is what every business wants, the secret to achieving it, might in fact, lie elsewhere.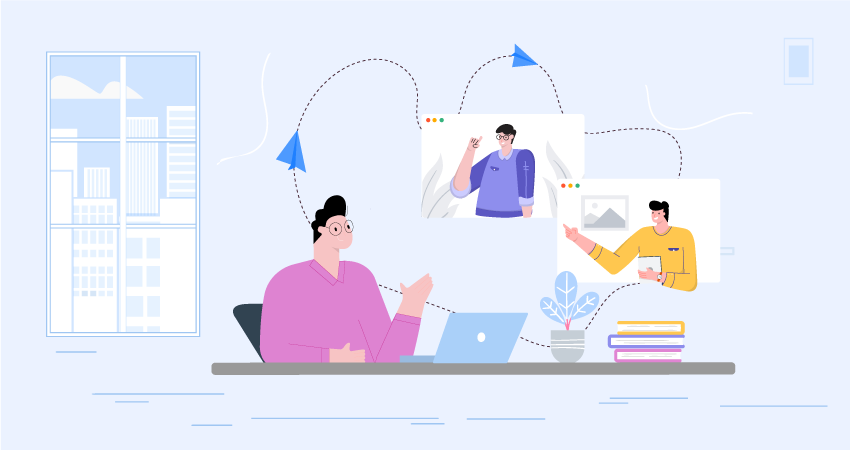 The consensus is that satisfied employees can offer your customers the best experience possible. So how does a business begin the journey of creating a great employee experience? What makes work easier, faster, more productive and better? What's the one thing that could scale up your employee experience by a large margin, in very little time, and at minimal costs?
The one thing that brings you all of this and more, is a digital workplace.
What is a digital workplace?
A digital workplace is a unified platform that enables employees to collaboratively work from any place without location or device constraints. It has all the tools required by employees to manage projects, share information, and get all the work done.
By giving a central platform for employees to access their work related data, a digital workplace improves efficiency and productivity. It also lets employees to focus on work instead of having to switch between multiple applications or keep searching for required information in several apps. This ease of work enhances employee experience.
With a digital workplace, you can:
Allow employees to upload and access data seamlessly
Streamline and automate business processes
Improve transparency in internal company workflows
Collaborate and communicate

with the other team members easily
Generate customized reports based on the captured data
Understanding employee experience
Employee experience, as a business function, mainly focuses on an employee's observations and perceptions about their employment at an organization. There are several factors that influence employee experience, including the physical workspace, work-life balance offered by the company, and the technologies used everyday to manage work responsibilities.
When employees have a great experience working in an organization, they are happier and more engaged which directly leads to better results. It's important to not confuse employee experience with employee engagement. Good employee engagement is what all companies want, but building a great employee experience is how you get there.
How digital workplaces improve overall employee experience in an organization
1. Embrace the remote work culture
Remote work is the future of work. It lets employees save time since they don't have to spend hours in traffic everyday and it also helps them maintain a better work-life balance. In fact, 86 percent of employees prefer working alone now, away from their actual office because it helps them hit maximum productivity levels.
Working remotely also improves the overall employee experience because employees can set their own schedule and work from a location that they prefer. Introducing a digital workplace platform can help companies embrace the remote work culture while making sure that their productivity isn't compromised.
2. Bring Your Own Device (BYOD)
Over 67 percent of employees use their personal devices for work purposes, irrespective of their company's BYOD policy. Most employees, especially millennials, prefer to work from their own devices because they feel more engaged, motivated, and comfortable.
If organizations want to improve the overall employee experience, they need to embrace the demands of the millennial employees who are all set to make up for more than half of the global workforce by the end of 2020.
With digital workplaces, employees can access all the work related data from wherever they are and from any device, as long as they are connected to the internet. This gives employees the freedom to use any device that they prefer and improves the organization's overall employee experience.
3. Communication and collaboration
Collaboration is the key to business success and innovation. In fact, according to a report, ideas that are developed by a team of three or more people have a 156 percent[2] greater appeal than those developed by teams with just one or two members.
Collaboration that happens over lunch or desk side conversations is absent when you have offices and employees spread out in different cities. One way to make collaboration and coordination an important part of your company culture is by using a digital workplace platform to digitize the entire process and help facilitate collaborative opportunities for employees.
With digital workplaces, you can set up internal communication channels for every team, making it easy for members to communicate with each other. The right communication tools can cut down on meeting times and give your team more time for innovation and ideation.
Digitizing and streamlining workflows also improves transparency in the internal business processes and ensures everyone is on the same page.
4. Less apps, more work
Employees need to use different applications everyday to manage and organize their work. In fact, organizations now use 16 SaaS applications[3]on average. But too many applications can end up confusing employees and wasting their time as they would have to constantly toggle between multiple applications just to accomplish one task.
Digital workplaces offer a central platform to access all the company applications and manage work tasks which saves time, increases productivity, and in turn improves the overall employee experience
Moreover, a digital workplace platform creates a transparent working environment where all team members can track the status of any given project or task directly, which leads to less emails and follow ups. When the entire team is on the same page, everyone is able to focus more on the shared project goals and accomplish their assigned tasks in an efficient manner.
Employee experience above everything else
By focusing on building a great employee experience, you are creating a high performing company culture where employees actually want to do their best and succeed at their roles. In the process of a digital transformation, you will find many things that will help you keep bettering the employee experience. Once you have achieved a truly digital culture, your digital workplace would have been unleashed to take your business to the next level of productivity and customer experience. It's where the world is headed and it's where your business needs to be. Are you there yet?