If you're looking for a way to alleviate logistical headaches in the workplace, "web collaboration" might be in your google search bar. Or, maybe you've heard the phrase and are curious to know more about web collaboration and if it can help your team.
Is web collaboration worth considering? Check for some red flags:
Disorganization is causing extra rework, stalled projects, and confusion.
Scattered conversations are making it difficult for employees to communicate and build on shared knowledge.
Projects lag when key shareholders are out of the office.
Seemingly small issues can be detrimental in the long run to any business.
On the flip side, when a company is making the most of its human capital and digital tools, the customer experience is greatly improved—bolstering long-term success. Web collaboration makes this possible by building a connected workplace that sparks creative solutions within organizations.
What is web collaboration?
Web collaboration is using internet-based technology to strategically coordinate tasks and communicate in the workplace. Online tools make it possible for people in different locations to work together effectively toward a specific goal. Streamlined workflow and purposeful teamwork can inspire innovation and improve operations such as organizing sales, marketing strategies, and product launches.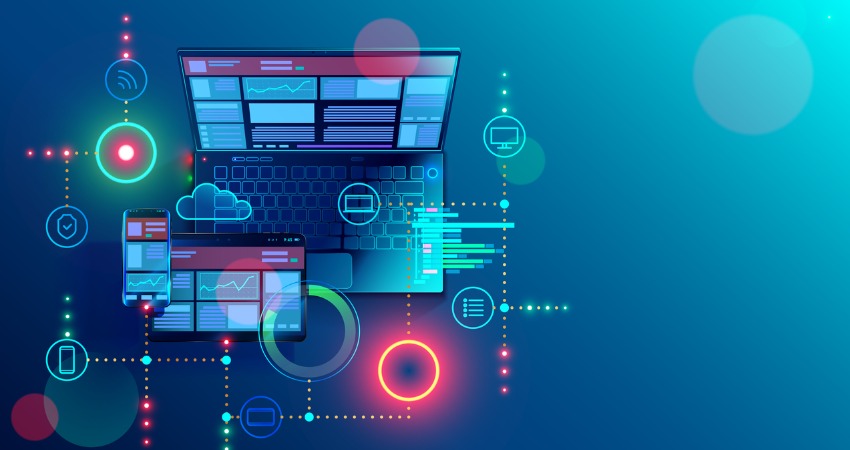 Types of web collaboration
Deciphering the difference between styles of web collaboration can be confusing, but it boils down to two main categories.
Synchronous
Immediate forms of communication, such as video calls or chat messaging, are free of interruptions. All stakeholders are available to participate in discussions in real-time.
Although teams work toward a common goal, members spend chunks of their work-day focused on individual work tasks aligned with their area of expertise. When overused, chat messages can interrupt productive, innovative work. Scheduling video calls or chat discussions can help keep synchronous web collaboration from disrupting workflow and aggravating teammates with too much digital chatter.
Asynchronous
Asynchronous collaboration takes place intermittently; responses aren't immediate, but discussions are ongoing as team members break from focused work or become available. Employees aren't pressured to answer immediately but can share knowledge and give feedback promptly through email, news feeds, and channel discussions.
Remote workers in other time zones can participate freely in ongoing, asynchronous dialogues. Sometimes, employees need to process and "chew on" an idea or concept before responding with an answer. Asynchronous communication allows more time to contemplate responses before speaking out.
Past vs. present web collaboration
Ten years ago, web collaboration was limited to email and on-premise intranet software. Emails were great for sharing ideas and documents but became tiresome. Any time a comment was added, the thread grew longer and more difficult to read. Email became used so frequently in work communication that many employees spent almost as much time juggling emails as they did in creative work.
Groups creating a document or media had to rename the file throughout the editing process. "Document1" would end up as "Document_Edited_10" by the end of a project. If a team member missed an email, they'd still be looking at an older version while the rest of the team had moved on.
Intranets were only affordable for larger organizations and were limited in scope and function. Departments often used separate software, so sharing knowledge and data across departments was cumbersome and time-consuming.
Today, web collaboration software for businesses resolve former troubles. Teams communicate through discussion channels organized by topic with nested comments, making it easier to process and skim through information. Users can opt-in or out of notifications to cut down on information overload and focus on the correspondence most relevant to daily work.
Documents and other media are collectively created and edited on the cloud, and version history is available for anyone who missed a phase of development. Cloud data storage eliminates the need for pricey installation, maintenance, and server space.
Employees who are out of the office for the day or working remotely full-time can stay plugged in to work and correspondence through web collaboration tools. No matter their role, any individual can feel connected to the company's direction and progress through company-wide news feeds.
In the last decade, web collaboration has made massive strives. Aragon's Research Globe[1] predicts that by 2025, web collaboration tools will be the primary medium for business communications, driven by the demand for exceptional performance and agility.
Benefits of web collaboration in the business
Is web collaboration an asset for any business? Absolutely. Will it look the same in every organization? Not at all. Just as companies come in all shapes and sizes, web collaboration conforms to meet each business's specific needs but offers a wealth of benefits to all.
Cut costs
Over 300 hours a year[2] is wasted in inefficient or ineffective communications. Hazy standards and miscommunication often lead to costly rework, but web collaboration gets team members on the same page.
Travel costs are also reduced when employees can hold meetings, share info, and submit approvals on-the-go. Since web-based apps minimize lag time, projects are completed more efficiently.
Drive productivity
80 percent[3] of businesses employ web collaboration tools to improve business operations, increasing productivity by up to 51 percent[4]. Web collaboration tools for business enable employees to easily view ongoing document changes, organize work-centric conversations, and share data across departments. New ideas and problems are addressed or challenged promptly by a broad audience with a wide range of skills. Multiple roadblocks to progress are eliminated at once.
Build an attractive workplace
Your most talented professionals may be on their way out the door. Why? They don't have the digital tools to connect with team members effectively. 85 percent[5] of employees with access to a collaboration app are more likely to say they're happy with their work environment. In today's job market, employees can swiftly jump ship to a more tech-savvy company. Getting on board with web collaboration can help you hang onto dedicated workers and attract new talent.
Deliver high-quality service
As team members fuse skills to drive innovation and simplify workflow, the benefits of web collaboration are passed onto clients. Customers enjoy first-class service and original products, increasing customer loyalty and extending the life of a business. The end goal of collaboration is to improve results, both internally and externally.
Do's and don'ts of web collaboration
Intentionality is imperative for fruitful web collaboration. Taking the time to strategize and plan for web collaboration can help your company avoid some common pitfalls and get on the path to profitable outcomes.
Do
Define a concrete purpose for web collaboration in your business. Employees are more likely to participate in web collaboration when its importance is clearly explained.
Actively involve top management from the get-go. Web collaboration modeling by executives not only shows employees how to use the tools but also demonstrates its effectiveness first-hand.
Create a positive, open environment where employees can honestly express ideas and feedback. Building awareness of others' personality types can grow empathy and help mitigate negative feelings.
Offer incentives and rewards for using web collaboration to achieve specific goals.
Don't
Expect everyone to get along. Web collaboration enables more ideas and knowledge to be shared, making conflict inevitable. Constructive conflict, however, leads to better solutions.
Silo web collaboration. Conversations and information are usually organized by topic but should be accessible to all departments and employees. Use secret channels only for sensitive data.
Forget to set standards for web collaboration. How are employees expected to interact with team members and the company as a whole through a web collaboration tool?
Fall into the myth that web collaboration subscription will always render radical results. Deloitte's 2018 Global Human Capital Trend[6]

reported the recipe for success: "A combination of culture, leadership, and incentives needs to come together for effective collaboration and productivity to reign."
Why consider Kissflow Digital Workplace as your web collaboration tool?
Web collaboration tools for business can be simple or complex, depending on your company's needs. For organizations seeking a platform to host contextual discussions and company-wide communication. Create custom channels in a few clicks, and you're up and running.
However, some teams may also need a web tool to coordinate projects, automate processes, or handle caseloads online. Through Kissflow's drag-and-drop boards, employees can organize and transform their workplace without IT experts. Since the collaboration module is built-in, workers enjoy a one-stop-shop for both collaboration and work management.
Tackling web collaboration isn't a grueling venture. In a matter of minutes, your company can begin to experience the benefits of a connected workplace. Office dilemmas don't disappear on their own. Empower your business with a modern solution for today and discover untapped potential that can take your company into the next generation.