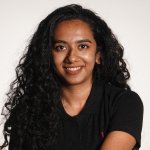 Speaker
Krishna Sudheer
Product Trainer

Date/Time:
January 25, 2023
Session 1: 11:00 IST | 13:30 SGT | 17:00 AEDT
Session 2: 11:00 EST | 16:00 GMT | 20:00 GST
About the host
As a leader in Kissflow's enablement team, Krishna Sudheer is dedicated to empowering customers, partners, and internal teams to unlock the full potential of the Work platform. With extensive experience in low-code app development, she facilitates workshops and webinars, providing hands-on training and guidance.
Build ATS and automate employee onboarding in no time
It is inevitable that every company will have a hiring process for their employees. Applicants will be tracked and an onboarding process will be implemented after selection. Automating this requirement is easy with Kissflow.
During this session, we will cover the following topics:
- Building simple application forms, Interview boards and Onboarding process forms.
- Reports to manage the Talent requisition.
- Notification system connecting stakeholders
- Managing employee master
Krishna will walk you through the process of building this application live in less than 30 minutes.
The demo will conclude with a live Q&A with a Kissflow Product Trainer. See you there!