Remote work is here to stay with most companies already planning to go fully or at least partially remote in the long-term. The benefits of going remote are numerous — Employees get to skip long office commutes, have a flexible work schedule, manage their tasks efficiently, and spend quality time with their family. For companies, remote work can save infrastructure costs and increase employee productivity by over 77 percent.
There is no denying that remote work is the new normal. But if you are still new to remote work and slowly transitioning into it, there will be a big learning curve as you find the best ways to streamline work processes and create a remote-first culture in your organization.
To make the transition easier for you, we have created the ultimate checklist for companies to effectively manage remote employees.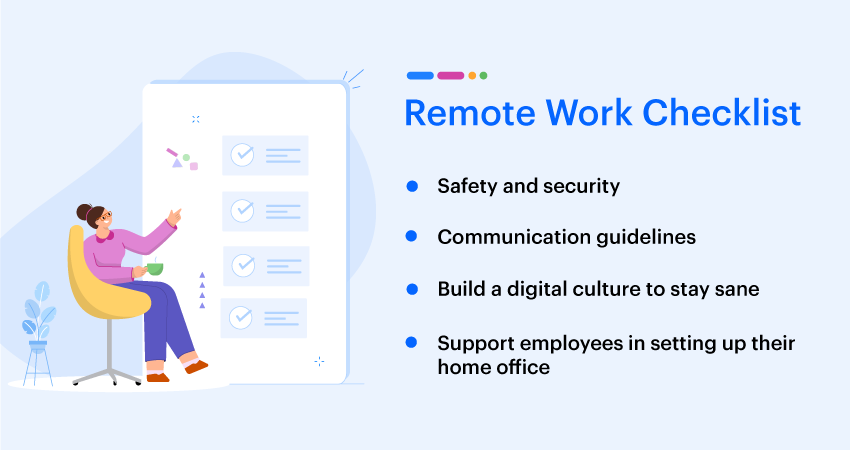 1. Communication guidelines
When it comes to remote work communication, you need to find the right balance. Overcommunication can overwhelm remote employees and lack of communication can make them feel lost and alone.
After all, you can't expect remote employees to get on a quick call every time you have a small query. Flexibility in schedule is an important factor for remote work and you have to be very considerate about employees' time. Also, you should ensure that you are only organizing necessary meetings with enough buffer time for employees to make space for it in their everyday schedule.
Ideally, your communication guidelines should include details about:
Time zones and working hours of all the remote team members
Overlapping working hours for all team members so that it's easier to schedule important team meetings
The right time to use asynchronous or synchronous communication
Maximum response time for remote employees
Tips to keep messages polite, clear, and conscious
The communication tools that employees should use
2. Tools for setting up a remote workplace
Employees should have the right remote work tools and applications with them to manage remote collaboration and communication. While the exact tools will depend on the type of work the remote team handles, most teams will need tools for:
Project management
Task management
Case management
Automating approvals
Scheduling meetings
Instant messaging, voice calls, and video calls
Public and private communication channels
Collaboration
The tools that you use should have necessary access control features so that only the employees that need to have access to a particular company document should have access to it. Moreover, the tools should require minimum coding so that even business users with limited or no coding experience can quickly set them up and start using the tools.
Even though it can be tempting to use a different tool for every requirement, introducing more tools can actually end up confusing and overwhelming employees who already have a lot on their plate. More tools also mean higher subscription costs and longer learning curves.
Instead, you can introduce a digital workplace in your organization which already offers all the features that remote teams need to manage their everyday tasks and collaborate seamlessly with team members. It also integrates with third-party applications and provides a unified dashboard with centralized notifications to ensure employees don't have to continuously go back and forth between different applications which directly leads to higher productivity and efficiency.
3. Safety and security
While it's important to give your remote team the flexibility and freedom to access company data from any device and any location, maintaining optimum security for company data that is stored on the cloud is just as important.
Securing your organizational data is a very important step for remote companies since your data is no longer chained to a particular network or a device. You need to step up a security plan even before employees go completely remote to make sure your business data is always safe and doesn't fall into the wrong hands.
The business applications you use should encrypt all the data and follow necessary compliances that are required by your industry.
At the same time, you should also share security best practices with the employees. Encourage employees to leverage two-factor authentication, change their passwords monthly, and not share it with anyone.
4. Support employees in setting up their home office
Moving from an office to a work from home setup can be a rather big and difficult shift for employees. Our homes were never built with work in mind, they were built to provide a space for us to relax, unwind, and spend time with our family at the end of the day. Organizations can make this transition easier for employees by giving them all the support they need in setting up their home office.
Companies should provide employees with monetary support for laptops (if employees don't already have them), home office furniture, internet, and other supplies that employees might need to set up an ideal home office.
Build a digital culture to stay sane
It can be difficult to create a culture of remote work, but following this remote management checklist can make things a whole lot easier. When all of your employees work from the same location, company culture evolves organically. But with a remote-first approach, you have to make a bigger effort in building and establishing digital culture.
Make sure that everyone is onboarded successfully in the first month of going remote and employees know exactly how to use the different tools to manage their work. You should establish a virtual routine for the employees, ensure they have enough opportunities to virtually interact with their colleagues, and the flexibility to manage their work efficiently.