Wemett & Hall
Automating Work Saves More Than You Think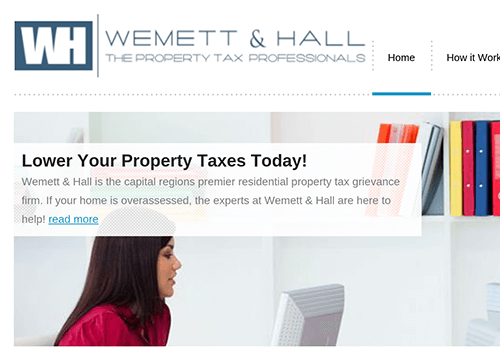 Industry Type
Financial Services
Number of Employees
Mid-size
Number of Apps Created
16
❝
We have 6 month processes with dozens of handoffs. Kissflow gives us the ability to track it all instantly. I can't imagine running our business without it. You guys mean the world to us.
Wemett & Hall
---
Organisations in the financial service industry must be on their toes at all times. The key to success is to provide clients with the best service.
Tax litigation firms are no different. Typically, firms must either have a huge brand name, or be willing to dump a lot of money into the most advanced technology available. Nicholas Hall of Wemett & Hall has a different story to narrate.
Wemett & Hall is a premier residential property tax grievance firm assisting the residents in the state of New York. When property tax rates skyrocket beyond your mortgage, they can help provide relief.
Filing tax grievances has always been a long tiring process, which is why people turn to tax consultants like Wemett & Hall. They turned to Kissflow to help them manage their standard processes.
Tracking Lengthy Litigation Processes: Litigations are tracked in months, not days, and involve multiple processes. Even the slightest glitch or oversight can slow down or derail the entire progress. At Wemett & Hall, each business process gets triggered with client onboarding and terminates after multiple court hearings, when the case comes to close. In Kissflow, they can track the progress of each case and know exactly where it stands.
Collaborating With a Geographically Dispersed Team: Wemett & Hall's team of experts is geographically dispersed. But they exchange a lot of files and data for each of those numerous processes, tracking the progress of each case through ad hoc systems. Most processes were processed through email and phone calls. Kissflow enables the team to keep things floating in a more sensible way, keeping all the data in one place, even if the team is spread out.
Collaboration and process: Nicholas Hall wanted a process management solution that was also collaborative and not entirely system driven. He wanted his team to be able to talk about cases on the same platform where they were managed. Kissflow gave the ideal blend of structure and collaboration.
DIY ERP: Wemett & Hall wasn't quite ready to invest into a full ERP system. But with Kissflow, they could develop the same functionality at a fraction of the cost. With all of its workflows in place, Wemett & Hall have been able to save big without having to invest in an expensive ERP tool.
Automate Work. Reduce Chaos
Drag & Drop. No Coding Required. Trusted by 10,000+ Companies.