Warwickshire College
Automation Gives College Workflows More Accountabi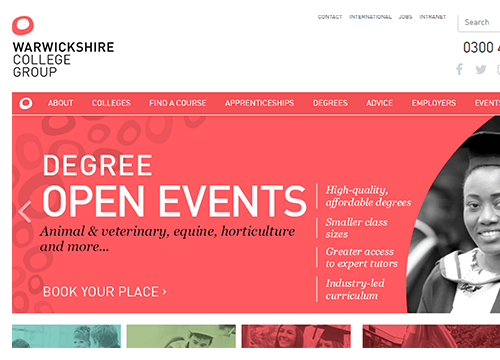 Industry Type
Education
Number of Employees
1001-5000
Number of Apps Created
16
Warwickshire College Group is the largest group of further/adult learning in the UK. It manages seven colleges in the English West Midlands. The college recently adopted Kissflow for automating their work processes across departments. Here's what we learned from Craig Buck, the Business Systems Team Manager at Warwickshire.
How did you manage your business processes before Kissflow?
Earlier, members of a team would not take workflow processes seriously because there was no ownership of the stages and, in some cases, things just got lost and nobody was aware why.
Now that we have Kissflow , we have control over of the process and staff members are accountable for actioning steps that they own. We can see where bottlenecks are in the process and address them accordingly. We are now also able to see accurate reports on many different aspects of the data held as a result of using Kissflow to automate our processes.
This is something that we failed to do prior to using Kissflow. The management is now able to make informed decisions against this data rather than the old ways of speculation as they had done previously. Although we only currently have only one live process, our management is already seeing the benefits of adopting Kissflow.
What do you like most about it?
Kissflow is the most intuitive solution among all the workflow management solutions we considered. We spent considerable time looking at various Business Process Management solutions but ultimately chose Kissflow for a number of reasons.
Anyone with a basic understanding of data and how systems operate is able to create a process flow with minimum training in Kissflow, thanks to its drag and drop features.
The software also takes the developer through a series of logical steps, so it is always obvious what to do next in order to ultimately get to the stage of publishing the process.
How do your users feel about Kissflow?
Our staff speaks very highly of Kissflow. They have embraced the platform and we are currently in the process of automating several other processes to further improve the efficiency of the organisation.
For us, the word Kissflow is now synonymous with quality.
Did you require any special training from Kissflow before starting?
We were able to create our first automated process with no training, although we did get a lot of input from the Kissflow team. This guidance was invaluable and, in most cases, instant. Thanks to the real-time chat support that Kissflow offered, most of our queries were answered satisfactorily within one or two chat messages. Where a problem was a little more taxing, we discussed the issue with Kissflow support team over the phone and found a resolution.
I cannot recall another company where technical support has been this responsive. It is reassuring to know there is a knowledgeable person eager to support us, should we hit a problem.
What would you suggest to other customers considering buying Kissflow?
As a large organisation, we needed to be sure that Kissflow was right for us, before investing money into the platform. We started off by buying a 10-user bundle for three months so that we could create a few trial processes and get the necessary buy-in from senior management.
I would recommend this approach to any potential customer as it gives you the opportunity to test the platform, albeit on a smaller scale. You will still get the real-time support for a smaller monthly subscription while you can experience the product first hand. This will give you an idea about Kissflow as a company and the product that you want to buy.
Thanks to Craig and the whole team at Warwickshire College Group! Good luck with your future endeavors!
Automate Work. Reduce Chaos
Drag & Drop. No Coding Required. Trusted by 10,000+ Companies.