Sucuri
Go From Chaos to Clear Skies With Travel Approvals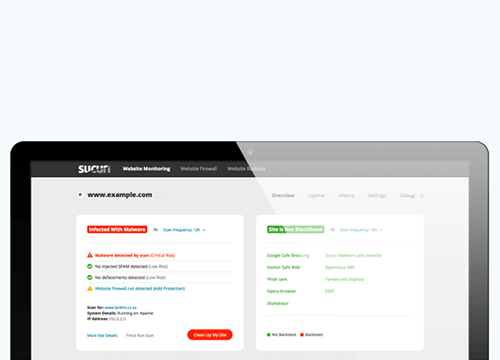 Industry Type
IT - Software & Hardware
Number of Employees
5,001-10,000
Number of Apps Created
42
"I've got some bad news folks."
That's the last thing you want to hear from your pilot on your flight back home after a long business trip.
"The weather is bad in Charlotte, so we are going to have to land in Memphis and wait for a while to see if things clear up there."
This kind of scenario is a nightmare for every traveller. Being totally out of control of your schedule and never knowing when you can get back on track leaves everyone on edge. However, if you are the one scheduling travel arrangements, your trouble might begin before the plane even gets on the tarmac.
Sucuri is a website security company that cleans and protect websites that have been infected. With close to 80 employees spread across 21 different countries, they provide clients with a globally-distributed security team and round-the-clock website security.
With so many remote workers, Sucuri has a lot of travel to coordinate. From sales visits to conferences to team meetings, there are endless opportunities for chaos to crop up in their travel plans.
Sucuri used to rely on email to handle their travel requests, creating more turbulence on the ground than in the air. Travelers were stranded without itineraries, and important documents stayed under mounds of other unopened emails.
Getting off the Ground
Sucuri knew it was time to get a handle on their travel processes and, right from the start, they found that Kissflow was their ticket. From the beginning, they were impressed at the first-class service the Kissflow team provided as they walked them through exactly how to set up their workflow. They were amazed at how quickly they were able to get up and running, and their processes started to stream by. What took multiple days and a lot of migraine medication was now done in a day or less. No more turbulence, no more stress.
That Flying Feeling
Sucuri soon started automating another key workflow: requests for promotional items for conferences. Every conference was similar, yet it took a long time to gather and ship all the same materials over and over again. Automating the process not only helped them be more consistent in making sure they never ran out of brochures, it also helped hold everyone accountable for doing their work within the expected timeframe. Now, they have a single solution to track and organize everything.
No Turning Back!
With the success they've seen streamlining these processes, Sucuri is dreaming up new processes to automate. The mobile app in particular causes a lot of excitement, as they think of travellers easily accessing itineraries while they are waiting for their flight.
If you want to travel smart, come fly with us. Take a free 7 day test flight of Kissflow and see how the sky's the limit with workflow automation.
Automate Work. Reduce Chaos
Drag & Drop. No Coding Required. Trusted by 10,000+ Companies.