Reed UK
Automating HR Doesn't Have to Be Expensive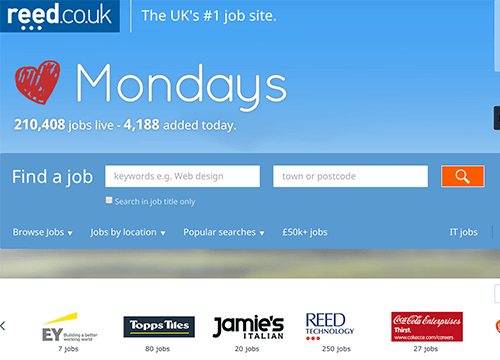 Industry Type
Human Resources
Number of Employees
51-200
Number of Apps Created
19
❝
KiSSFLOW allows us to react quickly to organizational change. It's easy to maneuver and we can change the process on the fly.
Product Owner, Reed UK
---
Based out of Central London, Reed Online Ltd. runs UK's #1 recruitment website, reed.co.uk. The website offers vacancies from various recruiters, including private and public sector employers, recruitment agencies, and consultants. On reed.co.uk job seekers get to apply for vacancies; manage their applications and store their CV online. As for employers and recruitment agencies, reed.co.uk provides the stage to advertise job vacancies and enables users to manage applicants, search CVs, work on their branding and display advertising. During our recent conversation, Brett Orr & Philip Bailey of reed online talk to us on how process automation keeps organisational process flows in sync with the constantly-changing environment in the organisation.
Need To Automate Organisational Processes: To cater the vast and variety of users reed.co.uk engages, the organisation has dedicated teams to assist the numerous sales and financial transactions being carried out everyday. Each financial transaction required the approval of the finance director or managing director, with the huge volume of transactions taking place, tracking and closing down each transaction effectively became increasingly difficult. The voluminous transactions also brought in the need to manage the employee base of developers, sales executives and finance professionals effectively, as they were critical for the organisation to function smoothly.
Inefficient – Time Consuming Custom Solution: The folks at reed online were looking to automate their internal HR; finance and administration processes, like tracking purchase requests; updating employee information; managing accounts payable and salary records. To meet their requirements, reed online had built a custom solution – an amalgamation of Google Forms and App Scripts. What seemed as a solution to their process tracking and process automation problem ended up consuming more time and effort than anticipated and failed to deliver the necessary.
Over the last six months, the folks at reed.co.uk have automated numerous processes. With Kissflow, the creators found it easy to create processes as per their requirements, without having to compromise the organisation's existing flow. The ability to change and modify the process flows as and when needed, without consuming much time was a big savior. Simply put, with Kissflow nothing disappears in process any more. Apart from automating purchase requests, reed has numerous HR; finance and administrative processes automated. Keeping in pace with the organisation's needs and adapting to change when necessary just got a lot more easier. 🙂
Automate Work. Reduce Chaos
Drag & Drop. No Coding Required. Trusted by 10,000+ Companies.