Project SYNCERE
STEM Youth Programs Get Streamlined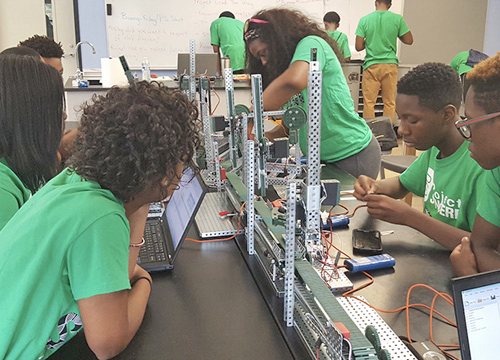 Industry Type
Non Profit
Number of Employees
11-50 employees
Number of Apps Created
7
❝
Kissflow streamlines our processes and makes sure we are really tight with our communication around our programming.
Adrianne Wheeler, Director, Project SYNCERE
---
Project SYNCERE is a non-profit organization founded on the south side of Chicago in 2008. Their mission is to support the youth's need with core engineering research experiments. Their first program was launched in 2009, and since then they have been able to serve more than 4,000 students throughout Chicago. Project SYNCERE provides STEM programming to youth in underserved communities. Their programs have helped to raise students' grades and increase their interest in the STEM fields.
We spoke to Adrianne Wheeler, Director of Programs at Project SYNCERE. She told us how Kissflow has helped them build a process to track requests and communications that happens internally.
The Snag
Before Kissflow, Project SYNCERE worked with manual processes for organizing their engineering workshops. At Project SYNCERE, they run about 20+ programs on a staff of 10 and the details often get lost. They depended on emails, paper, and people.
Many times they would not know with whom the process was pending or even who was involved in the process. The biggest gap was that the communication regarding the program did not happen. When something needed to be shared, it was through oral communication or people would make notes and share the piece of paper with others.
Project SYNCERE wanted to eliminate all the manual process, and to move the process online. They needed something more organized and a central hub that would have all the information and the communication regarding the process.
Need for Automation
By mid-2014, they realized that they needed a workflow automation tool in place to automate their internal processes. But, after implementing Kissflow, they were able to organize and communicate better within the process. Kissflow has definitely streamlined the process and helped them closely communicate about programming.
Automating in Kissflow has changed the process entirely by helping each user know where everyone else is in the process. When a user logs into Kissflow, the first thing they notice is the dashboard full of information. This eliminates the need to share information vocally or share a paper with another user. Kissflow's dashboard is like a centralized hub of information. It notifies users when an action is expected in the process. And in case you forget, Kissflow has reminders to nudge you along.
Once they moved to Kissflow, their staff really understood the process better and how everybody plays an important role. They were also painfully aware of how long it took to complete the process earlier. The staff was more receptive on how they could improve their part of the process. When using Kissflow, many staff members will find something to be improved and they'll change the steps or the person's approval feature, or add or edit because they really want to. It lets staff take up ownership for their process in Kissflow.
Future Plans
We at Kissflow are happy to partner with Project SYNCERE as they help the youth of Chicago get excited about STEM programming. Project SYNCERE is happy to use Kissflow and will continue to use it.
Automate Work. Reduce Chaos
Drag & Drop. No Coding Required. Trusted by 10,000+ Companies.