Davenport University
Break Silos, Save Time, and Track Data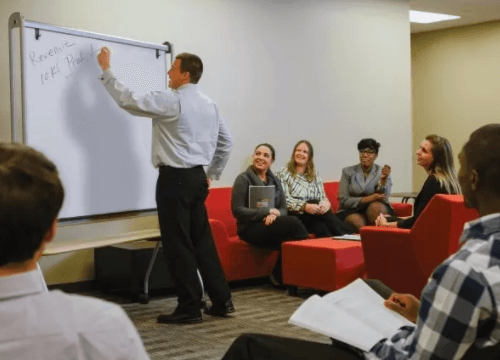 Industry Type
Education
Number of Employees
1001-5000
Number of Apps Created
7
There is no organization more siloed than a university. Different departments may never interact with each other and regularly have completely separate buildings. Academics, facilities, and administration all struggle to find common ground on a variety of issues. Combine that with stagnant or shrinking budgets, and you can understand why universities are rarely known for their speedy efficiency.
So imagine the difficulty when someone comes in and spots archaic workflows. Paper forms are being passed around and data is never recovered from them. Outdated word documents create an email nightmare as they get passed around and sit in someone's inbox for weeks at a time.
A solution is needed, but what would actually work? If a solution doesn't have a budget problem, it has a culture and adaptation problem. Trying to find something simple enough for everyone to use without having to make more budget requests seems like an impossible task.
There must be something better…
That's the situation Davenport University was in. The Academic Information Systems department was one of the few cross-department services and it saw the drove of inefficiencies in a place where innovative ideas are supposed to thrive.
The first solution was to request the internal IT department to create electronic forms, but they were so stretched that it would be a three year wait before they could get to it! A Google search led to lots of technology with fancy bells and whistles, but also with huge price tags.
Finally, they came across Kissflow. It was unique, both in its pricing and in its simplicity. Within a few hours, they had set up their first process, and the time savings began instantly.
How a University Can Automate Workflows
Davenport University uses Kissflow for three major workflows. The first is for students to submit a request to have a course considered as a substitute or prerequisite. The public forms feature means they can host this form online for students to fill out on their own. It then branches off to the right department and is either approved, rejected, or clarified.
Academic scheduling is a much more complex workflow. Every year, professors want to add new courses or make changes to existing ones. Each request must follow a long set of approvals that can take several weeks with paper forms. Davenport University uses an automated form to allow professors to submit these requests online, streamlining the process for everyone.
The success of these workflows was so apparent that even the transportation department created a workflow for the reservation of vans and buses, and many other departments are waiting in line to discover how they can use it.
Why Davenport University Won't Go Back to Paper
The team at Davenport University found the interface extremely simple to create new forms. Even with no programming background, it was very intuitive and easy-to-use.
One key point that they knew they were missing out on with email and paper forms was data collection. Years and years of important data was scattered across desks, trash cans, and inactive email accounts. Kissflow enabled them to start tracking their most important data and analyze and interpret it as well.
Finally, the support that comes along with Kissflow continues to be a huge factor. Even when they are trying to create workflows late into the evening, the quick responses of the support team lets them know that this is a platform dedicated to the success of its customers.
Universities are characterized as being extremely siloed and slow-moving, but they don't have to be. Creating simple electronic automated workflows will help your university break silos and stereotypes. Sign up for a free trial today and see how you can bring some efficiency to a campus near you!
Automate Work. Reduce Chaos
Drag & Drop. No Coding Required. Trusted by 10,000+ Companies.