Burr & Burton
Set Up and Automate Finance Processes With Ease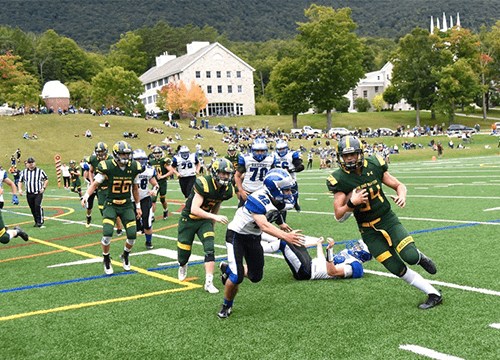 Industry Type
Education
Number of Employees
51-200
Number of Apps Created
12
❝
Our approval process is streamlined and the electronic paper trail helps us track everything.
Neil Freebern, Director Of Performing Arts
---
Every time an educational institution signs up for Kissflow, it simply stresses the significance of having processes streamlined in educational institutions over and again. Over the last many months we have seen numerous educational institutions adopt Kissflow as their automation solution and amongst various processes, institutions have been wanting to automate their financial functions. Neil Freebern of Burr & Burton Academy tells us why they chose an automation tool and the how their organisation benefits through it. Burr & Burton Academy is an independent, coeducational school located in Vermont, that serves as the school of choice for 680 students from Manchester and twelve surrounding communities as well as for students from overseas.
Tracking organisational spend:
Expenditure tracking has always been of grave significance to every organisation, even more to non-profits and educational institutions. Keeping track of expenditure gives an insight into the spending behavior of the organisation, helping them ascertain areas to cut down costs and plan their budget for the future in accordance.
Emails for Purchase Tracking?
Most institutions use emails and try to track purchase requests. When a member of the organisation wants to make a purchase, she is required to send an email to her immediate approving officer who, upon approval, sends it to the administrative or finance department for final approval. The process does seem simple and straight, does it not? Sadly, it's not so, the emails just keep rotting in the inbox of the approvers and stalling the requester's progress.
One can't blame the finance team either. Before approving each purchase, the finance team may have a set process to follow, like checking available funds and seeing through that it doesn't fall out of their annual budget and a lot more. In fact, the finance team is bound to have a tough time after they approve the purchase request, from creating bills and invoices to updating the account and financial database – emails are definitely not the solution to track purchase orders.
The real solution:
Kissflow provides the requestors a clear view of the tasks progress, the comment threads for each request keep the members well informed as to why their request was approved or denied, an end to chains of emails which kept you lost. The SLA feature ensures that no request is overlooked and the reports provides the finance department a clear picture of their expenditure. A win-win situation for the requesting member and the finance departments.
Neil, an autodidact, was able to set up and automate finance processes at Burr & Burton with ease. We are glad to learn the ease with which he was able to automate processes on Kissflow.
Educational Institutions have been using Kissflow to automate diverse processes, from administration and finance to faculty and student management. Find out what other processes you can automate at your educational institution.
Automate Work. Reduce Chaos
Drag & Drop. No Coding Required. Trusted by 10,000+ Companies.